Soups are a great cold-weather comfort food but canned soup is chalked full of salt. Progresso Vegetable Classics Minestrone Soup has a whopping 690 mg of sodium for one cup of soup. There is no need to use a can of soup when you can easily make your own using your crockpot. Not only will you lower the salt content but the flavors are more rich making for a hearty bowl of soup.
This recipe calls for ditalini pasta which is a small tubular shape pasta that fits perfectly on your soup spoon. But you can use whatever pasta you like: elbow, small shells, rotini, it is totally your choice!
I prefer to use chicken stock because I believe it gives it a bit of a richer flavor. However, you can use vegetable stock to make a totally vegetarian dish.
Sometimes I will add zucchini or squash to this soup. When I do that, I usually add them at the halfway mark because I don't want them to completely fall apart.
If you are looking for something a bit heartier, then chop a couple of red potatoes into small pieces and add them to the soup. The simple addition of potatoes takes this soup from a side dish to the main course. Just make sure you cut your potatoes into small pieces otherwise they will take forever to cook.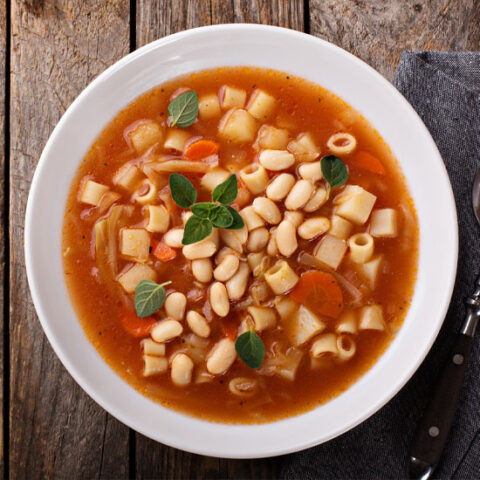 Slow Cooker Low Sodium Minestrone Soup
Total Time:
5 hours
15 minutes
Enjoy this cold-weather comfort food: low sodium minestrone soup. This hearty recipe will fill you up without all the excess salt found in canned soups.
Ingredients
1 cup of celery, diced
1 cup of carrot, diced
1 cup of onion, diced
1 cup of green beans, cut into 1" pieces
8 cups of no salt added chicken stock
2 cans (14.5 oz. can) of no salt added diced tomatoes
1 can (15 oz.) of no salt added kidney beans
1 can (15 oz.) of no salt added pinto beans
4 cloves of minced garlic
1 tablespoon of basil
2 teaspoons of oregano
2 teaspoons of thyme
1/2 teaspoon of rosemary
1 teaspoon black pepper
2 cups of ditalini pasta
Instructions
Place all items (except the pasta) in your slow-cooker. Cook on low for 8 to 10 hours, or on high for 4 to 5 hours. Stir every now and then in the event that your crockpot has a hot spot.
With about 10 to 15 minutes remaining add your uncooked elbow pasta to your crockpot. Cook on high until the pasta is al dente.
Notes
Crush up some Hint of Salt Ritz or cut up some toasted Lavash Bread for a bit of crunch without using salty items like croutons or french bread.
Recommended Products
As an Amazon Associate, I earn from qualifying purchases. For complete information please read the disclosures page (link at the bottom of this page).
Nutrition Information
Yield

10
Serving Size

1
Amount Per Serving
Calories

148
Total Fat

1g
Saturated Fat

0g
Trans Fat

0g
Unsaturated Fat

1g
Cholesterol

11mg
Sodium

86mg
Carbohydrates

26g
Fiber

7g
Sugar

6g
Protein

10g
Nutritional information is provided as an estimate. Nutritional content may vary due to several factors such as how much of an ingredient is used vs. how much will actually be eaten, brand differences, and more. To ensure the most accurate nutritional information, the reader should make calculations based on the ingredients actually used, using their own preferred method, or consulting with a licensed nutritional expert. This Website is not intended as a source of nutritional or food safety advice, and its readers assume full responsibility for any decisions made regarding their own health and safety. Nutritional information calculated by Nutritionix