This recipe for a low sodium Irish potato soup is beyond simple and extremely low in salt. Considering canned soups are extremely high in salt, this low salt recipe is a tasty alternative. It is perfect for St. Patrick's Day, a quick weeknight meal, or anytime you need a comforting bowl of creamy potato soup.
This recipe is for a traditional Irish potato soup. What I mean by that is that the recipe uses basic ingredients (potatoes, cream, and butter) that were readily available in Irish households when this soup was developed. A potato and leek soup might be more familiar to you, but the leeks were not always available in Irish households. Therefore, this version became the more traditional version of an Irish potato soup.
It is important that you use unsalted or "no salt added" chicken stock. If you grab the chicken stock labeled low sodium off the grocery store shelf, you'll find a salty surprise. Low sodium chicken stock is not all that low in sodium. So it is best to reach for the unsalted version.
Other add-ins you might want to try to include cooked chicken, celery, roasted broccoli, corn, carrots, and fresh herbs including thyme. You can also make this soup in advance. Prepare this low sodium Irish potato soup up to 48 hours ahead of time. Keep it refrigerated and then warm it up when you are ready to serve.
PREPARATION NOTES
This recipe calls for use of an immersion blender. If you do not have an immersion blender, you can use a food processor or blender, but you will have to do it in batches. If all else fails, use a potato masher. You might have a few lumps, but the soup will still be delicious!
Leftovers can be stored tightly covered in your refrigerator for up to four days. To reheat, either place in a saucepan on the stove and heat it over medium heat or place in a microwave-safe bowl and microwave for two to three minutes. If you microwave it, place a saucer or piece of wax paper over the container before heating it.
I don't recommend freezing this soup. It will change the consistency.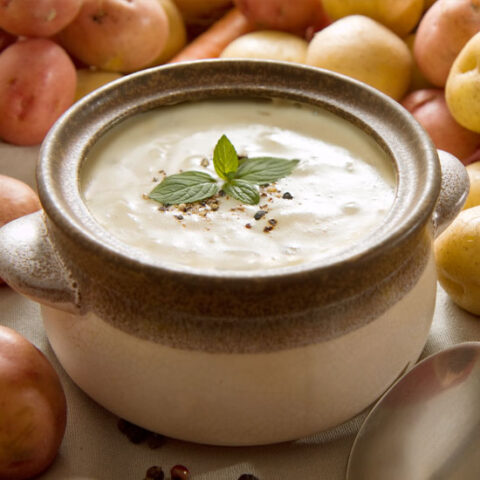 Low Sodium Irish Potato Soup
An easy to make low sodium soup
Ingredients
1 large onion
3 medium potatoes
2 ounces of unsalted butter
4 cups of unsalted chicken stock
1/2 cup of heavy cream
Fresh black pepper, to taste
Instructions
Peel and dice the onion and set it aside.
Peel and dice the potatoes into pieces about ¼ inch cubed. (You don't have to be exact) Place cut-up potatoes into cold water, and set aside.
In a dutch oven, melt butter and then add onions. Cook over medium heat until the onions are translucent. About 3-5 minutes.
Add potatoes and stir well to mix onion, butter, and potatoes.
Place lid on the dutch oven and sweat the vegetables for 10 minutes. Shake the pot every few minutes to prevent ingredients from sticking. Do not take the lid of the pot to stir as you will release the heat!
Pour unsalted chicken stock into dutch oven and turn up the temperature to medium-high heat. Let the ingredients simmer for 20 minutes or until the potatoes are tender.
Remove dutch oven from heat and allow contents to cool. (Adding cream to the mixture while it is super hot may cause the cream to separate.)
Purée the soup using an immersion or handheld blender or in batches in a stand blender.
Add the cream and mix well.
Add fresh ground pepper to taste. Reheat and serve.
Notes
Why do you sweat the vegetables? Sweating vegetables is a technique that uses gentle heat to soften vegetables and gently draw out their flavors. The idea isn't to brown or caramelize them—instead, the mellow aromas from the vegetables should mingle with the rest of the dish without dominating it.
Looking for a silkier soup? Try slowly pouring in some of the cream while you are blending the soup.
When serving, it looks cool if you swirl a small bit of heavy cream on the top of the soup. Just pour a tiny bit of cream and then gently swirl with a stick. Do not mix as it will disappear!
Recommended Products
As an Amazon Associate, I earn from qualifying purchases. For complete information please read the disclosures page (link at the bottom of this page).
Nutrition Information
Yield

6
Serving Size

1
Amount Per Serving
Calories

247
Total Fat

15g
Saturated Fat

10g
Trans Fat

0g
Unsaturated Fat

5g
Cholesterol

52mg
Sodium

60mg
Carbohydrates

22g
Fiber

2g
Sugar

3g
Protein

7g
Nutritional information is provided as an estimate. Nutritional content may vary due to several factors such as how much of an ingredient is used vs. how much will actually be eaten, brand differences, and more. To ensure the most accurate nutritional information, the reader should make calculations based on the ingredients actually used, using their own preferred method, or consulting with a licensed nutritional expert. This Website is not intended as a source of nutritional or food safety advice, and its readers assume full responsibility for any decisions made regarding their own health and safety. Nutritional information calculated by Nutritionix