Low sodium Brunswick Stew is a southern comfort dish perfect for cool weather. This hearty low sodium stew won't leave you hungry but it will prevent you from filling up on salt. It has an ingredient list that is a little on the long side, but it's really just a dump and heat recipe that doesn't take long at all.
This low sodium Brunswick Stew is made with pulled chicken, but you could easily use pork if you prefer. Since stews get better as you let the ingredients marinate together, this dish is perfect to make the night before a tailgate. I promise the touchdowns won't be the only thing your friends will be raving about. And I bet they don't even realize it is a low salt dish!
In order to make this a quick and easy dish, I bypass smoking the chicken. Smoking your meat gives a great depth of flavor to your dish, but it is a time-consuming event. I opt to boil my chicken and shred it with two forks. Then I'll add a bit of liquid smoke to the dish. Is that cheating? Perhaps. But I see it as a way to save time without sacrificing flavor.
A bit of history for you. Originally Brunswick Stew was made with small game animals such as squirrel, rabbit or possum meat. (Luckily, today most people make theirs with chicken and/or pork.) There's also a fight over where this southern staple was invented. Brunswick County, Virginia and Brunswick, Georgia both claim to be the stew's birthplace.
This dish is perfect when served with some low sodium cornbread. Click here to get that recipe.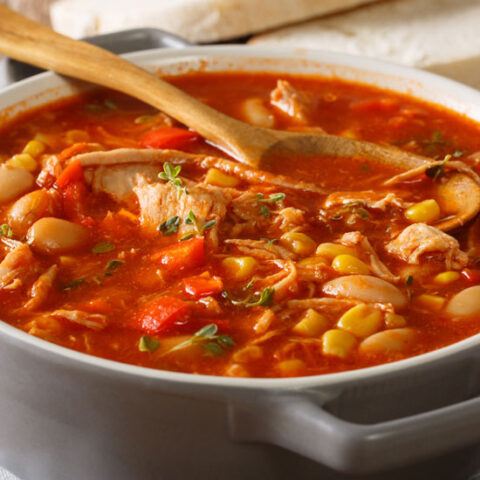 Low Sodium Brunswick Stew
Here's a low sodium recipe for a delicious Brunswick Stew, a southern dish featuring a tomato base with chicken and vegetables. The secret for a little tang is the inclusion of some low salt barbeque sauce.
Ingredients
4 tablespoons of unsalted butter
3 cloves of garlic, minced
1 large yellow onion, chopped
1½-pounds (about 3 cups) of chicken breast, boiled and shredded
1 can (28-ounce) of no-salt-added crushed tomatoes
1 can (16-ounce) of no-salt-added creamed corn
1 bag (12-ounce) bag of frozen lima beans
1 cup of no-salt-added chicken broth
½ cup barbecue sauce (use homemade no-salt-added bbq sauce or purchase low sodium bbq sauce)
1 tablespoon of distilled white vinegar
1 teaspoon of low sodium Worcestershire sauce
1/2 teaspoon of black pepper
1/2 teaspoon of liquid smoke
Instructions
Melt butter in a Dutch oven over medium heat. Add onion and cook until the onions begin to get transparent - about 5 minutes.
Add garlic and lima beans. Cook for 2 minutes to give your lima beans a head start on fully cooking.
Add chicken, chicken stock, crushed tomatoes, creamed corn, barbeque sauce, vinegar, Worcestershire sauce, black pepper, and liquid smoke. Stir all ingredients together. Simmer for 20-30 minutes stirring occasionally.
Notes
You could use diced tomatoes if you prefer some larger tomato chunks. I like to use crushed tomatoes because they create a nice stew consistency.
No Salt Added Creamed Corn can be difficult to find in your grocery store. If you can't find the creamed corn or don't like creamed corn, simply use a can of no salt added corn. You can also use a bag of frozen corn if you like because that never has added salt. But if you use frozen, defrost it in the microwave otherwise it will add to your cooking time.
It is super easy to make no-salt-added barbeque sauce, click here for that recipe. But if you don't have the time, you can purchase low sodium barbeque sauce online from Healthy Heart Market. Click here to view that product. If you make your own, you'll reduce each serving by 40 mg of sodium.
You could chop up some potatoes and add them to the stew if you'd like. I would recommend parboiling them before adding them to the stew pot.
Recommended Products
As an Amazon Associate, I earn from qualifying purchases. For complete information please read the disclosures page (link at the bottom of this page).
Nutrition Information
Yield

8
Serving Size

1
Amount Per Serving
Calories

193
Total Fat

7g
Saturated Fat

4g
Trans Fat

0g
Unsaturated Fat

3g
Cholesterol

35mg
Sodium

170mg
Carbohydrates

23g
Fiber

4g
Sugar

10g
Protein

11g
Nutritional information is provided as an estimate. Nutritional content may vary due to several factors such as how much of an ingredient is used vs. how much will actually be eaten, brand differences, and more. To ensure the most accurate nutritional information, the reader should make calculations based on the ingredients actually used, using their own preferred method, or consulting with a licensed nutritional expert. This Website is not intended as a source of nutritional or food safety advice, and its readers assume full responsibility for any decisions made regarding their own health and safety. Nutritional information calculated by Nutritionix