Whether you are celebrating Mardi Gras or just in the mood for some good ole Creole cooking, you will enjoy this recipe for a low sodium chicken gumbo. That's right, it is possible to savor a bowl of gumbo while living a low sodium lifestyle.
I know, most people think of andouille sausage when you mention gumbo. But there's no way to use store-bought sausage in a low sodium dish. Believe me, I tried! So while the chicken isn't a perfect substitute, it does provide a hearty protein with reasonable sodium content.
This dish contains what New Orleanians call the "holy trinity" of cooking: celery, bell peppers, and onions. You'll taste amazing depths of flavor made from vegetables and spices but with only a 1/4 teaspoon of cayenne pepper, this low salt meal is not overly spicy. If you don't like cayenne, leave it out. If you prefer a higher spice factor, consider adding a bit more cayenne pepper. Remember cooking is about your taste buds, nobody else.
Personally, I like to add a bit of hot sauce to my gumbo. I throw a few dashes onto the gumbo once it has already been put into the bowl. (Okay, maybe more than a few dashes.) I've got two low salt hot sauce options for you. My hands-down favorite is Gringo Bandito. FYI, it is cheaper to buy it in a four-pack. A single bottle is about $8 but a four-pack of bottles is about $16. The other is the classic McIlhenny Tabasco Hot Sauce. Stay away from brands like Cholula and Frank's because they have twice the salt content of the two I just mentioned.
Low sodium chicken gumbo is surprisingly easy to make but it does require near-constant stirring, especially in the beginning. Therefore, make your life easier by having everything chopped and prepped before you begin.
What exactly is the difference between Cajun and Creole? Are they the same?
Cajun and Creole are totally separate. Ancestry plays a big role in defining these two distinct ethnic groups. Each has its own distinct history, traditions, culture, and recipes. But in the simplest of kitchen terms, Creole food typically utilizes tomatoes while traditional Cajun food does not.
What is the difference between gumbo and jambalaya?
Both gumbo and jambalaya are classic meals found in New Orleans and across the Gulf Coast region. Gumbo is served with rice as an accompaniment while jambalaya includes rice as an actual ingredient in the dish.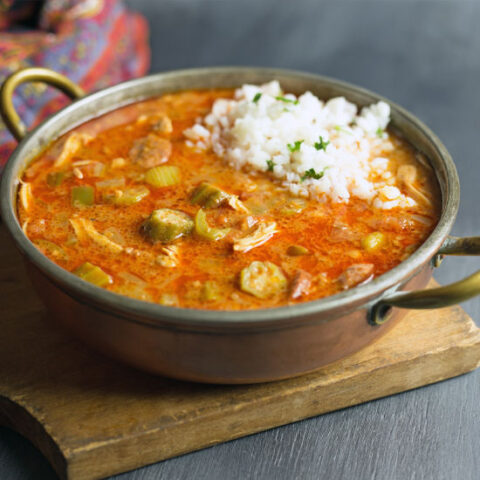 Low Sodium Chicken Gumbo
Total Time:
1 hour
20 minutes
A low salt version of a French Quarter Classic
Ingredients
2 medium onions, diced
1 green bell pepper, chopped
3 ribs of celery, chopped
3 tablespoons of vegetable oil
3 tablespoons of all-purpose flour (or Wondra; see notes)
4 cups of unsalted chicken stock
1 can (14.5 ounces) of no-salt-added diced tomatoes
1 1/2 cups of sliced okra, fresh or frozen
1/2 teaspoon of fresh ground black pepper
1 teaspoon of dried thyme
1/2 teaspoon of dried oregano
1/4 teaspoon of cayenne pepper
1 bay leaf
1 cup of long-grain rice
1 1/4 pounds of boneless, skinless chicken breasts
Sprinkle of Filé powder for each dish, optional
Instructions
In a large dutch oven over medium heat, whisk together oil and flour until you have a smooth mixture. Continue to cook while constantly stirring until you reach at least a light brown color (see notes for more). Remember to stir constantly because if the roux burns there is no saving it! You will have to start over.
Add chopped vegetables (onions, peppers, and celery) and adjust the heat to a medium-low setting. Continually stir until the onion is translucent.
Stir in the unsalted chicken stock. Bring to a boil, stirring frequently.
Add the diced tomatoes, okra, salt, pepper, thyme, oregano, cayenne, and bay leaf; bring to a boil.
Reduce heat to low and simmer, uncovered, for 20 minutes.
In a separate pan cook the rice following the packaged directions. Do not use microwave rice in a pouch because it has added salt.
Once the rice is cooking, chop the chicken into bite-sized pieces. Be sure to cut all chicken to the same size to create a uniform cooking time.
Add the chicken to the gumbo and cook, covered, for 8 minutes or until the center of the chicken pieces has reached an internal temperature of 165 degrees.
To serve your low sodium chicken gumbo, scoop a mound of rice into the center of a shallow bowl. Ladle the soup around the rice.
Once at the table, add a light sprinkle of filé powder, if desired.
Notes
Feel free to use chicken thighs if you prefer that cut of meat over chicken breasts.

This recipe uses vegetable oil because oil has a higher smoke point which means you can get it darker. The darker the roux gets the less thick it gets. I pref to get my roux in the range of a medium brown. Think of a dark milk chocolate color.

Filé powder is a classic spice in Louisiana kitchens. This spice is totally optional but can add a nice depth of flavor. Two rules. First, it is best sprinkled over individual servings. If you add filé powder while your gumbo is still on the stove, it can develop a very unpleasant flavor so add it once it is plated and at the table. Second, less is more! Just a slight pinch will go a long way. Seriously, you'll get great flavor with just a light touch of this tasty spice.

Wondra is my go-to when I'm making a dish like this gumbo. Wondra flour is very finely ground, which meals it dissolves instantly. No fear of clumping!
Recommended Products
As an Amazon Associate, I earn from qualifying purchases. For complete information please read the disclosures page (link at the bottom of this page).
Nutrition Information
Yield

4
Serving Size

1
Amount Per Serving
Calories

591
Total Fat

25g
Saturated Fat

5g
Trans Fat

0g
Unsaturated Fat

16g
Cholesterol

162mg
Sodium

225mg
Carbohydrates

32g
Fiber

6g
Sugar

9g
Protein

60g
Nutritional information is provided as an estimate. Nutritional content may vary due to several factors such as how much of an ingredient is used vs. how much will actually be eaten, brand differences, and more. To ensure the most accurate nutritional information, the reader should make calculations based on the ingredients actually used, using their own preferred method, or consulting with a licensed nutritional expert. This Website is not intended as a source of nutritional or food safety advice, and its readers assume full responsibility for any decisions made regarding their own health and safety. Nutritional information calculated by Nutritionix