This low salt soup is ideal to serve as a dinner appetizer or as a delicious lunch.
If you like carrots, you'll fall in love with this creamy carrot soup. This is a versatile soup that will pair well with so many other flavors. It is perfect as a side dish for meatloaf, pork chops, or curried pork tenderloins. But it is hearty enough to stand alone as a meal or even find its way to your holiday dinner table.
One of my favorite things about this creamy soup is that it is made without cream! I tend to prefer recipes that utilize milk over cream for health reasons. This low sodium soup also has the added benefit of being extremely budget-friendly.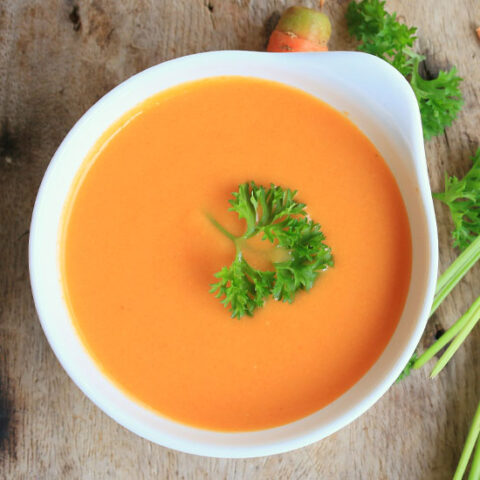 Low Sodium Carrot Soup
This easy carrot soup recipe is a great way to enjoy a warm bowl of soup while staying true to a low sodium lifestyle.
Ingredients
10 carrots, peeled and sliced
1 1/2 tablespoons of white granulated sugar
2 cups of water
3 tablespoons of all-purpose flour
1/4 teaspoon of ground black pepper
1/4 teaspoon of ground nutmeg
1 to 2 tablespoons of unsalted butter, to taste
4 cups of milk - do not use skim
Fresh parsley for garnish
Instructions
In a Dutch oven or large saucepan, heat the carrots, sugar, and water until boiling. Cover and simmer on low until the carrots are very tender. This will take approximately 25 minutes.
Drain carrots from water. Reserve sugar water for later. Set aside.
In a separate saucepan over medium-high heat, whisk together flour, pepper, nutmeg, butter, and milk. Cook, stirring constantly until the white sauce thickens.
In a blender or food processor, add the cooked carrots and white sauce. Puree until smooth. See notes above regarding the pureeing process.
Slowly add sugar water until soup reaches desired consistency. Pour slowly! You don't want a watery soup on your hands.
Ladle into bowls and serve with parsley.
Notes
Here's a twist, to amp up the flavor of this soup: roast your carrots. If you aren't crunched for time, take the added step of roasting your carrots in the oven. To do this toss your chopped carrots in olive oil and place carrots, in a single layer, on a baking sheet. Place in a preheated 400-degree oven until the carrots are caramelized on the edges, about 30 to 40 minutes. If you are opting for this step, you will want to skip the first step in the recipe. Just mix sugar and water together at the stage in which you need water to develop the consistency of your soup.
Depending on the size of your blender, it might be best to puree the soup in batches. You will want to use caution when pureeing hot liquids, so take care to avoid overfilling your blender. Also, watch the steam escaping from the lid!
Here are two flavor variations for you to consider:
Carrot Ginger: Add freshly grated or powdered ginger with nutmeg and pepper. Use 1 teaspoon for a subtle ginger flavor and 2 teaspoons for a more robust flavor.
Curried Carrot: Spice things up with a little curry powder. Use anywhere from 1 teaspoon (mild) up to 2 teaspoons (a bit spicy) for that earthy flavor of savory and sweet.
Recommended Products
As an Amazon Associate, I earn from qualifying purchases. For complete information please read the disclosures page (link at the bottom of this page).
Nutrition Information
Yield

6
Serving Size

1
Amount Per Serving
Calories

185
Total Fat

7g
Saturated Fat

4g
Trans Fat

0g
Unsaturated Fat

2g
Cholesterol

24mg
Sodium

151mg
Carbohydrates

23g
Fiber

2g
Sugar

8g
Protein

8g
Nutritional information is provided as an estimate. Nutritional content may vary due to several factors such as how much of an ingredient is used vs. how much will actually be eaten, brand differences, and more. To ensure the most accurate nutritional information, the reader should make calculations based on the ingredients actually used, using their own preferred method, or consulting with a licensed nutritional expert. This Website is not intended as a source of nutritional or food safety advice, and its readers assume full responsibility for any decisions made regarding their own health and safety. Nutritional information calculated by Nutritionix