If you are like me, you prefer flour tortillas over corn. There's just something about the soft floury wrap that I really dig. But store-bought tortillas have so much salt that you think it is off your menu forever. Here's where these delicious low sodium flour tortillas come into play. In fact, they aren't just low sodium they are no salt added!
There's nothing wrong with corn tortillas. In fact, using corn tortillas is a great "LoSo Swap" when preparing low sodium Mexican meals. La Banderita White Corn Tortillas clock in at only 10 mg of sodium per tortilla. While 8" flour tortillas of the same brand have 220 mg of sodium per tortilla. But for my palate, I don't like the texture of a corn tortilla. I much prefer this no salt added flour tortilla.
But given the need to be low sodium, I – wrongly! – assumed that flour tortillas would rarely be on my dinner table. So, I was pumped to learn that it is super easy to make your own flour tortillas! Not only are they lower in sodium, but you can't be the fresh taste. These homemade flour tortillas are tender, soft, and flavorful.
I will purposely make multiple batches and freeze them for later. Yes, you can freeze flour tortillas. Just make sure you keep them separated by placing a layer of parchment paper between the tortillas.
To thaw the tortillas, take them from the freezer and put them in the refrigerator for eight hours – preferably overnight. Once thawed, you can warm in a low-heat stovetop, or in the microwave using 20-second bursts until warmed.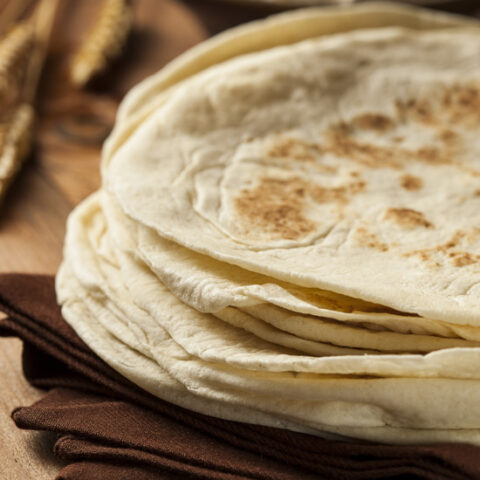 No Sodium Flour Tortillas
Delicious homemade flour tortillas with no salt added.
Ingredients
2 cups of all-purpose flour
1/4 cup olive oil (you'll want to use a light flavor)
3/4 cup warm water
Instructions
Combine ingredients in a bowl and stir together. Ultimately you will need to mix with your hands to ensure everything is fully incorporated. You don't want to see any specs of olive oil in your dough.
Knead your dough for about 10-15 minutes or until it is elastic enough to stretch without breaking.
Let dough rest for about 15 minutes to allow the gluten in the flour to relax which helps the tortilla to bubble while cooking. I put a damp paper towel over the dough to prevent it from drying out.
Tear apart your large dough ball into 12 equal size dough balls (a few less if you want larger tortillas).
Roll your dough balls into thin flat circles of equal size. Tip: if you roll the dough into a ball first, you are more likely to have a circular tortilla!
Place on hot griddle and cook for about 40 seconds, or until you get those nice classic air bubbles. Flip the tortilla and cook for an additional 20-30 seconds. The exact time will depend on the thickness of your tortilla.
Notes
You will want your tortillas to be uniform in size and thickness. I use a rolling pin with "training wheels" which ensures that all of my tortillas are uniform in thickness!
Recommended Products
As an Amazon Associate, I earn from qualifying purchases. For complete information please read the disclosures page (link at the bottom of this page).
Nutrition Information
Yield

12
Serving Size

1
Amount Per Serving
Calories

116
Total Fat

5g
Saturated Fat

1g
Trans Fat

0g
Unsaturated Fat

4g
Cholesterol

0mg
Sodium

1mg
Carbohydrates

16g
Fiber

1g
Sugar

0g
Protein

2g
Nutritional information is provided as an estimate. Nutritional content may vary due to several factors such as how much of an ingredient is used vs. how much will actually be eaten, brand differences, and more. To ensure the most accurate nutritional information, the reader should make calculations based on the ingredients actually used, using their own preferred method, or consulting with a licensed nutritional expert. This Website is not intended as a source of nutritional or food safety advice, and its readers assume full responsibility for any decisions made regarding their own health and safety. Nutritional information calculated by Nutritionix