Whether it is a holiday celebration or a Sunday family dinner, scalloped potatoes are a side dish that everyone seems to enjoy. This recipe for low sodium scalloped potatoes is a low salt take on a classic favorite that takes more time than using a box, but you'll love the increased flavor and reduced sodium.
In this side dish, thinly sliced potatoes are layered in an easy-to-make homemade low sodium cream sauce and baked until tender, golden, and bubbly.
Let's start with the difference between scalloped potatoes and potatoes au gratin. They are essentially the same dish but potatoes au gratin has cheese. Scalloped potatoes are technically free of cheese, however, there are many recipes for scalloped potatoes that call for cheese.
So at the end of the day, there's not much difference between the two dishes. That's why we are calling this Low Sodium Scalloped Potatoes Au Gratin. You will just call it delicious!
The ingredients are simple in this low sodium scalloped potatoes recipe but the finished dish is the perfect side for Easter, Christmas, Thanksgiving, or just a Sunday family dinner!
When looking at store-bought mixes for a potato side dish, the sodium levels are quite high. Betty Crocker Scalloped Potato mix contains 460 mg of sodium limit per serving. Meanwhile, the Betty Crocker Au Gratin Potatoes mix has 480 mg of sodium per serving.
This recipe has approximately 445 mg of sodium for THE ENTIRE PAN. That's right, you could eat the entire casserole dish of these low sodium scalloped potatoes au gratin and not equal the sodium content in just one serving of a store-bought mix! I told you the prep time will pay off.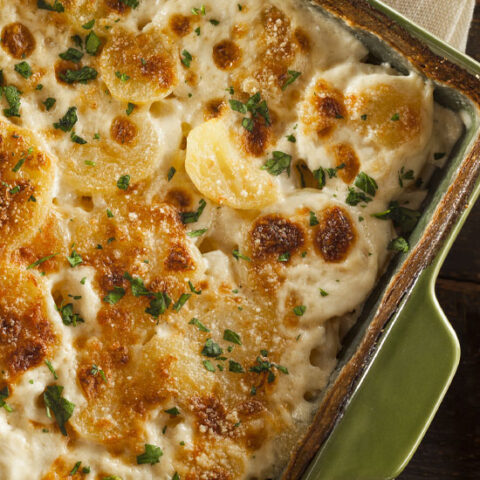 Low Salt Scalloped Potatoes Au Gratin
Total Time:
1 hour
20 minutes
Whether it is a holiday celebration or a Sunday family dinner, scalloped potatoes are a side dish that everyone seems to enjoy.
Ingredients
4 large russet potatoes
2 tablespoons of minced onion flakes
1 tablespoon of garlic powder
Pinch of fresh black pepper
1 1/2 cups of grated Swiss cheese 
3 tablespoons of unsalted butter
3 tablespoons of flour
1 1/2 cups of milk (you may use Skim, 1%, 2%, or whole but almond milk is not advisable)
Instructions
Preheat oven to 350 degrees.
Using a mandoline, slice potatoes very thin and set them to the side.
Grate Swiss cheese and place in a bowl to the side for later.
Melt butter in a saucepan over medium heat then add flour and stir to make a roux.
Slowly add your milk in small increments and ensure the mixture is smooth before adding more milk. Once you have added all your milk bring your mixture to a low boil while constantly stirring.
Slowly add about 1 cup of Swiss Cheese to the mixture and stir until completely melted. (You'll want to reserve about a half cup of cheese for the top!)
Add minced onion, garlic powder, and black pepper. Still to ensure a smooth and even sauce mixture. Remove sauce from heat.
Spray a 9 x 9 or 8.5 x 8.5 baking dish with cooking spray.
Now it is time to make a potato lasagna. Place a layer of potatoes in the dish then cover with a bit of cheese sauce. Repeat until you are all out of the sauce.
Place a final layer of potatoes on top of the stack and cover that layer with your remaining Swiss cheese. If you don't have enough to cover the top, shred a bit more.
Bake for 60 minutes. At about the 55-minute mark, turn the oven to broil so you can brown the top just a bit. Do NOT leave your potatoes unattended during this time because they will go from done to burnt in a flash.
Notes
I recommend preparing this dish in a metal or ceramic pan because before you take it out of the oven you will want to turn the oven to broil. Glass pans have been known to crack under such intense heat. It is rare but can happen and it is a mess nobody wants to clean up. So play it safe on this one and leave the glass dish in your cabinet.
Wondering how many blocks of Swiss you need to equal 1 and 1/2 cups of grated Swiss? Well, this amount is a little more than half of a single 8 oz. block of Swiss.
Recommended Products
As an Amazon Associate, I earn from qualifying purchases. For complete information please read the disclosures page (link at the bottom of this page).
Nutrition Information
Yield

8
Serving Size

1
Amount Per Serving
Calories

299
Total Fat

11g
Saturated Fat

7g
Trans Fat

0g
Unsaturated Fat

3g
Cholesterol

34mg
Sodium

58mg
Carbohydrates

39g
Fiber

4g
Sugar

4g
Protein

11g
Nutritional information is provided as an estimate. Nutritional content may vary due to several factors such as how much of an ingredient is used vs. how much will actually be eaten, brand differences, and more. To ensure the most accurate nutritional information, the reader should make calculations based on the ingredients actually used, using their own preferred method, or consulting with a licensed nutritional expert. This Website is not intended as a source of nutritional or food safety advice, and its readers assume full responsibility for any decisions made regarding their own health and safety. Nutritional information calculated by Nutritionix