This recipe for a tasty low sodium Mexican side dish is so easy to make! This low salt recipe is far superior to store-bought refried beans in both taste and sodium content. In just a few minutes you'll have a protein-rich batch of refried beans perfect for low sodium tacos or enchiladas.
Pinto beans make for the best-refried beans because they are so buttery. However, feel free to swap the pintos for black beans. Walmart and Sprouts both have a wide selection of affordable "no salt added" canned beans, so experiment with different beans. But start with the pintos!
I use onion flakes because it is faster and easier than chopping onions into very very tiny, super small pieces. If the onions are too large your bean dip will be crunchy and lack that signature creamy texture.
Fresh lime juice makes a difference! Sure you could use bottled lime juice, but nothing amps up the flavor like a squeeze of fresh lime juice.
Looking to make a burrito? Use no salt added homemade flour tortillas. Click here to get that low salt recipe.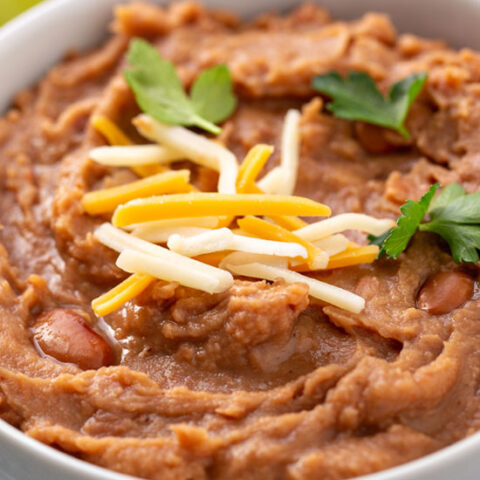 Easy Low Sodium Refried Beans
Ingredients
1 tablespoon of extra-virgin olive oil
1 teaspoon dried onion flakes
2 cloves of minced garlic
1/2 teaspoon of salt-free chili powder
1/4 teaspoon of cumin
2 cans (15 ounces each) of no-salt-added pinto beans - rinsed and drained
1/2 cup of water
1 tablespoon of fresh lime juice
Instructions
In a medium saucepan, warm olive oil over medium heat. Add garlic and onion flakes and stir occasionally until they begin to get fragrant (around 2 minutes). Don't let them burn! You want to bring out the flavor, but if you let them get scorched you'll have a carbon flavor in your beans.
Add chili powder and cumin. Stir for about 30-60 seconds. Then pour in drained beans and water. Stir mixture, cover, and cook for 5 minutes.
Now uncover and use a potato masher to mash about 75% of the beans are smooth. (Tweak based on your desired consistency.) Continue to cook beans, uncovered, for 3 additional minutes. You'll want to stir frequently during this stage.
Remove pan from heat and stir in lime juice. If beans seem a bit dry, add water one teaspoon at a time and stir to combine.
Notes
You could experiment with different no-salt-added beans. Try this recipe with black beans for a different and tasty twist.
Recommended Products
As an Amazon Associate, I earn from qualifying purchases. For complete information please read the disclosures page (link at the bottom of this page).
Nutrition Information
Yield

6
Serving Size

1
Amount Per Serving
Calories

107
Total Fat

3g
Saturated Fat

0g
Trans Fat

0g
Unsaturated Fat

2g
Cholesterol

0mg
Sodium

13mg
Carbohydrates

16g
Fiber

6g
Sugar

0g
Protein

5g
Nutritional information is provided as an estimate. Nutritional content may vary due to several factors such as how much of an ingredient is used vs. how much will actually be eaten, brand differences, and more. To ensure the most accurate nutritional information, the reader should make calculations based on the ingredients actually used, using their own preferred method, or consulting with a licensed nutritional expert. This Website is not intended as a source of nutritional or food safety advice, and its readers assume full responsibility for any decisions made regarding their own health and safety. Nutritional information calculated by Nutritionix