Buttery sweet cornbread can absolutely fit into a low sodium lifestyle. From the delicious corn flavor to the moist texture and crunchy crust, you'll enjoy this low salt take on a southern classic. One of the best parts of this low salt recipe is that it comes together so quickly. By the time your oven preheats, the ingredients are mixed and ready to go!
Sweet cornbread is the perfect accompaniment to a low sodium chili, soup, stew, or barbecue chicken.
The secret to this delicious recipe is the use of cream corn. Of course, you need to find a version without salt. DelMonte has a great version made without adding any salt. If you can't find this at your local store, just can omit it from the recipe. But you will need to add a little extra milk a tablespoon at a time until the batter is nice and creamy. This will ensure you still get that moist delicious bread.
I find when you bake one big loaf of cornbread that it is difficult to obtain a moist consistency. The ends tend to dry out a bit during the time it takes to fully bake the center of the loaf. Therefore, I prefer to bake individual-sized or "mini" loaves. I use the Wilton Mini Loaf Pan found here.
Another option is to bake in a pan specially designed for cornbread. This circular pan is already divided up into eight "pie slices". Why is this better than one big pan? Well, it allows for more even heating of your bread. The increased sidewall surface area bakes each slice without overcooking the edges. Click here to learn about this pan.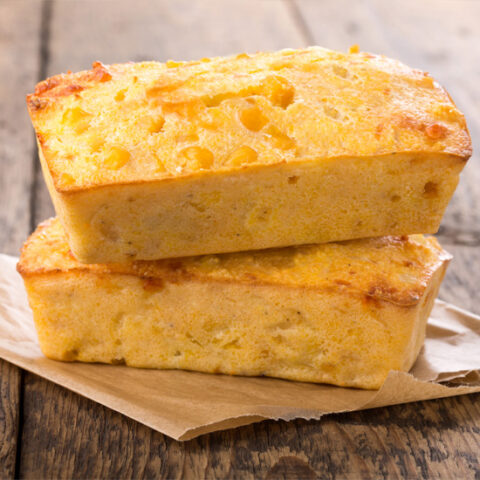 Low Sodium Cornbread
From the delicious corn flavor to the moist texture and crunchy crust, you'll enjoy this low salt take on a southern classic.
Ingredients
1 1/2 cups of all-purpose flour
3/4 cup of yellow cornmeal
1/4 cup of sugar
2 tablespoons of Hain Sodium Free Baking Powder
1 can (14.75 oz.) of Cream Style Golden Sweet Corn - No Salt Added
3/4 cup of milk
1/2 cup of unsalted butter, melted
2 large eggs, beaten
Instructions
Preheat the oven to 400°F and prepare your pan with nonstick spray.
In a large bowl, whisk together dry ingredients.
In a separate bowl, whisk together milk, melted butter, and egg until well combined.
Add the dry ingredients to the wet and stir until just combined. Do not overmix!
Pour batter in prepared pan and bake for 20-25 minutes.
Notes
Don't prefer sweet cornbread? You can reduce the sugar - or completely eliminate it - and your cornbread should still come out tasting delicious.
Serve your cornbread with some honey butter to take it over the top!
If you find yourself having to bake it in a single pan, use an 8x8 square pan covered with tin foil. This should help retain moisture while cooking.
Recommended Products
As an Amazon Associate, I earn from qualifying purchases. For complete information please read the disclosures page (link at the bottom of this page).
Nutrition Information
Yield

8
Serving Size

1
Amount Per Serving
Calories

306
Total Fat

15g
Saturated Fat

9g
Trans Fat

0g
Unsaturated Fat

6g
Cholesterol

83mg
Sodium

18mg
Carbohydrates

37g
Fiber

2g
Sugar

8g
Protein

6g
Nutritional information is provided as an estimate. Nutritional content may vary due to several factors such as how much of an ingredient is used vs. how much will actually be eaten, brand differences, and more. To ensure the most accurate nutritional information, the reader should make calculations based on the ingredients actually used, using their own preferred method, or consulting with a licensed nutritional expert. This Website is not intended as a source of nutritional or food safety advice, and its readers assume full responsibility for any decisions made regarding their own health and safety. Nutritional information calculated by Nutritionix