Looking for a low sodium side dish for a holiday or special occasion? This recipe for low sodium bourbon glazed carrots will wow your family and friends. Buttery, brown sugar- and bourbon-glazed carrots pair well with a holiday turkey or a celebratory steak dinner.
Carrots naturally have sodium, so this is not a sodium-free dish. But it is a no-salt-added side dish since none of the ingredients, beyond, the carrots, add salt to the recipe. Unfortunately, a food's naturally occurring sodium still counts as salt consumption, so you do have to take it into account when you plan your meal. At 91 mg of salt per serving (less if you get more than 6 servings out of the dish) these bourbon-glazed carrots are a tasty low sodium side dish.
Yes, the recipe calls for bourbon but these carrots are ok to serve to those under 21 or to adults that abstain from consuming alcohol. During the cooking process, the alcohol content will be burned off. Of course, if you prefer, you could just leave the bourbon out of the recipe! They will still taste good.
TRY USING BROWN BUTTER
If you want to take these tasty carrots to the next level, brown your butter before adding the carrots. Browning butter is an easy – and quick – step that will create a wonderfully nutty aroma.
By cooking the butter a little past the melting point, the milk solids in the butter are toasted and take on a nutty, caramel flavor. It's super easy to make brown butter, here's what you need to know:
Melt your unsalted butter in a thick-bottomed skillet over medium heat. Using a thick-bottomed pan will ensure your heat is evenly distributed.
Once melted the butter will foam up a bit, then subside. Watch carefully as lightly browned specks begin to form at the bottom of the pan.
Smell the butter; it should have a nutty aroma.
As you begin to notice a decent amount of browning, add your carrots. Once your carrots are in the pan, continuously stir so that you don't end up scorching part of your butter.
SAVE TIME: USE FROZEN CARROTS
If you want to save yourself some prep time, consider using a couple of bags of frozen carrots. Not only do you save time by not having to peel the carrots, but the carrots are already chopped into equal-sized pieces for you!
Just remember to use frozen carrots instead of canned carrots. First, frozen carrots do not have any added salt. The same can't be said for canned carrots. Plus canned carrots seem to lack the crisp texture and fresh taste of frozen carrots.
Some people are concerned that when you use frozen carrots you are trading nutritional value for convenience. But that is not necessarily the case. Carrots make the list of six foods that are healthier frozen. The reason? Carrots are flash-frozen shortly after harvest which means the nutritional value remains preserved.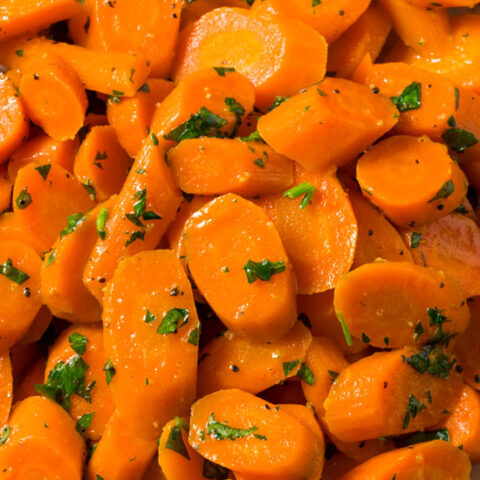 Low Sodium Bourbon Glazed Carrots
One of the best low sodium special-occasion side dishes of all time!
Ingredients
1 stick (8 tablespoons) of unsalted butter, sliced into 8 pieces
2 pounds of carrots, peeled and sliced into equal-sized pieces
1/2 cup of bourbon
1/3 cup of brown sugar
1 pinch of cayenne pepper (optional)
Fresh ground pepper, to taste
Instructions
Using a thick-bottomed skillet, melt butter in a heavy skillet over medium heat.
Stir frequently. When butter foams up, add carrots. Stir until liquid evaporates from carrots and the carrots begin to brown around the edges. This will take around 6 minutes.
Reduce heat to medium-low and pour in the bourbon. Cook and stir until the bourbon is almost evaporated, this should take about 2-3 minutes.
Sprinkle in brown sugar. Stir until carrots are almost cooked through, about 5 minutes.
When carrots are nearly tender, raise heat to medium-high to thicken the glaze, about 30-60 seconds.
Season with cayenne pepper and ground black pepper.
Notes
DO NOT use cheap bourbon! If you aren't a bourbon drinker you might be tempted to buy a cheap bottle because it won't get used outside of this side dish. You can purchase a small bottle
If you are using frozen carrots, you must defrost them first. Once defrosted use some paper towels to soak up the excess water (frozen veggies give off a lot of water). Skipping this step will result in a longer cooking time as you have to cook off that extra water.
If you opt to brown your butter, keep your eye on it while cooking; it's pretty easy to go from browned to burnt!
Recommended Products
As an Amazon Associate, I earn from qualifying purchases. For complete information please read the disclosures page (link at the bottom of this page).
Nutrition Information
Yield

6
Serving Size

1
Amount Per Serving
Calories

145
Total Fat

2g
Saturated Fat

1g
Trans Fat

0g
Unsaturated Fat

1g
Cholesterol

5mg
Sodium

91mg
Carbohydrates

23g
Fiber

5g
Sugar

15g
Protein

1g
Nutritional information is provided as an estimate. Nutritional content may vary due to several factors such as how much of an ingredient is used vs. how much will actually be eaten, brand differences, and more. To ensure the most accurate nutritional information, the reader should make calculations based on the ingredients actually used, using their own preferred method, or consulting with a licensed nutritional expert. This Website is not intended as a source of nutritional or food safety advice, and its readers assume full responsibility for any decisions made regarding their own health and safety. Nutritional information calculated by Nutritionix