Potatoes are a key ingredient in low sodium cooking as they naturally have zero sodium. Vegetables like tomatoes and even celery have naturally occurring salt in them, but not potatoes! This bright and tangy low sodium side dish comes together in about 30 minutes.
The wonderful part of this Greek-inspired dish is that it leans on simple, bright flavors. Every single bite of this low salt side dish is bursting with tangy citrus and savory garlic, with just a hint of crispiness from roasting. In fact, these potatoes are so tasty they are capable of stealing the show from any food they accompany.
You can play with the different types of potatoes for this dish. Fingerling potatoes or multi-colored miniature potatoes…it doesn't matter because they will all taste amazing because the lemon and garlic in this version really shine through.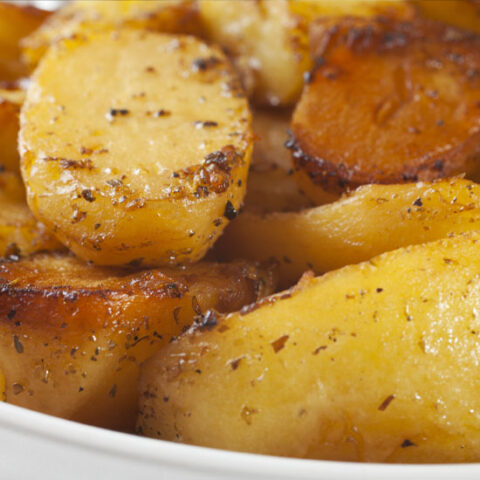 Low Sodium Lemon-Garlic Roasted Potatoes
These low sodium garlic lemon potatoes are loaded with flavor and come together in about 30 minutes.
Ingredients
12 Yukon gold mini potatoes
2 tablespoons of minced garlic or 6 medium cloves freshly grated
3 tablespoons of extra virgin olive oil
1 lemon, zested and juiced
Pinch of black pepper
Instructions
Preheat your oven to 425 degrees.
Scrub potatoes under cold water to clean them, then pat dry to remove excess moisture.
Quarter or half your potatoes and place them into a large bowl.
Add olive oil, garlic, black pepper, and juice from one lemon. Zest your lemon halves over the bowl using a grater until you add about 1 teaspoon of lemon zest.
Toss potatoes to ensure everything is fully coated.
Transfer everything into a baking tray lined with parchment paper, ensuring all potatoes are in a single layer. Drizzle any of the lemon juice and olive oil left in the bowl over the potatoes & garlic.
Bake for 25-30 minutes in a 425-degree oven until potatoes are perfectly roasted.
Notes
If you want all the cut sides to have crispy caramelization, start all the potatoes cut-side-down and finish them cut-side-up. This has no effect on flavor or texture.
Recommended Products
As an Amazon Associate, I earn from qualifying purchases. For complete information please read the disclosures page (link at the bottom of this page).
Nutrition Information
Yield

4
Serving Size

1
Amount Per Serving
Calories

278
Total Fat

11g
Saturated Fat

2g
Trans Fat

0g
Unsaturated Fat

9g
Cholesterol

0mg
Sodium

8mg
Carbohydrates

44g
Fiber

6g
Sugar

3g
Protein

5g
Nutritional information is provided as an estimate. Nutritional content may vary due to several factors such as how much of an ingredient is used vs. how much will actually be eaten, brand differences, and more. To ensure the most accurate nutritional information, the reader should make calculations based on the ingredients actually used, using their own preferred method, or consulting with a licensed nutritional expert. This Website is not intended as a source of nutritional or food safety advice, and its readers assume full responsibility for any decisions made regarding their own health and safety. Nutritional information calculated by Nutritionix