These low salt muffins are packed with fresh zucchini and chocolate chips for a delectable low sodium treat. Grated zucchini gives these muffins a moist texture while the cinnamon and nutmeg provide a comforting flavor. This recipe truly is part fall treat and part summer-time snack.
One of the best parts of this recipe is everything is made in two bowls and there's no mixer required. Just a wooden spoon and a spatula! These low sodium muffins are insanely easy to make.
Looking for a low sodium Zucchini Bread? There's a recipe for that too!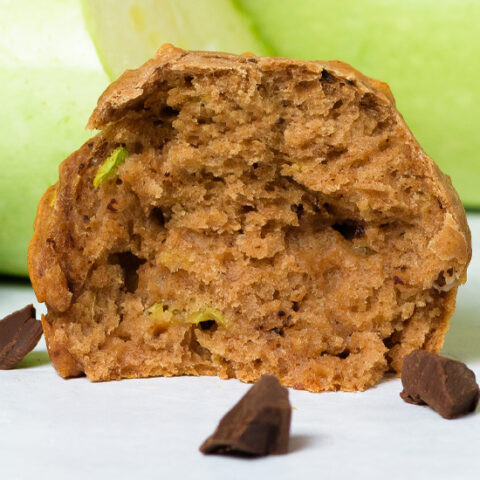 Low Sodium Zucchini Muffins with Chocolate Chips
These low salt muffins are packed with fresh zucchini and chocolate chips for a delectable low sodium treat.
Ingredients
1 and 1/2 cups of all-purpose flour
2 teaspoons of sodium-free baking powder
2 teaspoons of ground cinnamon
1/4 teaspoon of nutmeg
1/2 cup of vegetable oil
1/2 cup of packed light brown sugar
1/2 cup of granulated sugar
1 large egg
2 teaspoons of pure vanilla extract
1 cup of semi-sweet chocolate chips
1 cup of shredded zucchini
Instructions
Spray a 12-count muffin pan with a non-stick spray that has flour or line with paper liners. Preheat oven to 425 degrees.
In a large bowl, add flour, no salt baking powder, cinnamon, and nutmeg. Whisk together until combined. Set aside.
In a medium bowl, whisk the oil, brown sugar, granulated sugar, egg, vanilla, and zucchini together until combined.
Pour the wet ingredients into the dry ingredients. Gently whisk until just combined; do not overmix.
Fold in chocolate chips.
Spoon the batter evenly into the 12 muffin cups, filling each all the way to the top.
Bake the muffins for 5 minutes at 425°F then, keeping the muffins in the oven, reduce the oven temperature to 350°F. Bake for an additional 13-16 minutes or until a toothpick inserted in the center comes out clean. (Total baking time should be about 18-21 minutes)
Cool in muffin pan on a wire rack for 5 minutes. Remove muffins from the pan and let them cool completely on the wire rack.
Notes
The baking temperature starts out at 425 for five minutes before getting dialed back to 350. This should give you a nice tall muffin top. Just don't forget to turn it back to 350! If you don't, you'll have zucchini charcoal muffins.
The easiest way to shred your zucchini is using a box grater. Once you are done shredding, very lightly blog the zucchini with a couple of paper towels. Do not squeeze the moisture out, just give it a light blot to rid some of the excess moisture.
If you are so inclined, add a cup of chopped unsalted walnuts or unsalted pecans (my personal favorite) to your muffins.
Are you someone that likes a muffin with a sugary top? Well, just before you place the muffins in the oven sprinkle a bit of sanding sugar over the batter of each muffin. This large crystal sugar will create a crunchy sweet topping that you would find on a store-bought muffin.
These muffins store great! Place the muffins in a single layer in an airtight container and leave them on the counter for up to three days. Since they don't have salt in them, they won't last too long at room temperature. Beyond three days, you should store them in the refrigerator.
If you want to freeze a batch for later, place the muffins in a single layer on a baking sheet and place them in the freezer until they are frozen all the way through. Then wrap each muffin individually in plastic wrap. This will prevent freezer burn. Place all wrapped muffins in a resealable freezer bag for convenient storage.
Recommended Products
As an Amazon Associate, I earn from qualifying purchases. For complete information please read the disclosures page (link at the bottom of this page).
Nutrition Information
Yield

12
Serving Size

1
Amount Per Serving
Calories

242
Total Fat

14g
Saturated Fat

3g
Trans Fat

0g
Unsaturated Fat

10g
Cholesterol

16mg
Sodium

5mg
Carbohydrates

30g
Fiber

1g
Sugar

24g
Protein

2g
Nutritional information is provided as an estimate. Nutritional content may vary due to several factors such as how much of an ingredient is used vs. how much will actually be eaten, brand differences, and more. To ensure the most accurate nutritional information, the reader should make calculations based on the ingredients actually used, using their own preferred method, or consulting with a licensed nutritional expert. This Website is not intended as a source of nutritional or food safety advice, and its readers assume full responsibility for any decisions made regarding their own health and safety. Nutritional information calculated by Nutritionix