Store-bought salsa has a tremendous amount of unwanted salt. While salsa isn't as salty as a can of soup soup, it is one of those sneaky sources of sodium because you graze on chips and salsa. Before you know it, you've consumed a lot of salt. That's where homemade low sodium salsa comes into play. You can cut the salt out of your salsa without compromising its flavor.
Making your own low sodium salsa is super easy and not only reduces your sodium intake but you will experience a fresher tasting salsa. Quick and easy are in the title of this recipe and it delivers on both. But there is one step you shouldn't skip.
DO NOT forget to allow it to chill in your refrigerator for a couple of hours. Letting your low salt salsa sit, covered, in the refrigerator will allow time for the flavors to mingle a little bit. The result will be a much richer flavor. Sure, you could eat it right away but I promise, it will be worth the wait if you let it chill for a bit.
Sometimes I will use a can of Ro-Tel No Salt Added Diced Tomatoes with Green Chillies as my base. This immediately livens up your flavor profile as those tomatoes have been marinating with the green chilies.
Below is a foundational recipe to get you started. But you need to make this your own. Like more heat? Add more jalapeño. Want some sweetness? Chop up a peach and toss it in. (Peach salsa is a personal favorite of mine.) Customize this salsa to your liking.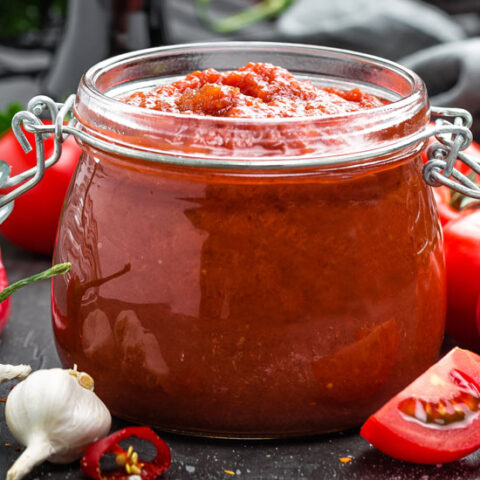 Quick and Easy Low Sodium Salsa
Homemade salsa provides a fresher taste with reduced sodium content than what you'd find at your local grocery store.
Ingredients
1 can of no salt added diced tomatoes
2 green onions, chopped
3 garlic cloves, minced
1 green bell pepper, chopped
1 fresh jalapeño, chopped
1/2 bunch fresh cilantro, chopped
1/2 teaspoon of cumin
1 teaspoon of dried oregano
Instructions
Pulse all ingredients in a food processor or blender until the larger items are small and chunky - don't over blend because you'll end up with a salsa smoothie!
Refrigerate for 2-3 hours to allow the flavors to merge.
Notes
Serve with low salt nacho chips. Garden of Eatin' makes a no salt added blue chip. While Tostitos makes a lightly salted tortilla chip.
Recommended Products
As an Amazon Associate, I earn from qualifying purchases. For complete information please read the disclosures page (link at the bottom of this page).
Nutrition Information
Yield

10
Serving Size

1
Amount Per Serving
Calories

16
Total Fat

0g
Saturated Fat

0g
Trans Fat

0g
Unsaturated Fat

0g
Cholesterol

0mg
Sodium

8mg
Carbohydrates

4g
Fiber

1g
Sugar

2g
Protein

1g
Nutritional information is provided as an estimate. Nutritional content may vary due to several factors such as how much of an ingredient is used vs. how much will actually be eaten, brand differences, and more. To ensure the most accurate nutritional information, the reader should make calculations based on the ingredients actually used, using their own preferred method, or consulting with a licensed nutritional expert. This Website is not intended as a source of nutritional or food safety advice, and its readers assume full responsibility for any decisions made regarding their own health and safety. Nutritional information calculated by Nutritionix