Enjoy the most amazing low sodium pumpkin muffins ever created! This recipe uses no butter and no salt. The result is a soft, moist pumpkin muffin that is full of flavor and low in sodium.
This recipe is ideal for September and October when the crisp fall air begins to move in. But to be honest, I make these all year round. And they are banging with chocolate chips!
The sodium content in these easy pumpkin muffins comes from the two eggs. You can cut back one egg by substituting 1/4 cup of unsweetened applesauce. This swap will make the already low sodium count even lower. Personally, I like the way it comes out with eggs so I typically keep them both in the recipe. But play around and do what works best for your pallet.
Sprinkle the tops with sanding sugar (aka large sugar crystals) before putting them in the oven. If you don't have sanding sugar, it is worth investing in a bottle because you can't use granulated sugar for this step. Granulated sugar crystals are too small and will simply be absorbed by the moisture in your batter.
The larger crystals found in sanding sugar will stand up to your pumpkin batter and hold their shape in the heat. The end result will be just like those crunchy, sugary muffin tops found at the bakery.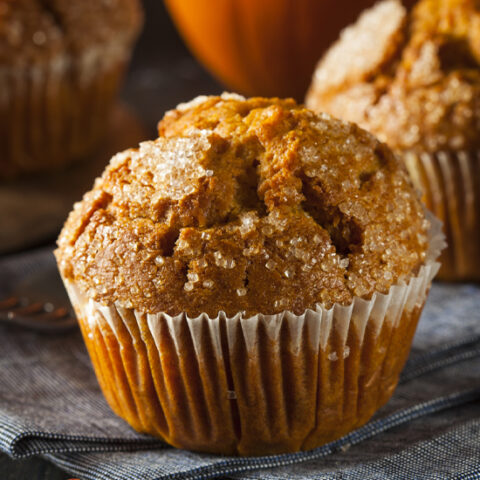 Low Sodium Pumpkin Muffins
Enjoy the most amazing low sodium pumpkin muffins ever created! This fall favorite uses no butter and no salt.
Ingredients
1 can (15 oz.) of pure pumpkin
1 cup of brown sugar
3/4 cup olive or canola oil
2 eggs
2 cups all-purpose flour
2 1/2 teaspoons of Sodium Free Baking Powder
2 teaspoons of vanilla
1 tablespoon of pumpkin spice
Instructions
Preheat oven to 350 degrees
In a large bowl, beat oil and sugar together
Add eggs, vanilla, and pumpkin to the oil and sugar. Whisk until well combined.
In a separate bowl mix dry ingredient and whisk together to combine all ingredients.
Stir dry ingredients into the large bowl containing your wet ingredients. Mix until your flour mixture is just combined, but do not overmix. If you stir too much, you will wind up with dense hard muffins.
If you are going to add a mix-in like chocolate chips (which I suggest you do) this would be the time to lightly fold those chips into the batter.
Spray muffin tin with non-stick baking spray and fill each cup evenly with batter.
Sprinkle the top of each muffin with sanding sugar (optional).
Bake in a preheated 350-degree oven for 18-20 minutes.
Let cool completely cool on a baking rack before serving.
Notes
Mini chocolate chips are an amazing addition to these muffins. I use semi-sweet chips but you could use milk chocolate or dark chocolate. There's something unexpected about the combination of pumpkin with a hint of chocolate that I really enjoy.
This recipe makes 12 full-sized muffins or 24 mini muffins. If you are opting for smaller muffins, you will want to reduce the cooking time by half.
These muffins are excellent with a dash of cinnamon and nutmeg.
Recommended Products
As an Amazon Associate, I earn from qualifying purchases. For complete information please read the disclosures page (link at the bottom of this page).
Nutrition Information
Yield

12
Serving Size

1
Amount Per Serving
Calories

173
Total Fat

3g
Saturated Fat

1g
Trans Fat

0g
Unsaturated Fat

2g
Cholesterol

31mg
Sodium

12mg
Carbohydrates

33g
Fiber

1g
Sugar

15g
Protein

3g
Nutritional information is provided as an estimate. Nutritional content may vary due to several factors such as how much of an ingredient is used vs. how much will actually be eaten, brand differences, and more. To ensure the most accurate nutritional information, the reader should make calculations based on the ingredients actually used, using their own preferred method, or consulting with a licensed nutritional expert. This Website is not intended as a source of nutritional or food safety advice, and its readers assume full responsibility for any decisions made regarding their own health and safety. Nutritional information calculated by Nutritionix