Bake up a batch of low sodium pumpkin chocolate chip cookies for a fall twist on a traditional cookie. It is the perfect low salt way to bring chocolate chip cookies into pumpkin spice season. If you like pumpkin and chocolate, you'll love these cookies. They are definitely worth baking any time of year!
These low salt cookies are amazingly soft, packed with pumpkin, and irresistibly spiced, The finished product is a batch of pumpkin chocolate chip cookies that are soft, cakey, melt-in-your-mouth kind of cookie.
This recipe uses semi-sweet chocolate chips. Semi-sweet chips have a slight bitterness that helps balance the sweetness of the pumpkin cookies. Substitute dark chocolate chunks for more contrast or milk chocolate morsels if you aren't a fan of the bitterness of the semi-sweet.
You don't want to try to save time by skipping two steps. While the dough comes together relatively quickly, it is best to let it chill for an hour before baking. I personally hate this step. I mean, let's get on with it already. But the cooling process does help the dough come together. The result will be better-formed cookies.
Next, be sure to cool your pumpkin cookies properly before eating them. Let the cookies cool on a cooling rack for a while. If you pick them up too soon, they will break apart. I know so many people prefer a delicious warm cookie direct from the oven, but I find both the chewiness and flavor amplify over time.
This base recipe can be easily changed to yield a different type of pumpkin treat! First, you could replace the chocolate chips with some finely chopped unsalted pecans.
Another option would be to use this recipe to create a white chocolate pumpkin snickerdoodle. First, substitute white chocolate chips. After that, roll the dough balls in a cinnamon-sugar mixture prior to baking.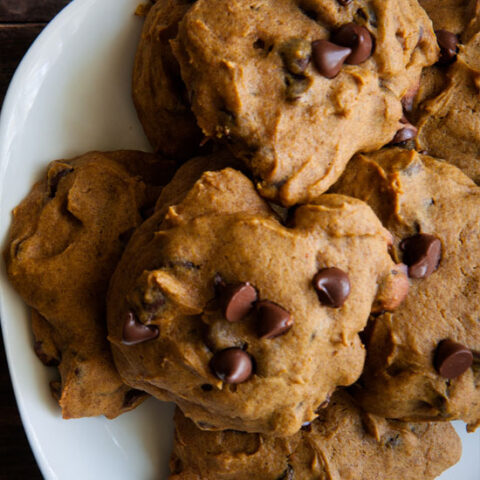 Low Sodium Pumpkin Chocolate Chip Cookies
Total Time:
1 hour
25 minutes
Pumpkin cookies loaded with semi-sweet morsels of chocolate are a truly irresistible low sodium fall favorite.
Ingredients
1/2 cup of unsalted butter, melted
1/2 cup of granulated sugar
1/2 cup of brown sugar
1/3 cup of pure pumpkin puree
1 egg
1-3/4 cup of all-purpose flour
1 1/2 teaspoon of sodium-free baking powder
1 tablespoon of pumpkin pie spice
1 cup of semisweet chocolate chips
2 teaspoons of vanilla extract
Instructions
In a large bowl, whisk together both kinds of sugar with the butter for about a minute to make sure there are no lumps.
Add the pumpkin puree, egg, and vanilla and whisk until well incorporated.
In a separate bowl, add sodium-free baking powder, flour, and chocolate chips and whisk together. This acts as a sifter to ensure your dry ingredients are well combined and have no lumps. It also coats the chips with a bit of flour which will help them incorporate through the batter evenly.
Add dry ingredients to your wet ingredients. Using a spatula fold everything together until your cookie dough forms.
Cover the bowl with plastic wrap and pop the dough in the fridge for about an hour.
Preheat your oven to 375 degrees and line 2 baking sheets with parchment paper, set aside.
Form your cookies using a small ice cream scoop, making sure to leave a couple of inches between them, then bake them for about 10 minutes or until they turn a light golden brown color around the edges, let them cool before serving.
Notes
Let your egg come to room temperature. Using room temperature ingredients yields smooth, well-blended batters and doughs. 
It is helpful to have some cooking spray on hand to spray your ice cream scoop every now and then. This will ensure your dough doesn't stick to the scoop.
I like to sprinkle a few extra chocolate chips on top of the cookies as it makes the chips stand out and gives you an extra chocolate kick!
Rotate your baking sheets at the halfway point. This will ensure you get an even bake on your cookies.
Recommended Products
As an Amazon Associate, I earn from qualifying purchases. For complete information please read the disclosures page (link at the bottom of this page).
Nutrition Information
Yield

30
Serving Size

1 cookie
Amount Per Serving
Calories

266
Total Fat

5g
Saturated Fat

3g
Trans Fat

0g
Unsaturated Fat

2g
Cholesterol

14mg
Sodium

4mg
Carbohydrates

49g
Fiber

2g
Sugar

10g
Protein

6g
Nutritional information is provided as an estimate. Nutritional content may vary due to several factors such as how much of an ingredient is used vs. how much will actually be eaten, brand differences, and more. To ensure the most accurate nutritional information, the reader should make calculations based on the ingredients actually used, using their own preferred method, or consulting with a licensed nutritional expert. This Website is not intended as a source of nutritional or food safety advice, and its readers assume full responsibility for any decisions made regarding their own health and safety. Nutritional information calculated by Nutritionix