Never purchase frozen store-bought tater tots again! With deeply golden, crispy exteriors that give way to tender, creamy interiors, this recipe for low sodium tater tots will have you piling them onto your plate. This low salt version of a childhood favorite will be a hit with kids of all ages.
It might be the middle schooler in me, but I love tater tots. There's something about the crispy nuggets of potato that transport you back to the middle school cafeteria. The problem is those little tots are packed full of salt. In fact, one of the most popular, and widely available, tater tot brands serves up 430mg of sodium in about 7 tots. That's an unbelievable amount of salt in just 3 ounces of a side dish.
This might not be the fastest recipe you encounter as there are several prep steps. However, once you get through the prep work, the finished product comes together with very little effort. Plus this recipe is freezer friendly so you can easy to scale up to make extra low salt tater tots for future meals. You can find tips for freezing your tots in the notes section below.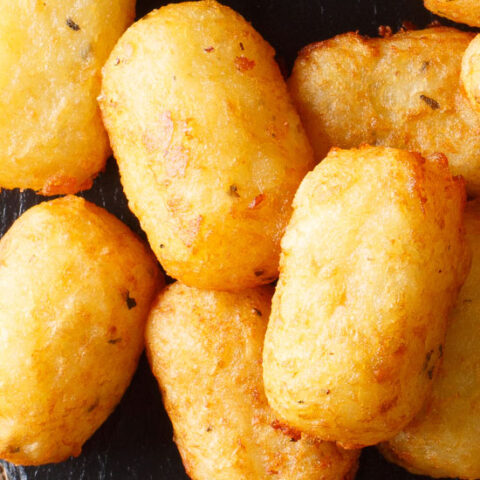 Low Sodium Tater Tots
With deeply golden, crispy exteriors that give way to tender, creamy interiors, this recipe for low sodium tater tots will have you piling them onto your plate. This low salt version of a childhood favorite will be a hit with kids of all ages.
Ingredients
2 pounds of russet potatoes, peeled
1 tablespoon of all-purpose flour
1 teaspoon of garlic powder
1/2 teaspoon of onion powder
1/4 teaspoon of dried oregano
1/4 teaspoon of dried dill
1 cup vegetable oil
Fresh ground black pepper, to taste
Instructions
Place potatoes in a large saucepan and cover with water by 1 inch. Bring to a boil and cook until parboiled; about 6 minutes. Drain well and let cool.
Using a box grater, finely shred potatoes. Place potato shreds into a large bowl of ice water. Soak for 30 minutes.
Drain potatoes; place on paper towels or clean dish towels and pat dry. Remove as much water as possible.
Place dried potatoes in a large bowl. Stir in flour, garlic powder, onion powder, oregano, and dill. Add fresh ground pepper, if desired. Gently fold around ingredients to ensure everything is fully incorporated. The final mixture should be workable but dry.
Form potatoes into tot shapes.
Heat vegetable oil in a Dutch oven over medium heat.
Add tots to the oil, about 6-8 at a time, and cook until you achieve an even golden brown color and desired crispiness; approximately 2 minutes +/- per side.
Transfer to a paper towel-lined plate. Serve immediately after all tots have been cooked.
Notes
Why soak the potato shreds in cold water? Soaking your potatoes in ice-cold water will remove excess potato starch. This will help you achieve a tasty crispy exterior on your tater tots.
I prefer to use Wondra flour when making my tater tots. The fine texture of this all-purpose flour will prevent lumps of flour from forming in your potato mixture.
Freeze your low sodium tater tots! I like to make large batches of tots and then store them in the freezer. That way I always have some at the ready without having to go through all of these steps. Before you put your tots in the freezer, make sure they have completely cooled. Place in an airtight freezer bag with as much air removed as possible. Freeze for up to 1 month.
To prepare your frozen tater tots, preheat the oven to 400 degrees. Place frozen tots in a single layer on a baking sheet. Bake until heated through, about 15-17 minutes. If desired, spray with some olive oil cooking spray at the halfway point.
Serve these with no salt added ketchup. Click here for that recipe.
Don't stress out about the shape! You probably won't be able to achieve that perfect cylindrical shape from commercially produced tater tots. That's ok! The handmade shape of your tots won't negatively impact the taste at all. Plus the imperfection is an excellent reminder that you are eating a homemade product that is better for you than anything your grocery store could sell you.
The only thing you need to keep in mind when shaping your tots is size. Try to make sure each tot is approximately the same size as this will ensure equal cooking time.
Recommended Products
As an Amazon Associate, I earn from qualifying purchases. For complete information please read the disclosures page (link at the bottom of this page).
Nutrition Information
Yield

8
Serving Size

about 4 ounces
Amount Per Serving
Calories

357
Total Fat

27g
Saturated Fat

2g
Trans Fat

1g
Unsaturated Fat

24g
Cholesterol

0mg
Sodium

16mg
Carbohydrates

26g
Fiber

3g
Sugar

1g
Protein

3g
Nutritional information is provided as an estimate. Nutritional content may vary due to several factors such as how much of an ingredient is used vs. how much will actually be eaten, brand differences, and more. To ensure the most accurate nutritional information, the reader should make calculations based on the ingredients actually used, using their own preferred method, or consulting with a licensed nutritional expert. This Website is not intended as a source of nutritional or food safety advice, and its readers assume full responsibility for any decisions made regarding their own health and safety.