These muffins have the benefits of a bran muffin combined with the sweetness of apples and the freshness of oranges. They are great for a breakfast on the go or a relaxing Sunday morning brunch.
Make a batch ahead of time and freeze them for later. Just remember to wrap each muffin individually in saran wrap. Doing this will minimize the air around the muffin and help prevent it from drying out in your freezer.
This recipe calls for buttermilk. I typically don't keep buttermilk in the house because I so rarely use it. But it is super easy to make your own.
Mix 2 cups of regular milk (whole, 2%, or 1% – do not use skim) with 2 teaspoons of vinegar or 2 teaspoons of lemon juice and let stand for 5 minutes. Once it has become thick and curdled, you are good to go!
As a bonus, you will save a lot of fat by going this route.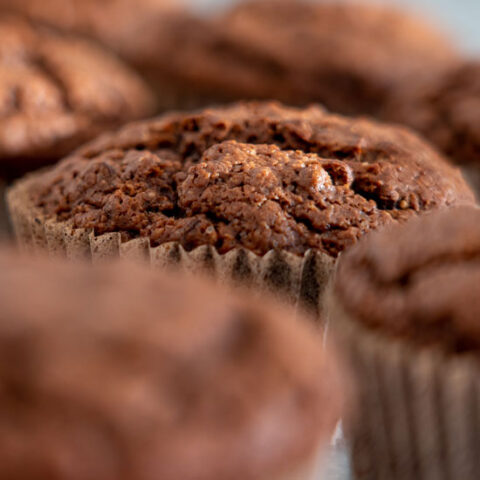 Low Sodium Apple Bran Muffins
These low sodium muffins have the benefits of a bran muffin combined with the sweetness of apples and the freshness of oranges.
Ingredients
2 cups of flour
1 1/2 cups of wheat bran
1 tablespoon of no sodium baking powder
1 teaspoon of nutmeg
1 cup chopped apple
Juice from 1 freshly squeezed orange
2 cups of buttermilk
1 beaten egg
1/2 cup molasses
3 tablespoons of unsweetened applesauce
Instructions
Preheat oven to 350 degrees.
In a large bowl, mix flour, bran, baking soda, and nutmeg together
Stir in chopped apples
In separate bowl mix juice of one orange, buttermilk, egg, molasses, and unsweetened applesauce; stir thoroughly
Stir liquid ingredients into dry ingredients until mixed well - don't over mix!
Pour into lined muffin tins, filling them two-thirds full, and bake for 25 minutes
Notes
You might be asking why there isn't granulated sugar. Well, there's plenty of natural sweetness in the chopped apple and apple sauce. You could always put a dusting of sanding sugar on the top prior to putting them in the oven to bake.
Since you are using a salt-free baking powder, your muffins will not rise as much as they would with the original salt-filled version. You will still get a rise, just not as high. I mention this because it means you can fill the tins higher than you normally would.
If you don't like paper-lined muffin tins, you can definitely skip them. Just be sure to spray your pan with a non-stick spray that contains flour. (Link in the products below.)
Recommended Products
As an Amazon Associate, I earn from qualifying purchases. For complete information please read the disclosures page (link at the bottom of this page).
Nutrition Information
Yield

12
Serving Size

1 muffin
Amount Per Serving
Calories

179
Total Fat

1g
Saturated Fat

0g
Trans Fat

0g
Unsaturated Fat

1g
Cholesterol

17mg
Sodium

24mg
Carbohydrates

39g
Fiber

4g
Sugar

17g
Protein

5g
Nutritional information is provided as an estimate. Nutritional content may vary due to several factors such as how much of an ingredient is used vs. how much will actually be eaten, brand differences, and more. To ensure the most accurate nutritional information, the reader should make calculations based on the ingredients actually used, using their own preferred method, or consulting with a licensed nutritional expert. This Website is not intended as a source of nutritional or food safety advice, and its readers assume full responsibility for any decisions made regarding their own health and safety. Nutritional information calculated by Nutritionix