One of the most popular holiday side dishes is stuffing. Or is it called dressing? I'll get to that part in just a minute. But making stuffing out of that famous red box adds a tremendous amount of unwanted salt to your meal. What you need is a recipe for low sodium stuffing that will bring the flavor without tasting bland and boring.
WHAT'S IN A NAME?
Before we begin, let's settle something. Is it called stuffing or dressing? Well, it turns out there's a technical difference in the name of this side dish. Both stuffing and dressing have the exact same ingredients. But what you call it is based on where this breaded deliciousness is cooked. Stuffing is cooked inside the turkey while dressing is cooked in a dish separate from your poultry.
I don't know too many people that still cook this side dish inside the turkey. I know my family hasn't done that for decades. But we still call it stuffing. So call it whatever you like! I'll just plan on calling it delicious.
Why are there quotes around the word sausage in the title of this recipe? It is because this recipe contains a pork mixture that is reminiscent of sausage, but it does NOT use actual sausage. This way you get all the flavor of a sausage stuffing without the high sodium content that comes from cooking with pre-made sausage.
FINDING LOW SODIUM PORK
Speaking of pork, you will want to purchase plain ground pork from the butcher or grocery store. Read the label to ensure it is just ground pork without any extra ingredients that increase the sodium content. Plain ground pork should have less than 80 mg of sodium per serving.
Look at the images above. Both are packages of ground pork from Smithfield. When you are shopping you think they are the same because they look similar. After all, you are looking for ground pork, not ground sausage so either one of these should work, right? Wrong!
The one on the right is labeled "Signature Ground Pork" and has 400 mg per serving. That's more than five times the amount of salt in the package on the left! That package, labeled Ground Pork, contains only 75 mg of sodium per serving. This is why you have to read the nutrition information and ignore the marketing label on the front.
DON'T LET THE INGREDIENTS LIST DISCOURAGE YOU FROM TRYING THIS LOW SODIUM SIDE DISH
You might look at the recipe below and think it is too long and difficult. But I encourage you to give it a shot. Yes, it looks like a long recipe but most of those lines are made up of an array of spices. I don't have patience for complicated recipes as I believe good food should be simple and straightforward. So if I can make it through this recipe, I guarantee you can too!
Complete your meal by pairing this low sodium stuffing with a recipe for a tasty turkey. And don't forget the low sodium mashed potatoes!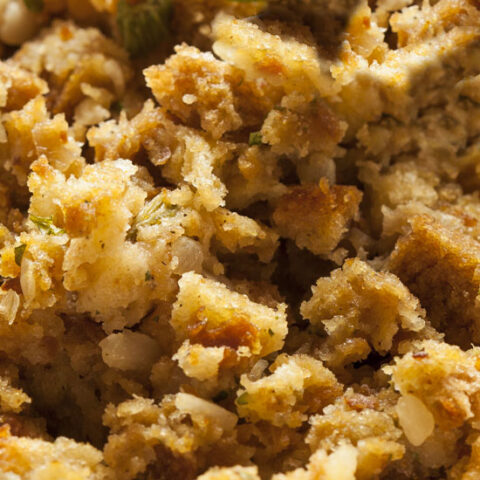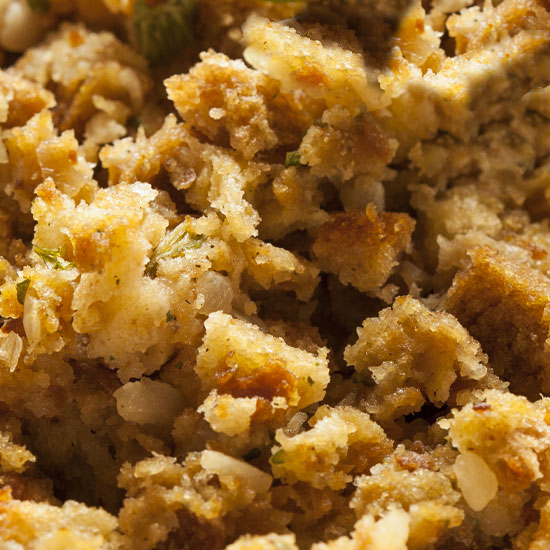 Low Sodium Stuffing
Total Time:
1 hour
25 minutes
A low sodium stuffing for holidays and family dinners that is moist and flavorful. This low salt stuffing is significantly more flavorful and less salty than a boxed stuffing mix.
Ingredients
Low Sodium "Sausage" Mixture
1 1/2 pounds of ground pork - just pork, not sausage
2 tablespoons of olive oil
2 tablespoons of red wine vinegar
1/2 teaspoon of fennel seed, ground
1/2 teaspoon of smoked paprika
1/2 teaspoon of garlic powder
1/2 teaspoon of ground black pepper
1/2 teaspoon of red pepper flakes
1/2 teaspoon of oregano
1/2teaspoon of ground sage
1/2 teaspoon of dried basil
1/2 teaspoon of dried thyme
1/8 teaspoon of mace-spice
Stuffing Ingredients
1 loaf of low sodium or unsalted bread, cut into ¾ inch cubes
1 tablespoon of olive oil
2 tablespoons of unsalted butter
2 tablespoons of garlic, minced
1 and 1/2 cups of diced onion
3 celery ribs, diced
1 ½ tablespoon of ground dried parsley leaves
2 tablespoons of ground dried sage leaves
1 tablespoon of ground thyme
2 teaspoons of rosemary, chopped
4 cups of unsalted chicken broth
1 teaspoon of poultry seasoning
Fresh ground black pepper to taste
Instructions
Grind the basil, sage, oregano, pepper flakes, and fennel seed in a spice grinder until they are lightly powdered. Alternatively, you can use a mortar and pestle if you don't have a spice grinder.
In a small mixing bowl add the ground spice to all other dry ingredients from the "sausage" mixture portion of the recipe. Whisk together to remove any clumps.
Place your ground pork in a large mixing bowl. Sprinkle spice mixture over the meat. Next, pour olive oil and red wine vinegar over the meat and knead well until the spices are evenly distributed.
Refrigerate meat for at least 30 minutes to let the spices infuse into the meat. You can let the meat sit in a covered bowl inside a refrigerator overnight for maximum flavor. The longer it sits, the more flavorful it will become.
Cook over medium heat breaking into small crumbles and stirring occasionally until the outside surface is light to medium brown. About 8 to 9 minutes total and there is no pink remaining. Since it is lean do not overcook or the meat will turn out very dry.
Preheat oven to 350 degrees F.
Spread bread cubes in a single layer on a baking sheet. Spray lightly with olive oil cooking spray. Place into oven and bake until crisp and golden, about 10-13 minutes; scrape into a large mixing bowl.
Melt butter in the skillet. Add onion and celery, and cook, stirring occasionally, until tender, about 4-5 minutes. Stir in garlic, parsley, sage, thyme, and rosemary for about 1 minute.
In a large mixing bowl, place toasted bread, "sausage" mixture, and butter mixture. Gently stir together.
Mix together unsalted chicken broth and poultry seasoning. (I save a dish by pouring seasoning into my broth container and shaking it up.)
Drizzle the chicken broth mixture into the bowl while tossing the ingredients. Continue to mix until all liquid is evenly distributed and absorbed. You don't want any dry spots!
Spray a 10 x 14 baking dish with nonstick spray. You can use 2 smaller baking pans but this fits perfectly. Spread bread mixture into the prepared baking dish. Place into a 350-degree oven and bake until the top is browned, about 30-35 minutes.
Notes
Read the nutrition label on your ground pork to make sure it doesn't have any added salt. Plain ground pork should have less than 80 mg of sodium per serving. There are some products that have much more because they have been "spiced" which should really be called "salted."
Recommended Products
As an Amazon Associate, I earn from qualifying purchases. For complete information please read the disclosures page (link at the bottom of this page).
Nutrition Information
Yield

9
Serving Size

1
Amount Per Serving
Calories

245
Total Fat

18g
Saturated Fat

6g
Trans Fat

0g
Unsaturated Fat

12g
Cholesterol

56mg
Sodium

80mg
Carbohydrates

6g
Fiber

1.5g
Sugar

2g
Protein

15g
Nutritional information is provided as an estimate. Nutritional content may vary due to several factors such as how much of an ingredient is used vs. how much will actually be eaten, brand differences, and more. To ensure the most accurate nutritional information, the reader should make calculations based on the ingredients actually used, using their own preferred method, or consulting with a licensed nutritional expert. This Website is not intended as a source of nutritional or food safety advice, and its readers assume full responsibility for any decisions made regarding their own health and safety. Nutritional information calculated by Nutritionix