Potatoes are naturally free of sodium. So why is it that store-bought mashed potatoes are often loaded with sodium? Here's a recipe that will beat the flavor of any pre-made potatoes while maintaining a low sodium profile. The garlic amps up the flavor while the Mascarpone Cheese gives you that creamy potato texture everyone desires.
Part of what makes these potatoes so great is the roasted garlic. But a lot of people – myself included – don't like roasting up garlic. So here are two substitutions for those that hate pealing roasted garlic:
Toast some garlic powder in a dry pan over medium heat for just a moment or two to bring out that deep garlic flavor. You can also roast fresh garlic if you prefer.
Use your garlic press to mince up your garlic. Place that garlic in a saucepan with a little melted unsalted butter. Stir over low heat until your garlic is light brown and fragrant.
Mascarpone Cheese is a soft cheese that is naturally low in sodium, so you can enjoy the creaminess that cheese gives mashed potatoes without adding a lot of excess salt.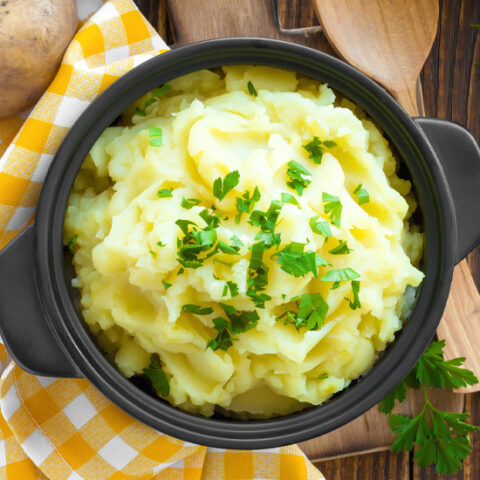 Low Sodium Garlic Mashed Potatoes
Total Time:
1 hour
15 minutes
Here's a recipe for creamy garlic mashed potatoes that will beat the flavor of any pre-made potatoes while maintaining a low sodium profile.
Ingredients
5 pounds of Yukon Gold potatoes, peeled and rinsed
1 1/2 sticks unsalted butter
8 oz. Marscapone Cheese, softened
1/4 cup of half and half
1 tablespoon of heavy cream
5 heads of roasted garlic
1/2 teaspoon of fresh ground pepper
Instructions
Preheat the oven to 350 degrees.
Dice the potatoes into even-sized pieces and boil in a pot of water until fork-tender, about 25 to 30 minutes.
Drain and return to the pan over low heat. Mash potatoes for about 5 minutes.
Add the butter, mascarpone, half and half, cream, pepper, and roasted garlic. Stir until all ingredients are equally distributed throughout and you have achieved your desired consistency.
Spread the potatoes into a large baking dish that has been coated with nonstick spray. Dot the top with additional unsalted butter (optional). Bake until heated through, about 30 minutes.
Notes
This recipe calls for 1 tablespoon of heavy cream. I don't typically have heavy cream on hand and I'm not likely to buy a container just for a tablespoon. Therefore, I typically substitute with milk. There's enough butter in this recipe that it will still make for creamy potatoes.
Recommended Products
As an Amazon Associate, I earn from qualifying purchases. For complete information please read the disclosures page (link at the bottom of this page).
Nutrition Information
Yield

10
Serving Size

1
Amount Per Serving
Calories

478
Total Fat

27g
Saturated Fat

16g
Trans Fat

0g
Unsaturated Fat

8g
Cholesterol

74mg
Sodium

48mg
Carbohydrates

54g
Fiber

5g
Sugar

4g
Protein

9g
Nutritional information is provided as an estimate. Nutritional content may vary due to several factors such as how much of an ingredient is used vs. how much will actually be eaten, brand differences, and more. To ensure the most accurate nutritional information, the reader should make calculations based on the ingredients actually used, using their own preferred method, or consulting with a licensed nutritional expert. This Website is not intended as a source of nutritional or food safety advice, and its readers assume full responsibility for any decisions made regarding their own health and safety. Nutritional information calculated by Nutritionix