This hummus is creamy, smooth, and fresh with no added salt. This low sodium treat will take its rightful place as the BEST hummus you could possibly serve. It whips up in mere minutes and has bright notes of fresh lemon combined with a little kick of garlic. There's absolutely nothing better than creamy, nutty, velvety homemade hummus.
If you can't find a can of no salt added chickpeas (aka garbanzo beans) in your local store, it is super easy to make your own:
Simply buy a bag of dried beans. There's no salt added to dried beans! Place beans in a large pot, cover beans with several inches of water. Boil for 5 minutes then take the pot off the heat and let it sit – with the lid on – for 1 hour. This is considered the "quick soak method" to rehydrate your beans.
Now that you have rehydrated, it is time to cook the beans. Drain beans and rinse them well. Place beans back in your large pot and cover the beans with several inches of water. Bring to a boil. Reduce heat and let simmer – with the lid slightly ajar to allow some steam to escape – for 90 minutes to 2 hours or until your beans reach your desired tenderness.
If you end up having any hummus leftover, store it in an air-tight container in the refrigerator. Since this hummus does not have salt, it will not last weeks at a time like store-bought hummus. But it should last a couple of days.
Pita bread can be high in sodium. Try serving this on toasted lavash bread from Atoria's Family Bakery.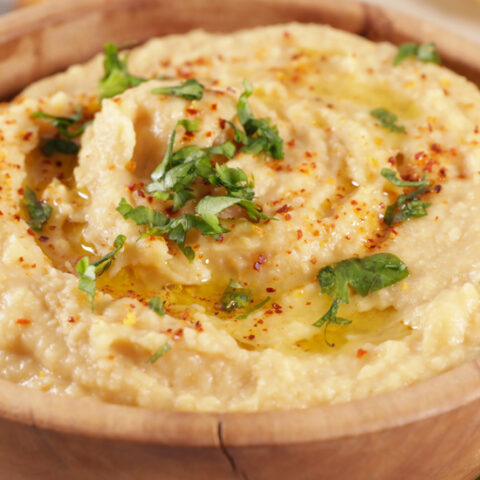 Easy Low Sodium Hummus
This hummus is creamy, smooth, and fresh with no added salt. It will take its rightful place as the best hummus you could possibly serve.
Ingredients
1 can (15 oz.) of no salt added chickpeas, drained and rinsed
1/4 cup of fresh lemon juice
1/2 cup of no salt added tahini
1 medium garlic clove, minced
2 tablespoons of extra-virgin olive oil, plus more for topping
1/2 teaspoon of ground cumin
2 to 3 tablespoons of ice water
Instructions
Place the tahini and lemon juice in a food processor, and process for about 1 minute. Scape the sides and process for 30 more seconds. Your tahini should have a "whipped" or cream-like texture.
Add the olive oil, minced garlic, cumin and process for 30 seconds. Scrape the sides of the bowl and process for another 30 seconds until well blended.
Add half of the chickpeas to the food processor and process for 1 minute. Scrape sides and bottom of the bowl, then add remaining chickpeas and process until thick and quite smooth; about 1 to 2 minutes.
At this point, your hummus will most likely be too thick and/or have tiny bits of chickpea still present. This is where the water comes into play. With the processor turned on, slowly add water one tablespoon at a time until you reach your desired consistency.
Place into a serving bowl and drizzle extra-virgin olive oil over the top.
Notes
Want more garlic? Simply add more at the appropriate time. Remember to add slowly because you can always add more garlic but once it is in there, you can't take it out.
Recommended Products
As an Amazon Associate, I earn from qualifying purchases. For complete information please read the disclosures page (link at the bottom of this page).
Nutrition Information
Yield

12
Serving Size

1
Amount Per Serving
Calories

35
Total Fat

4g
Saturated Fat

0g
Trans Fat

0g
Unsaturated Fat

3g
Cholesterol

0mg
Sodium

4mg
Carbohydrates

7g
Fiber

2g
Sugar

1g
Protein

2g
Nutritional information is provided as an estimate. Nutritional content may vary due to several factors such as how much of an ingredient is used vs. how much will actually be eaten, brand differences, and more. To ensure the most accurate nutritional information, the reader should make calculations based on the ingredients actually used, using their own preferred method, or consulting with a licensed nutritional expert. This Website is not intended as a source of nutritional or food safety advice, and its readers assume full responsibility for any decisions made regarding their own health and safety. Nutritional information calculated by Nutritionix