Turkeys are the centerpiece of many Christmas meals. But if you eat low sodium, it can be a challenge to partake in a holiday meal. Sodium lurks in all types of rubs, marinades, and glazes which can easily turn a joyous day into a sodium nightmare. The solution is cooking up a low sodium Christmas turkey!
Enter this low sodium apricot mustard glazed turkey. You'll get the pleasantry of sweet citrus paired with the tang of stoneground seeded mustard. The combination is tasty and best of all, the ingredients for the glaze contain zero sodium!
LET'S START AT THE STORE
The preparation for your low sodium Christmas turkey begins at the grocery store. You must read the nutrition label on the turkeys before tossing one in your cart. 4-ounces of turkey should have around 80 mg of sodium. This represents the sodium naturally found in turkey meat.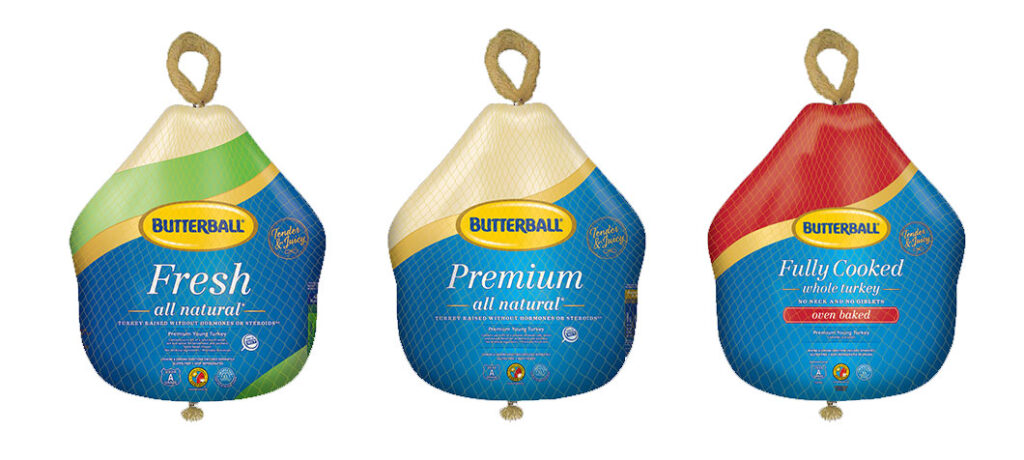 Let's examine the sodium content of Butterball, one of the best-selling frozen turkey brands in America. All three of the turkeys in the picture above are sold as frozen products. The labels look similar, but which one has the lowest in sodium? Well, the "Fully Cooked" version clocks in at 630 mg of sodium for a 4-ounce serving. And you probably wisely guessed that anything pre-cooked would be too salty. But which is lower in sodium, the one labeled "Fresh" or the one with the "Premium" label.
Of the two, the one called "Fresh" is lower in sodium. The Fresh Butterball has 130 mg of sodium per 4-ounce serving while the Premium Butterball has 200 mg of sodium for the same serving size.
But wait. I said earlier that a frozen turkey should be about 80 mg of sodium. So what gives? Well if you read the ingredients on that Fresh Butterball label you will learn that it "contains up to 4% of a solution of Water, Salt, and Spices."
SO HOW DO YOU FIND A LOW SODIUM TURKEY?
The answer is you have to look around at the grocery store. Butterball doesn't offer a frozen turkey with less than 130 mg of sodium. But several store brands do!
Some brands offer a frozen turkey breast that isn't packaged in saltwater. This might be a solution if everyone at your table likes breast meat. But again, just like the whole turkey, you must read the label.
I wish I could offer an affordable product that is guaranteed to work for everyone. But the reality is you might have to go to a specialty store like Whole Foods or The Fresh Market to find a low salt turkey in stock. I absolutely HATE even suggesting that because it isn't a realistic option for everyone.
But here is a solution that can work for everyone: talk to your butcher. Ask someone working in the meat department if they can get you a no salt added whole turkey. They probably can special order you one. I would suggest asking well in advance so that the butcher has time to get your order in-house.
What is a pan sauce? Is that the same thing as gravy? The answer is they are similar but different. Think of them like cousins instead of siblings.
Both are made with juice from the turkey but gravy typically has milk and flour. The pan sauce in this recipe combines the natural juices of the turkey with bourbon (or apple cider), shallots, butter, and cornstarch. The result is a flavorful sauce that is a bit lighter than a typical gravy.
Don't forget the low sodium sides! It would be a shame to make this delicious low sodium turkey and then fill your table with salty side dishes. I've got your back on the side dishes. Here's a recipe for low sodium stuffing and click here for a recipe to whip up low salt garlic mashed potatoes.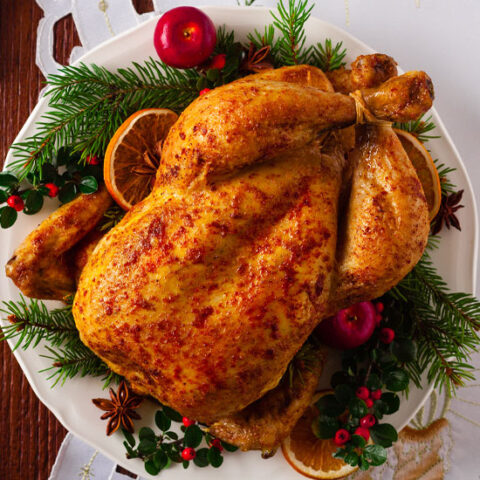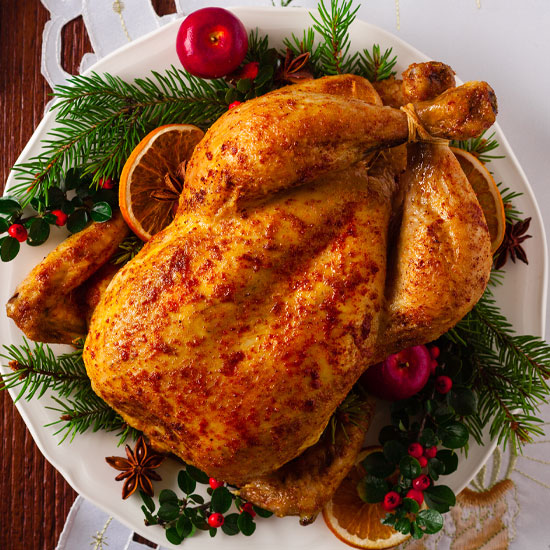 Low Sodium Holiday Turkey with Pan Sauce
Additional Time:
25 minutes
Total Time:
4 hours
45 minutes
Savor a delicious low sodium holiday turkey glazed with apricot preserves and stoneground mustard. This low salt turkey will be the star of your Christmas dinner.
Ingredients
14-pound turkey
8 oz bottle of Westbrae Stoneground No Salt Added Mustard
8 oz jar of apricot preserves
Pan Sauce
3/4 cup of unsalted chicken broth
1 1/2 tsp of corn starch
1/2 cup of a quality bourbon or apple cider
1 whole shallot, minced
2 tablespoons of unsalted butter
Instructions
Fully thaw your turkey following the directions on the packaging.
Preheat oven to 350°F.
Remove the giblets and neck from the turkey.
Fully rinse the turkey under cold water before placing it in a large roasting pan.
In a medium-sized mixing bowl, mix the bottle of mustard with the jar of apricot preserves. Make sure the two ingredients are thoroughly combined.
Gently lift the skin of the turkey to separate it from the body. Rub about one-third of the glaze under the skin of the turkey.
Using a sauce brush, coat the turkey with another third of the mustard apricot glaze. Make sure you don't forget the wings and legs!
Cover the remaining glaze and place it in the refrigerator. You'll need this in a couple of hours.
Cover the turkey with tin foil and roast in a 350-degree oven for approximately 4 hours. At the halfway point, apply a second coat of glaze to the outside of the bird using the remaining glaze.
Remove the foil for the last 30 minutes of baking to create a crisp crust.
Once the turkey has reached an internal temperature of 180°F as read by a meat thermometer, you can remove your turkey from the oven.
Your turkey needs to set for at least 15-20 minutes before you can carve it. Cut it up any sooner and you will lose all of the juice!
While the turkey is setting, use a turkey baster to collect drippings from the bottom of the roasting pan. Place these drippings into a saucepan.
Add shallots to the saucepan with drippings and saute over medium-high heat until shallots have softened.
Once shallots have softened, add bourbon or apple cider and bring to a low simmer. This is the point where we will cook off the alcohol.
As the pan is heating up, occasionally scrape the pan with a wooden spoon to incorporate all of the ingredients.
Continue to simmer until the liquid has reduced by about half.
Increase the heat to achieve a full simmer, whisk in the unsalted chicken stock, butter, and corn starch.
Allow the final liquid to reduce by half before pouring into a gravy boat or other similar serving container.
Notes
The alcohol in the bourbon will cook off, so you don't have to worry about having a drunk turkey on your table. But this is also why you want to use a quality top-shelf bourbon because you are left with that deep oaky flavor. If you don't have a bourbon on hand you can use half a cup of fresh apple cider.
I suggest you do not use the "sugar-free" apricot preserves as many people can't tolerate the sucralose in that product. A better option is to find a "no added sugar" version. This means the only sweetness in the preserves is that which naturally occurs inside the apricot. Smuckers has a sodium-free version that doesn't use chemicals to sweeten the product. Just read the ingredients and you'll find the one that works for your family!
You may have trouble finding an 8-ounce jar of apricot preserves. That's ok. You can use a 9 or 10-ounce jar without a problem. If you use a 12-ounce jar, I suggest adding an additional four ounces of mustard to even things out.
If you have completely covered the turkey and you still have some leftover mustard apricot glaze, just add it to your pan sauce!
Recommended Products
As an Amazon Associate, I earn from qualifying purchases. For complete information please read the disclosures page (link at the bottom of this page).
Nutrition Information
Serving Size

4 oz
Amount Per Serving
Calories

286
Total Fat

5.3g
Saturated Fat

1.9g
Cholesterol

81.2mg
Sodium

91mg
Carbohydrates

31g
Fiber

.1g
Sugar

19g
Protein

26g