Homemade low sodium pumpkin bread is a fall favorite. Who doesn't love warm autumnal spices paired with delicious pumpkin puree? This recipe yields two loaves of low salt pumpkin bread. This bread will become one of your absolute favorites to enjoy on a crisp fall day or any time of year!
There is nothing that signifies fall for me more than this recipe. It's easy to make — just a bit of mixing and stirring, pop it in the oven, and, in about an hour, you'll have a house smelling of sweet autumn spices and two scrumptious, pumpkiny loaves.
Pumpkin bread makes a great gift for neighbors, friends, or as a hostess gift. It's sweet, spicy, and incredibly moist. People won't even notice that it is a low sodium bread. This pumpkin bread is hard to beat!
THE CHOICE OF MIXER
This low sodium recipe uses a stand mixer to cream the butter and then leverages the same mixer to combine the rest of the ingredients. As a stroke survivor with some left-hand numbness, I prefer to use my stand mixer. But obviously, anyone can enjoy the hands-free experience that a stand mixer provides.
If you don't have a stand mixer, you can certainly use a hand-held mixer. I do not, however, recommend trying to mix this by hand.
EXCELLENT ADD-INS FOR YOUR LOW SODIUM PUMPKIN BREAD
This bread is delicious on its own. But you can always get a bit fancy with some add-ins. Why not enhance this low sodium bread with chocolate chips, raisins (try the golden ones!), butterscotch chips, or unsalted chopped pecans?
A word of caution if you choose to add raisins to your bread. Dried fruits can soak up moisture from the dough. This could dry out your pumpkin bread…nobody likes dry bread! One way to avoid this undesirable situation is to soak your raisins (or other dried fruit) in a liquid before adding them to the dough. Whether you choose water or a nice bourbon, some simple rehydration will help prevent your low sodium pumpkin bread from drying out.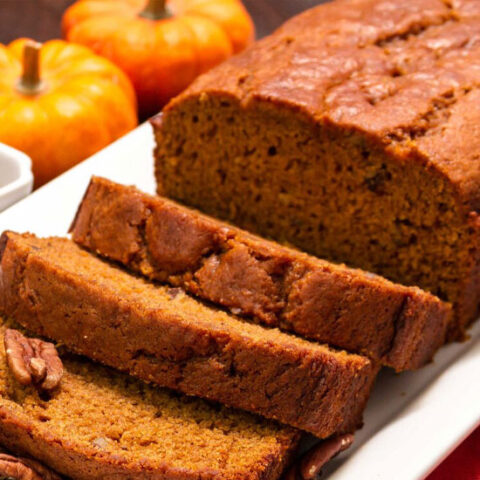 Low Sodium Pumpkin Bread
Yield:
2 loaves (20 slices)
Cook Time:
1 hour
5 minutes
Total Time:
1 hour
20 minutes
Homemade pumpkin bread is a low sodium fall favorite packed with warm spices and....of course, pumpkin!
Ingredients
2 cups of all-purpose flour
1 teaspoon of ground cloves
1 teaspoon of ground cinnamon
1 teaspoon of ground nutmeg
1 and ½ sticks (¾ cup) of unsalted butter, softened
2 cups of sugar
2 large eggs
1 can (15-oz) of 100% pure pumpkin
Instructions
Preheat the oven to 325°F and set an oven rack in the middle position.
Spray two 8x4-inch loaf pans with a non-stick baking spray that contains flour
In a medium bowl, combine the flour, sodium-free baking soda, sodium-free baking powder , cloves, cinnamon, and nutmeg. Whisk until well combined; set aside.
In a large bowl of an electric mixer, beat the butter and sugar on medium speed until just blended. Add the eggs one at a time, beating well after each addition. Continue beating until very light and fluffy, this process will take a few minutes.
Add the can of pumpkin and beat into the butter/sugar/egg mixture. The mixture might look grainy and curdled at this point -- that's okay.
Add the flour mixture and mix on low speed just until combined. Be sure to scrape the sides of the bowl!
Divide the batter evenly between the two prepared loaf pans. Bake for 65-75 minutes or until a cake tester inserted into the center comes out clean.
Allow the loaves to cool in the pans for about 10 minutes. Then remove loaves from their pans, place them onto a wire rack, and let cool completely before cutting.
Notes
You MUST let the loaves completely cool before you cut into them! If you try to cut too soon, the bread will fall apart. Allowing the bread to cool will make the bread stronger and thus, you'll get nice even slices.
This bread can be frozen. After your bread is completely cool - and not a moment before - wrap a loaf securely in plastic wrap then wrap in aluminum foil or place it in a freezer bag. Freeze for up to three months. Thaw overnight in the refrigerator before serving.
Recommended Products
As an Amazon Associate, I earn from qualifying purchases. For complete information please read the disclosures page (link at the bottom of this page).
Nutrition Information
Yield

20
Serving Size

1
Amount Per Serving
Calories

136
Total Fat

1g
Saturated Fat

0g
Trans Fat

0g
Unsaturated Fat

0g
Cholesterol

19mg
Sodium

9mg
Carbohydrates

30g
Fiber

1g
Sugar

20g
Protein

2g
Nutritional information is provided as an estimate. Nutritional content may vary due to several factors such as how much of an ingredient is used vs. how much will actually be eaten, brand differences, and more. To ensure the most accurate nutritional information, the reader should make calculations based on the ingredients actually used, using their own preferred method, or consulting with a licensed nutritional expert. This Website is not intended as a source of nutritional or food safety advice, and its readers assume full responsibility for any decisions made regarding their own health and safety. Nutritional information calculated by Nutritionix