These low sodium pumpkin cornbread muffins are so easy to make and bake up incredibly fluffy with hints of pumpkin spice in every bite. Whether you make 12 regular-sized muffins, 24 mini-muffins, or 6 jumbo "Texas" muffins, they are a perfect fall treat!
On their own, these low salt muffins are a delicious snack, but they are also good with a hot bowl of low sodium soup or low salt chili.
Pile them high in a basket and they will make a perfect side for just about any fall dinner, especially Thanksgiving. Serve these low sodium morsels with some honey, unsalted butter, or even pumpkin or apple butter.
COOKING WITH PUMPKIN PUREE
There's something about pumpkin that creates the most amazing texture, I'm a big fan of baking with it. In this particular recipe, pumpkin troubleshoots the most common issue people have with cornbread, which is that it tends to be dry and crumbly.
Just be sure to grab a can of 100% pure pumpkin. Do not use pumpkin pie filling or pumpkin pie mix because that will contain a lot of extras you don't want – including added salt!
CAN YOU FREEZE THESE LOW SODIUM PUMPKIN CORNBREAD MUFFINS?
Since there is very little salt in these muffins (only 18 mg per regular-sized muffin!) they won't last long on the counter. By the way, items like store-bought muffins can last a long time without molding because they are packed with salt. That helps preserve them. So a good rule of thumb is, the faster it spoils, the less salt it contains.
Now getting back to these specific pumpkin cornbread muffins. Yes, you can freeze them! Simply wrap each muffin individually and store them in a large freezer bag. Why wrap them individually? Because it prevents them from sticking together as they freeze.
When you're ready to enjoy them, reheat them for 30-45 seconds in the microwave on medium power or simply thaw them at room temperature.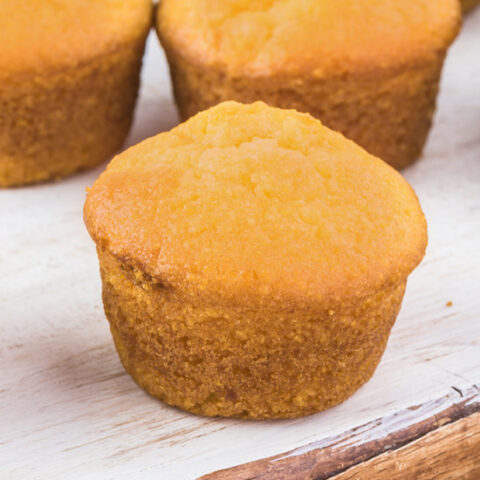 Low Sodium Pumpkin Cornbread Muffins
Yield:
12 full-sized muffins or 24 mini muffins
These low sodium pumpkin cornbread muffins are so easy to make and bake up incredibly fluffy with hints of pumpkin spice in every bite. 
Ingredients
1½ cups of all-purpose flour
½ cup of yellow cornmeal
½ cup of sugar
1 teaspoon of ground cinnamon
½ teaspoon of nutmeg
¾ cup of canned pumpkin
½ cup of 1% buttermilk (see notes)
¼ cup of vegetable oil
2 large eggs, lightly beaten
1 teaspoon of pure vanilla extract
Zest of 1 orange
Instructions
Preheat your oven to 350˚F.
Spray a 12-cup muffin pan or 24-mini muffin pan with a nonstick spray that includes flour.
In a medium-sized bowl, add flour, cornmeal, sugar, baking powder, baking soda, and cinnamon. Whisk together.
In a separate medium-sized bowl, combine pumpkin, buttermilk, oil, eggs, vanilla, and orange zest. Stir until well combined.
Using a rubber spatula, fold the pumpkin mixture into the flour mixture until just combined. Don't overmix!
Using an ice cream or cookie scoop, spoon the batter into your prepared muffin pan.
Bake at 350 degrees in a preheated oven for about 20 minutes. Muffins are done when a toothpick inserted into the center of a muffin comes out clean.
Let muffins cool in the pan for 5 minutes. Pop muffins out onto a wire rack and let cool for another 10 minutes.
Notes
Don't have buttermilk on hand? (I never do) Simply take 1/2 cup of 1% milk and add 1/2 teaspoon of distilled white vinegar OR 1/2 teaspoon of lemon juice - do not add both! Stir, then let stand for 5 minutes. Buttermilk is definitely an ingredient you don't want to omit. Creamy and tangy, it brings beautiful flavor and tenderness to these low sodium muffins.
Recommended Products
As an Amazon Associate, I earn from qualifying purchases. For complete information please read the disclosures page (link at the bottom of this page).
Nutrition Information
Yield

12
Serving Size

1
Amount Per Serving
Calories

177
Total Fat

6g
Saturated Fat

1g
Trans Fat

0g
Unsaturated Fat

5g
Cholesterol

31mg
Sodium

18mg
Carbohydrates

28g
Fiber

2g
Sugar

10g
Protein

4g
Nutritional information is provided as an estimate. Nutritional content may vary due to several factors such as how much of an ingredient is used vs. how much will actually be eaten, brand differences, and more. To ensure the most accurate nutritional information, the reader should make calculations based on the ingredients actually used, using their own preferred method, or consulting with a licensed nutritional expert. This Website is not intended as a source of nutritional or food safety advice, and its readers assume full responsibility for any decisions made regarding their own health and safety. Nutritional information calculated by Nutritionix