There's a crispness in the air that can only mean one thing…it is pumpkin season! It can be difficult on a low sodium lifestyle to enjoy all the pumpkin muffins, breads, cookies, and doughnuts that are so prevalent each autumn. You can definitely partake in the plethora of pumpkin sweets. You just have to bake your own!
These cake donuts bake up quickly in the oven. No frying these bad boys in hot oil. While they aren't fried, I still wouldn't classify them as "healthy" because they do contain a fair amount of sugar. However, you can easily dial back the sugar by skipping the glaze. Don't worry, you'll still enjoy the fall flavors without the glaze.
As with everything, you can customize these to your palate by playing with the spices. One suggestion is to add some Vietnamese cinnamon. I would suggest adding it to the batter as opposed to sprinkling it on top. Adding it to the top might make it too cinnamon-forward and drown out the other flavors.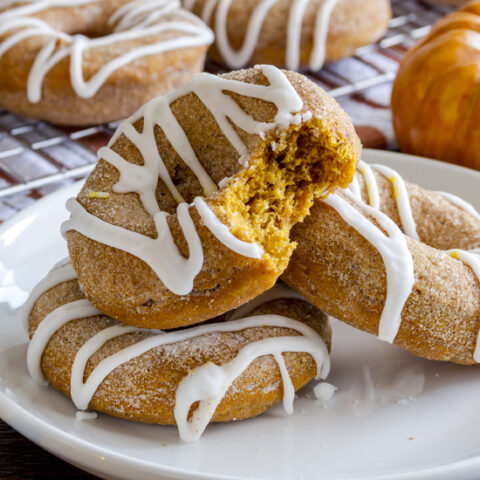 Low Sodium Pumpkin Donuts
Low Sodium eaters don't have to miss out on pumpkin spice season! These low salt pumpkin cake doughnuts are the perfect treat on a crisp autumn day.
Ingredients
DONUTS
2 cups of all-purpose flour
2 teaspoons of pumpkin pie spice
1 cup of sugar
1 can (15 ounces) of pumpkin (plain, not pumpkin pie filling)
1/2 cup of vegetable oil
3 large eggs at room temperature
GLAZE
1 1/2 cups of confectioners' sugar
5 teaspoons of milk
1/2 teaspoon of vanilla extract
Instructions
Preheat oven to 350°F. Prepare the donut pan by spraying it with cooking spray that contains flour. Set aside.
In a medium bowl, whisk together flour, baking powder, and pumpkin pie spice.
In a separate larger bowl, whisk the oil, eggs, pumpkin, and sugar until creamy.
Stir the flour mixture into the pumpkin mixture until just combined. Do not overmix because you will end up with extra chewy donuts.
Fill a large Ziploc bag - or pastry bag - with your batter. (Notes on how best to do this below) Snip off a corner of the Ziplock bag, or the tip of the pastry bag, and pipe the batter into the donut pans. Fill each tin equally - a little more than 3/4 of the way to the top of the pan.
Bake in the preheated oven for 15-18 minutes, or until the donut springs back when you press it with your finger.
When the donuts are finished, let them cool on a cooling rack.
While donuts are cooling, prepare your glaze. In a small bowl, combine the confectioners' sugar, vanilla, and 3 tablespoons of milk. Stir together. Slowly add more milk, about a half teaspoon at a time, until you achieve desired consistency.
Once donuts have cooled, sprinkle them with cinnamon sugar (optional) before drizzling glaze across the top.
To drizzle glaze, fill a large Ziploc bag - or pastry bag - with your glaze. Snip off a corner of the Ziplock bag, or the tip of the pastry bag, and pipe the glaze over the donut using a back and forth sweeping movement. Allow glaze to set before removing donuts from the cooling rack.
Recommended Products
As an Amazon Associate, I earn from qualifying purchases. For complete information please read the disclosures page (link at the bottom of this page).
Nutrition Information
Yield

12
Serving Size

1 donut
Amount Per Serving
Calories

150
Total Fat

11g
Saturated Fat

1g
Trans Fat

0g
Unsaturated Fat

9g
Cholesterol

47mg
Sodium

19mg
Carbohydrates

48g
Fiber

1g
Sugar

25g
Protein

4g
Nutritional information is provided as an estimate. Nutritional content may vary due to several factors such as how much of an ingredient is used vs. how much will actually be eaten, brand differences, and more. To ensure the most accurate nutritional information, the reader should make calculations based on the ingredients actually used, using their own preferred method, or consulting with a licensed nutritional expert. This Website is not intended as a source of nutritional or food safety advice, and its readers assume full responsibility for any decisions made regarding their own health and safety. Nutritional information calculated by Nutritionix