Pumpkin lovers will love this delicious low sodium pumpkin butter made from scratch. Not only is this fall favorite low in salt, but the recipe doesn't call for any added sugar! With its pumpkin goodness, buttery texture, blend of warm spices, and subtle sweetness this low sodium pumpkin butter is going to be an autumn favorite in your house.
What are some good ways to enjoy this low salt autumn treat?
Well, pumpkin butter is delicious on a toasted English Muffin. Thomas's multigrain English muffins are tasty and relatively low in salt. You could smear it on toast using Angelic Bakehouse Low Sodium Bread.
Personally, I really like swirling some Pumpkin Butter in my oatmeal. Remember, don't use the instant oatmeal that comes in a packet. Those packets have added salt, along with a lot of added sugar. You could also add a dollop into your morning yogurt.
A little goes a long way when you want to add a little spiced sweetness to anything you're eating.
Is Pumpkin Butter made of butter?
Nope, there is no butter in Pumpkin Butter. In fact, fruit butter contains no dairy. Pumpkin butter is essentially pumpkin puree that has been combined with a variety of ingredients — in this case honey and molasses for sweetness and cinnamon for flavor — and then simmered and reduced until thick and creamy.
Now as you read this recipe, you might be skeptical about the lemon. Trust me, it makes the taste so bright. Sometimes I like to add a teaspoon of vanilla to the recipe. You'll find this recipe to be easy, quick, and so full of warm comforting fall flavor.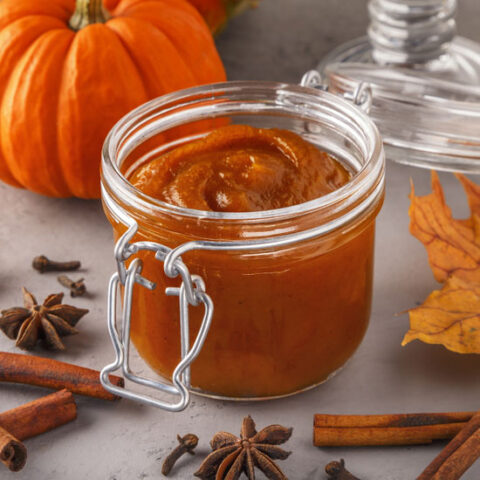 Harvest Pumpkin Butter
Stir up a fresh batch of pumpkin butter. This scrumptious spread is a delicious fall treat that is very low in sodium and has no added sugar.
Ingredients
1 cup of canned pumpkin
1/2 cup of honey
1/4 cup of molasses
1 tablespoon of lemon juice
1 teaspoon of cinnamon
Instructions
Combine all ingredients into a saucepan and cook over medium-high heat.
Bring to a boil, stirring frequently. Once you have achieved a boil, reduce heat to low.
Simmer, uncovered, for 15 minutes or until mixture has thickened.
Refrigerate for at least 1 hour prior to serving.
Notes
Before you measure the honey, spray your measuring cup with cooking oil. This will allow the honey to come out easily, and you'll get the full measure without having to scape the cup!
Recommended Products
As an Amazon Associate, I earn from qualifying purchases. For complete information please read the disclosures page (link at the bottom of this page).
Nutrition Information
Yield

24
Serving Size

2 tablespoons
Amount Per Serving
Calories

36
Total Fat

0g
Saturated Fat

0g
Trans Fat

0g
Unsaturated Fat

0g
Cholesterol

0mg
Sodium

2mg
Carbohydrates

9g
Fiber

0g
Sugar

9g
Protein

0g
Nutritional information is provided as an estimate. Nutritional content may vary due to several factors such as how much of an ingredient is used vs. how much will actually be eaten, brand differences, and more. To ensure the most accurate nutritional information, the reader should make calculations based on the ingredients actually used, using their own preferred method, or consulting with a licensed nutritional expert. This Website is not intended as a source of nutritional or food safety advice, and its readers assume full responsibility for any decisions made regarding their own health and safety. Nutritional information calculated by Nutritionix