Put some cajun on your dinner table with this delicious low sodium cajun chicken pasta. In a few easy steps, you'll have a flavorful dinner that is under 100 mg of sodium per serving!
A PERSONAL FAVORITE BECAME AN INSPIRATION
This meal is inspired by one of my favorite menu items at my favorite restaurant: Alexander Michael's. Located in Charlotte, NC's historic Fourth Ward, Al Mike's is a modest-sized tavern in a building that began its life in 1897 as a local grocery/dry goods store.
The restaurant serves up a signature dish called "What It Is." This dish is blackened chicken breast over fresh rotini in a Cajun cream sauce. It is my favorite…or was my favorite because now I skip it due to the high salt content. But why on earth and I sharing this back story about a restaurant that you will probably never visit?
It is because I want to demonstrate that just because a favorite dish gets taken off your personal menu, it doesn't mean it is gone for good. You should experiment and find ways to recreate it in a manner more fitting to your lifestyle. That's what I did and the results are delicious.
SKIPPING THE CREAM
This recipe isn't overly creamy. I'm not a big fan of alfredo sauce. I find it too heavy so I chose not to use heavy cream. Instead, I used 1% milk with some mascarpone cheese which creates the desired creaminess. Once mixed with some unsalted cajun spices, you've got a flavorful light cream sauce which is the perfect base for this low sodium cajun chicken pasta.
By the way, mascarpone should be a staple in every low sodium kitchen because it is an extremely low salt cheese. Having said that, it is high in fat so don't go overboard with it!
What exactly is the difference between Cajun and Creole? Are they the same?
Cajun and Creole are totally separate. Ancestry plays a big role in defining these two distinct ethnic groups. Each has its own distinct history, traditions, culture, and recipes. But in the simplest of kitchen terms, Creole food typically utilizes tomatoes while traditional Cajun food does not.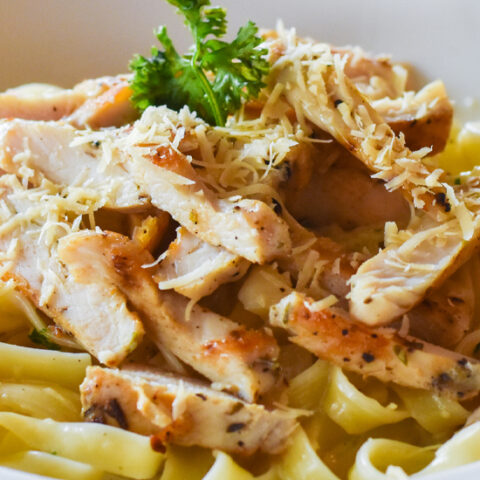 Low Sodium Cajun Chicken Pasta
Chicken and pasta tossed in a creamy low salt Cajun sauce
Ingredients
1/3 cup of low-fat milk
1 tablespoon of all-purpose flour
3 tablespoons of mascarpone cheese
2 teaspoons of salt-free Cajun season; see notes
1 teaspoon of garlic powder
8 ounces uncooked linguine (or spiral pasta)
1 pound chicken breast strips; cut into bite-sized pieces
1 cup unsalted chicken broth
Instructions
In a small blender make a slurry by combining milk, flour, and mascarpone cheese. Set aside.
Season chicken generously with Cajun seasoning and garlic powder.
Prepare pasta according to package directions.
Heat a large heavy nonstick skillet over medium-high heat; spray with cooking spray and add half of the chicken.
Sauté chicken for 5 to 6 minutes or until completely done, set aside on a plate and repeat with the remaining chicken. Set aside.
Reduce heat to medium-low; using the same skillet you used to cook the chicken add the chicken broth and the slurry mixture. Stir for about 2 minutes.
Return chicken to skillet and add cooked pasta; adjust Cajun seasoning to taste and toss well to coat.
Notes
You could easily make this with shrimp instead of chicken. Or make it a land and sea combo by using some of each!
It is important to use unsalted Cajun seasoning. Here's a recipe to make your own or you can purchase a pre-made unsalted blend from Tony Chachere (link below).
I like to add a pinch of fresh parm to the top of the dish. I know parmesan cheese is extremely salty but the rest of this dish is low enough in salt (we are talking under 100 mg of sodium per serving!) that I can enjoy a pinch of freshly grated parm. If you are up against your salt limit for the day, skip it! The meal will still be delicious.
Recommended Products
As an Amazon Associate, I earn from qualifying purchases. For complete information please read the disclosures page (link at the bottom of this page).
Nutrition Information
Yield

4
Serving Size

1
Amount Per Serving
Calories

390
Total Fat

15g
Saturated Fat

7g
Trans Fat

0g
Unsaturated Fat

6g
Cholesterol

127mg
Sodium

92mg
Carbohydrates

21g
Fiber

1g
Sugar

2g
Protein

41g
Nutritional information is provided as an estimate. Nutritional content may vary due to several factors such as how much of an ingredient is used vs. how much will actually be eaten, brand differences, and more. To ensure the most accurate nutritional information, the reader should make calculations based on the ingredients actually used, using their own preferred method, or consulting with a licensed nutritional expert. This Website is not intended as a source of nutritional or food safety advice, and its readers assume full responsibility for any decisions made regarding their own health and safety. Nutritional information calculated by Nutritionix