When you embark on a low sodium lifestyle, you might think that your days of enjoying a hot bratwurst off your backyard grill are a thing of the past. But you would be wrong! You can absolutely savor a delicious summertime or tailgate low sodium bratwurst, you just have to make it yourself.
Here's a recipe for a low salt bratwurst made from chicken, brown rice, and a boatload of spices. The recipe is fairly simple and straightforward, however, it does require a bit of refrigeration time before grilling. But the finished product is so worth it!
You can save a lot of sodium by making your own low-salt bratwurst from scratch. Boar's Head Bratwurst Chicken Sausage contains 500 mg of sodium in one link. That's just the bratwurst! No bun or condiments. By contrast, you could eat all six of the brats in this low sodium recipe and still not come close to the salt content of one Boar's Head Brat. (I'm not suggesting you should do that! Just giving you an example. Ha.)
Let's talk condiments for a moment. I prefer mustard on my brats. Did you know you can get no salt ground mustard? Westbare Natural makes a No Salt Added Organic Stoneground Mustard. It tastes delicious and has 0 mg of sodium. If you are a ketchup lover, Sprouts and Walmart both sell ketchup that has 50% less salt. It isn't sodium-free but it is an excellent reduction. Besides, the brat itself is so low in sodium, that you can some ketchup and not think twice!
When it comes to shaping your low salt bratwurst, you can easily mold it by hand. It might not look pretty but if you pack it tight like you were making a meatball, it will hold together. You can also use piping bags to pipe out 6 brats onto a sheet pan. This will definitely give you a better shape in less time. But I don't like putting the chicken mixture into the bag – that's probably a "me" problem.
If you don't want to shape by hand or use a plastic bag, you could try a silicone mold. This gives you an excellent shape and allows you to clearly see all six brats laid out. This is helpful because you can ensure they are all the same size. You want your low salt brats to be relatively uniform in size so they will be uniform in cooking time. I've put an option below, but there is a fair number on the market to choose from.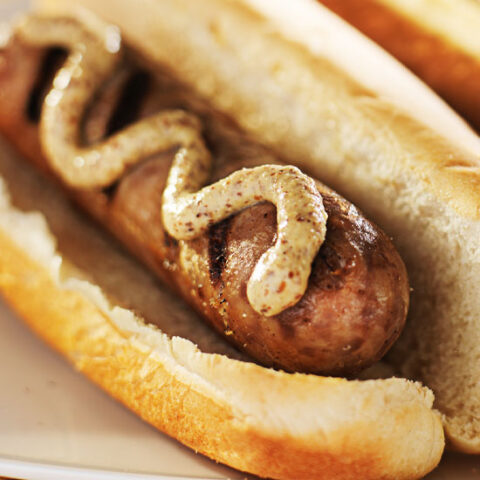 Low Sodium Chicken Brats
Total Time:
1 hour
30 minutes
Here's a winning recipe for a low salt bratwurst that will be the star of your low sodium cookout or tailgate.
Ingredients
1 pound of ground chicken breast
1 cup of minced yellow onion
4 cloves of garlic, minced
1/2 teaspoon of canola oil
1 cup of cooked brown rice, cooked
2 teaspoons of fennel seed
1 teaspoon of cumin seed (or caraway, which has a milder flavor)
1 teaspoon of ground paprika
1 teaspoon of ground black pepper
1/2 teaspoon of ground white pepper
1/2 teaspoon of ground cayenne pepper
1/4 teaspoon of dried rosemary ( or 1 teaspoon of minced fresh)
1/4 teaspoon of nutmeg
1 teaspoon of ground mustard seed
Instructions
In a medium pan, saute onions until they become translucent, about 5-7 minutes.
Add garlic and let roast for another minute or two. Be careful not to burn your garlic!
In a large mixing bowl, place your onions, and garlic with your cooked rice, ground chicken breast, and remaining ingredients. Cover bowl with plastic wrap and refrigerator for 1 hour.
Divide mixture into 6 equal parts. Roll into a sausage shape. Or if you prefer, you can use a piping bag to pipe the mixture into 6 sausage shapes. Place on a sheet pan lined with parchment paper.
Roast in oven at 350 F for 5 to 10 minutes, until the internal temperature is 125 F. Then transfer to grill to finish cooking if you want traditional grill marks and taste. You can also finish cooking in the oven for another 15-20 minutes or until the brats reach an internal temperature of 165 F. Remember, no matter how you choose to finish cooking your brats - grill or oven - chicken is not safe to eat until it reaches an internal temperature of 165 degrees.
Notes
Most packaged ground chicken includes the fatty skin in the mix. To get a leaner product, ask your butcher to grind boneless and skinless chicken breast.
Don't skip the refrigeration step! I know it is a pain to wait that long but by allowing the mixture to sit in the refrigerator you are giving the flavors time to mix and mingle. You'll have a much more flavorful brat if you let it sit for an hour...or two!...in the fridge.
Recommended Products
As an Amazon Associate, I earn from qualifying purchases. For complete information please read the disclosures page (link at the bottom of this page).
Nutrition Information
Yield

6
Serving Size

1 brat
Amount Per Serving
Calories

213
Total Fat

10g
Saturated Fat

3g
Trans Fat

0g
Unsaturated Fat

6g
Cholesterol

81mg
Sodium

64mg
Carbohydrates

14g
Fiber

2g
Sugar

2g
Protein

19g
Nutritional information is provided as an estimate. Nutritional content may vary due to several factors such as how much of an ingredient is used vs. how much will actually be eaten, brand differences, and more. To ensure the most accurate nutritional information, the reader should make calculations based on the ingredients actually used, using their own preferred method, or consulting with a licensed nutritional expert. This Website is not intended as a source of nutritional or food safety advice, and its readers assume full responsibility for any decisions made regarding their own health and safety. Nutritional information calculated by Nutritionix