Condiments are sneaky sources of sodium. They can pack a salty punch in just a few teaspoons. And buffalo sauce is one of the saltiest you can imagine. For example, a restaurant-sized container (think a side of sauce at your favorite chicken place) could contain as much as half a day's worth of sodium, if not more!
That's the bad news. The good news is that it is super easy to cook up low sodium buffalo sauce at home. As a result, you will save hundreds of milligrams of sodium and you can customize the flavor to your liking.
This recipe makes about seven tablespoons of low salt buffalo sauce. The entire batch has just 225 mg of sodium if you follow the recipe exactly. If you use a different brand of tabasco sauce, your final sodium count might differ. Let's see how this recipe stacks up compared to popular store-bought brands…
| | |
| --- | --- |
| BRAND | SODIUM PER TABLESPOON |
| Franks RedHot Buffalo Wing | 460 mg |
| Sweet Baby Ray's Buffalo Wing Sauce | 410 mg |
| Buffalo Wild Wings Medium Sauce | 535 mg |
| Primal Kitchen Buffalo Sauce | 370 mg |
| LoSo Low Sodium Buffalo Sauce | 32 mg |
Values published on product's nutritional labels as of November 2021
That chart was eye-opening to me. As a stroke survivor, I was stunned to learn the amount of salt that is in store-bought buffalo sauce. Making your own low salt buffalo sauce at home cuts a significant amount of salt from your food. This will allow you to satisfy your craving for buffalo chicken on game days…or any day really…without oversalting your meal.
This quick and easy low sodium recipe makes enough for a single meal. It is great on shredded chicken! But you can certainly make a larger batch, just multiply the recipe accordingly. I typically prepare a large batch to keep on hand – what can I say, I like buffalo sauce! I store my sauce in an air-tight container in the refrigerator for up to a week.
And remember, buffalo sauce isn't the only salty condiment we add to our meals. You can save a lot of salt by making your own ketchup, barbeque sauce, and your own mayonnaise.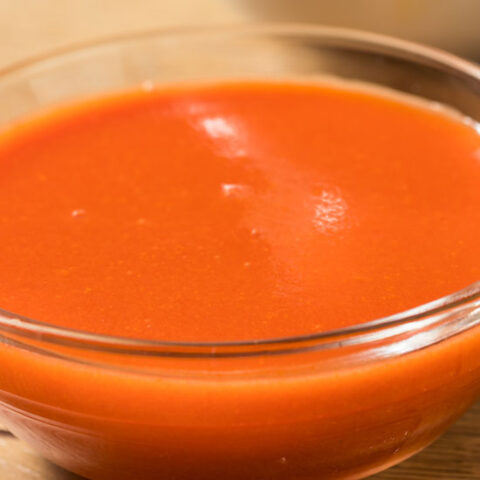 Low Sodium Buffalo Sauce
This recipe for a low sodium buffalo sauce is beyond simple and makes enough for a single meal.
Ingredients
3 tablespoons of unsalted butter
3 tablespoons of a low sodium hot sauce
2 teaspoons of white vinegar
Dash of garlic powder
Instructions
Melt butter in a saucepan over medium heat.
Once fully melted slowly whisk in tobacco sauce followed by white vinegar.
Remove from burner and allow to cool.
Notes
You need to play around with this recipe to suit your palette. With the reduction in salt, the flavor of the vinegar can be too prominent for some. If that's the case, you can reduce the amount of vinegar or increase the amount of butter. I would recommend first trying to play around with the amount of vinegar as too much butter increases the fat content. Not only does this negatively impact your nutritional values but it also can make it difficult to combine.
Remember, we are looking for hot sauce NOT buffalo sauce in the ingredients. You'll want to use a pure hot sauce or a tabasco sauce. These should be fairly low in sodium.
But read those labels! Not all hot sauces are created equally. Some have a tremendous amount of sodium. I've listed two great options in the recommended products below. The Original Tobasco Sauce has 30 mg of sodium per teaspoon while Gringo Bandito only has 25 mg of sodium per teaspoon.
If you make a large batch and refrigerate the leftovers, the melted butter will revert back to a solid-state in your refrigerator. Just pop it in the microwave each time before use.
There's no added salt or other preservatives in here, so it will perish relatively quickly compared to those commercially produced brands.
Recommended Products
As an Amazon Associate, I earn from qualifying purchases. For complete information please read the disclosures page (link at the bottom of this page).
Nutrition Information
Yield

7
Serving Size

1
Amount Per Serving
Calories

45
Total Fat

5g
Saturated Fat

3g
Trans Fat

0g
Unsaturated Fat

2g
Cholesterol

13mg
Sodium

32mg
Carbohydrates

0g
Fiber

0g
Sugar

0g
Protein

0g
Nutritional information is provided as an estimate. Nutritional content may vary due to several factors such as how much of an ingredient is used vs. how much will actually be eaten, brand differences, and more. To ensure the most accurate nutritional information, the reader should make calculations based on the ingredients actually used, using their own preferred method, or consulting with a licensed nutritional expert. This Website is not intended as a source of nutritional or food safety advice, and its readers assume full responsibility for any decisions made regarding their own health and safety. Nutritional information calculated by Nutritionix