Making your own mayonnaise can save you from a lot of excess salt. This recipe for no salt added mayo is perfect for sandwiches or for use in your chicken salad. Homemade mayonnaise can be flavored in many ways and has significantly less sodium than store-bought!
This recipe does not call for cooking, which means your eggs will be raw. That's why I'm using an egg substitute (aka EggBeaters) to eliminate the risk of salmonella. The additional bonus is that it reduces your cholesterol level too!
You can use this base to make a variety of flavored salt-free mayonnaise:
Chipolte Mayo: add 2 teaspoons of Chipotle chile powder
Dill Mayo: 3 tablespoons of chopped dill + 1 tablespoon of lemon juice
Garlic Mayo: 1 minced clove of garlic + 1/2 teaspoon of no salt added mustard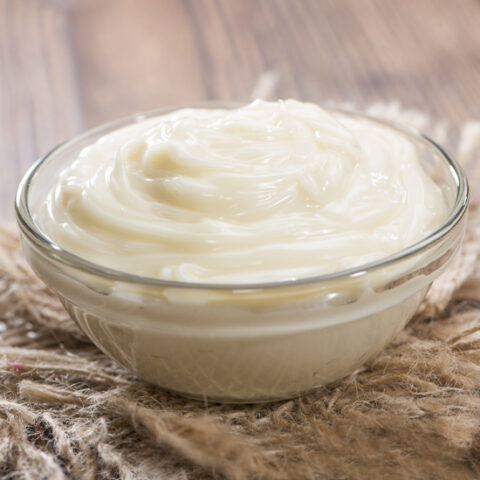 No Salt Added Mayonnaise
This recipe for no salt added mayo is perfect on sandwiches and in chicken or egg salad...anywhere that calls for mayo!
Ingredients
1/4 cup of liquid egg substitute (ex: EggBeaters)
2 1/2 tablespoons of distilled white vinegar
2/3 cup of canola oil (or neutral-flavored oil of your choice)
Instructions
Place the egg substitute in a medium-sized bowl. Add the vinegar and whisk until frothy.
Very slowly, begin adding the oil in a thin stream while whisking continuously. If the oil starts to build up, stop pouring and whisk vigorously until it is incorporated. Continue adding the oil while whisking until all the oil has been used.
Notes
Use room temperature eggs! Don't use your egg substitute right out of the refrigerator, instead, pour out the amount you'll need and let it sit in a covered dish on the counter until it becomes room temperature. This will help make your mayo come together.
This mayo will store in the refrigerator for up to a week. But remember, there is no added salt in here so it will not last for months like a store-bought brand. (And that's a good thing!)
Homemade mayo can be made by hand, but you may want to use a small food processor. It does make adding the oil a bit easier, but make sure to run your processor at low speed only.
Recommended Products
As an Amazon Associate, I earn from qualifying purchases. For complete information please read the disclosures page (link at the bottom of this page).
Nutrition Information
Yield

8
Serving Size

1
Amount Per Serving
Calories

166
Total Fat

18g
Saturated Fat

1g
Trans Fat

0g
Unsaturated Fat

17g
Cholesterol

0mg
Sodium

15mg
Carbohydrates

0g
Fiber

0g
Sugar

0g
Protein

1g
Nutritional information is provided as an estimate. Nutritional content may vary due to several factors such as how much of an ingredient is used vs. how much will actually be eaten, brand differences, and more. To ensure the most accurate nutritional information, the reader should make calculations based on the ingredients actually used, using their own preferred method, or consulting with a licensed nutritional expert. This Website is not intended as a source of nutritional or food safety advice, and its readers assume full responsibility for any decisions made regarding their own health and safety. Nutritional information calculated by Nutritionix