Here's a recipe to make seriously good ketchup with no salt added. Making your own ketchup is a lot easier than you think, and the best part is you save yourself from the massive amount of salt found in store-bought bottled ketchup. Plus, you'll find this low sodium ketchup is bursting with flavor!
When it comes to a low sodium lifestyle, condiments can be like trying to fit a round peg into a square hole. The sauces we put on our meals can sabotage your attempts at minimizing your salt intake. Luckily, these condiments can be made at home, with less sodium and more flavor!
Click here for a recipe for low sodium bbq sauce
Click here for a recipe for low sodium buffalo sauce
Click here for a recipe for low sodium mayonnaise
As with so many recipes, you can use this as a base to make different flavored versions:
Remove the cayenne and add some chipotle powder to make smokey chipotle ketchup.
Replace the syrup, cayenne, and apple cider vinegar with molasses, Thai chili paste, and white vinegar to create a siracha ketchup. (Add 1 tablespoon of fresh lemon juice)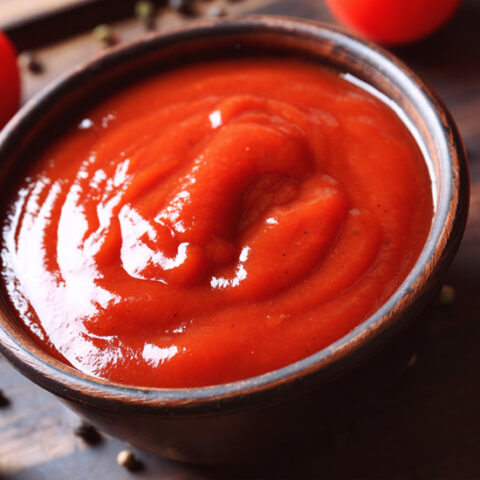 No Salt Added Ketchup
Ingredients
1 can (6 ounces) of no salt added tomato paste
1/2 cup of apple cider vinegar
2 tablespoons of 100% pure maple syrup
1 teaspoon of liquid smoke
1 tablespoon of onion powder
1 tablespoon of garlic powder
1/4 teaspoon of black pepper
1/4 teaspoon of cayenne pepper (optional)
1/2 teaspoon of ground ginger
1/2 teaspoon of oregano
1/2 teaspoon of smoked paprika
1 cup of water
Instructions
Combine all the ingredients in a medium saucepan over medium heat; whisk until smooth.
When it comes to a boil, reduce heat to low and simmer, stirring often, until it gets thickens. This could be 15-20 minutes.
Remove from heat and cover until cool.
Chill and store refrigerated in a glass container.
Notes
You can substitute honey for maple syrup if you prefer. Use a 1:1 ratio.
The desired sweetness level is a personal preference. I happen to like my ketchup less sweet. So you might want to taste it, before it comes to a boil, to see if you would like to add a teaspoon or two of brown sugar.
Since tomatoes are acidic they can react with plastics which is why glass containers are recommended for storage.
Recommended Products
As an Amazon Associate, I earn from qualifying purchases. For complete information please read the disclosures page (link at the bottom of this page).
Nutrition Information
Yield

16
Serving Size

1 tablespoon
Amount Per Serving
Calories

10
Total Fat

0g
Saturated Fat

0g
Trans Fat

0g
Unsaturated Fat

0g
Cholesterol

0mg
Sodium

3mg
Carbohydrates

2g
Fiber

0g
Sugar

1g
Protein

0g
Nutritional information is provided as an estimate. Nutritional content may vary due to several factors such as how much of an ingredient is used vs. how much will actually be eaten, brand differences, and more. To ensure the most accurate nutritional information, the reader should make calculations based on the ingredients actually used, using their own preferred method, or consulting with a licensed nutritional expert. This Website is not intended as a source of nutritional or food safety advice, and its readers assume full responsibility for any decisions made regarding their own health and safety. Nutritional information calculated by Nutritionix