Savor this low salt mixture of beef, rice, tomato sauce, and spices stuffed in bell peppers. This is a great base recipe that you can make your own by introducing additional spices of your choosing.
I remember my Dad's mom making enormous batches of stuffed peppers. My grandmother set up an assembly line in her kitchen to crank out dozens of stuffed peppers at one time. She set aside some for Sunday dinner and the rest were wrapped up and put in her freezer in the basement. (Side note, her kitchen table has now been repurposed into a pretty cool office desk. So I'm actually typing this recipe for you on the site where hundreds of stuffed peppers were made.)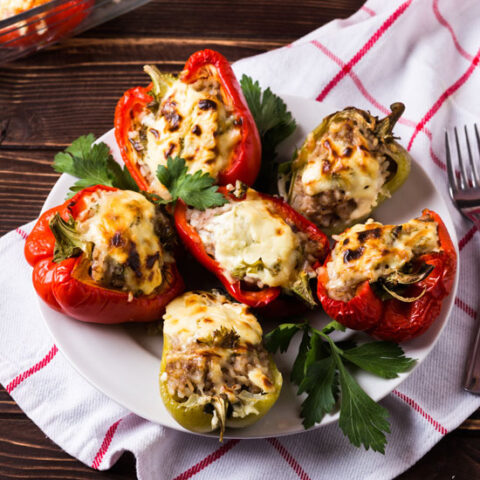 Low Sodium Stuffed Peppers
Additional Time:
10 minutes
Total Time:
1 hour
5 minutes
Here is a low sodium take on a classic recipe: homestyle stuffed peppers.
Ingredients
1 pound of lean ground beef
1 1/2 cups of no salt added marinara sauce
1/2 cup of jasmine rice, uncooked
2 teaspoons of No Sodium Italian Seasoning
2 tablespoons of olive oil
3 cloves of minced garlic
1 medium onion, chopped
6 bell peppers, chopped in half with cores and seeds removed
1 cup of shredded swiss cheese
Instructions
Preheat your oven to 400 degrees.
In a small saucepan, prepare the rice according to package instructions.
In a large skillet over medium heat, heat oil. Cook onion until soft, about 5 minutes. Stir in garlic and cook until fragrant. Remember to stir frequently because garlic can burn quickly.
Add ground beef and Italian seasoning. Using a wooden spoon, break the meat up into chunks and cook until no longer pink; approximately 6 minutes.
Once the meat is fully cooked, add the marinara sauce and cooked rice. Let simmer until the liquid reduces slightly, about 5-7 minutes.
While the beef mixture is simmering, place the halved peppers cut side up in a 9" x 13" baking dish sprayed with non-stick.
Spoon an even amount of beef mixture into each pepper. Cover your pan with aluminum foil and bake at 400 degrees for about 45 minutes, or until your peppers are soft and tender.
Sprinkle each pepper with grated swiss cheese and return to the oven, uncovered, for approximately 10 more minutes or until your cheese is bubbly and melted.
Notes
I like to cut my peppers down the middle as opposed to chopping off the top. Just slice your peppers from the stem end down through the base and you'll create a nice "boat" for your ingredients.
Use all three colors of bell peppers: green, red, and yellow for a great-looking presentation.
These low sodium stuffed peppers freeze well. Make a large batch, individual wrap the extras, and place them in the freezer. Warm them in the oven when you are ready to eat them. DO NOT put cheese on the ones you are going to freeze! I like to melt the shredded cheese right before you are ready to serve. This way you get fresh ooey gooey melted cheese over your stuffed pepper.
The recipe calls for jasmine rice, but you can use any rice you prefer. Long grain rice is particularly nice in this recipe.
Don't like Swiss cheese? Well, you can substitute a slice of fresh mozzarella cheese. I'm talking the fresh ball of mozzarella, not the shredded kind you buy in a bag.
If you like your cheese topping well done, just put the oven on broil for the last few minutes. Two words of caution: do not use the broil setting if you are using a glass dish and always leave the oven door cracked open whenever you broil anything.
Consider adding a bit of extra marinara sauce to your baking dish. this will make the peppers a bit softer.
If you are someone that enjoys spice, you could always add some No Salt Added Rotel Diced Tomatoes and Green Chilies. It will definitely give your meal an extra kick!
Recommended Products
As an Amazon Associate, I earn from qualifying purchases. For complete information please read the disclosures page (link at the bottom of this page).
Nutrition Information
Yield

12
Serving Size

Half a pepper, stuffed
Amount Per Serving
Calories

176
Total Fat

10g
Saturated Fat

4g
Trans Fat

0g
Unsaturated Fat

5g
Cholesterol

42mg
Sodium

55mg
Carbohydrates

8g
Fiber

1g
Sugar

2g
Protein

14g
Nutritional information is provided as an estimate. Nutritional content may vary due to several factors such as how much of an ingredient is used vs. how much will actually be eaten, brand differences, and more. To ensure the most accurate nutritional information, the reader should make calculations based on the ingredients actually used, using their own preferred method, or consulting with a licensed nutritional expert. This Website is not intended as a source of nutritional or food safety advice, and its readers assume full responsibility for any decisions made regarding their own health and safety. Nutritional information calculated by Nutritionix