These low sodium strawberry oat bars are delicious and, if we are being honest, a bit confusing. Are they a snack? Are they a dessert? Would they work for a breakfast on the go? The answer to all of those questions is a resounding YES!
Make them and serve them whenever you want. It is that easy.
Simple to make, these low salt treats are chewy on the inside, and just a bit crisp on the outside. They really impress when made with fresh strawberries. But honestly, once strawberry season ends they are still tasty year-round using frozen strawberries.
SODIUM SHOWDOWN: HOMEMADE VS STORE-BOUGHT

Making your own strawberry oat bars takes longer than grabbing a box at the grocery store. The payoff for your time should be a strawberry oatmeal bar containing less salt. But just how much sodium will you save by making your own?
When comparing three leading national brands, the salt savings vary. Walmart's Great Value Strawberry Cereal Bar has 90 mg per bar. The homemade version in this recipe has only 15 mg of sodium per bar. So that's a savings of 75 mg of sodium.
The Quaker Oat Strawberry Baked Squares have 130 mg of sodium per square. While Kellogg's Strawberry Nutri-Grain bars have 140 mg of sodium per bar. So that's a savings of 115 mg and 125 mg of sodium respectively. To put it another way, the sodium in the ENTIRE PAN of this recipe is less than the salt found in a single Strawberry Nutri-Grain bar.
I'd say that's well worth the time it takes to make these low sodium strawberry oat bars.
FRESH VS FROZEN STRAWBERRIES
Is it ok to use frozen strawberries? The short answer is yes. Frozen strawberries contain no added salt and are just as nutritious as their fresh counterparts.
Obviously, if strawberries are in season, you won't be disappointed if you pick up a carton of fresh strawberries to use in this recipe. Strawberry season varies by region. In my area, fresh strawberries are available from mid-April through the end of May. During that time, I will opt for fresh. All other months, I will save some money and grab a bag of frozen strawberries.
If you use frozen strawberries, be sure to defrost them and pat them with some paper towels. You'll want to get rid of some of the excess moisture otherwise your bars will be super runny. Remember you aren't trying to dry them completely, just remove some of the water content from the freezing process.
OPTIONAL VANILLA GLAZE
While your wait for your low sodium strawberry oat bars to cool, you may want to whip up a vanilla glaze. The glaze is quick and super easy. Drizzling it over the top of your cooked bars definitely makes this more of a dessert recipe.
1/2 cup powdered sugar
1/2 teaspoon pure vanilla extract
1 tablespoon milk (any kind you like)
In a medium bowl, briskly whisk together the powdered sugar, vanilla, and milk until smooth. Feel free to add more milk if a thinner consistency is desired.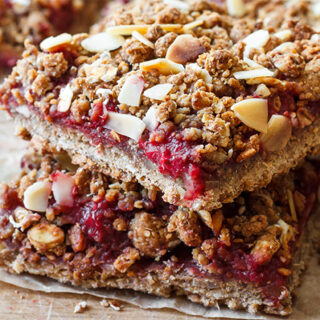 Low Sodium Strawberry and Oats Bars
A delicious treat made with fresh strawberries and no added salt.
Ingredients
Fruit Mixture
1/2 pound of strawberries, finely diced
1 tablespoon of cornstarch
2 tablespoons of honey
2 tablespoons of water
Dough/Crumble Mixture
1/4 cup of unsalted butter, melted
1/4 cup of unsweetened apple sauce
1 large egg yolk
1 cup of all-purpose flour
1 cup of rolled oats
1/2 cup + 2 tbsp unpacked brown sugar
Instructions
Preheat oven to 350 degrees.
In a small bowl, stir cornstarch into the water to create a cornstarch slurry.
In a small saucepan, add strawberries, almond extract, honey, and cornstarch slurry. Stir together so that everything is combined. Cook over medium heat for 5-7 minutes until the fruit begins to break down and the sauce begins to thicken. Remove from heat and set aside.
In a medium bowl, whisk together melted butter, unsweetened apple sauce, egg yolk, and almond extract. Once completely combined, set aside.
in a large bowl, stir together flour, oats, and brown sugar.
Add the butter mixture to the flour mixture and stir until just combined.
Line an 8x8 baking pan with parchment paper. Evenly spread slightly more than half of the dough mixture to the bottom of the pan. Press down to firmly pack the dough. This is creating the base for your bars so you want it nicely packed.
Pour the fruit mixture on top of the dough layer and spread evenly.
Crumble the remaining dough on top of the fruit layer.
Bake in a 350-degree oven for approximately 35 minutes. You'll know they are done when the top begins to turn a golden brown.
Remove pan from oven and let cool on a wire rack for 5-10 minutes.
Remove the sheet of cooked strawberry and oats bars from the pan and let it continue to cool on the wire rack. Do NOT remove the parchment paper from the bottom! The bars are still warm and playable which means the bottoms could fall through the open part of the wire rack. Keeping the parchment paper will provide a stable bottom while still allowing bars to cool completely.
When the bars are completely cool, they will be firm enough to cut. Ensure the center has totally cooled before you begin to cut the bars!
Notes
Chop the strawberries evenly. This will help make the filling more smooth and consistent instead of chunky. It also breaks down with the sugar more easily.
I like to toast some chopped unsalted almond slivers and sprinkle them on the bars as soon as they come out of the oven.
The recipe can be doubled and baked in a 9×13-inch baking pan. The bars will be a bit thicker but will still be delicious.
Store leftovers in the refrigerator for up to 5 days.
Can you use other fruits? Yes! Blueberries, raspberries, peaches, and mango are all excellent choices.
Recommended Products
As an Amazon Associate, I earn from qualifying purchases. For complete information please read the disclosures page (link at the bottom of this page).
Nutrition Information
Yield

9
Serving Size

1
Amount Per Serving
Calories

186
Total Fat

7g
Saturated Fat

4g
Trans Fat

0g
Unsaturated Fat

3g
Cholesterol

55mg
Sodium

15mg
Carbohydrates

27g
Fiber

2g
Sugar

8g
Protein

4g