Looking for a super easy recipe for a low sodium dessert? This low salt pineapple cake comes together in one bowl, without using a mixer! The result is a delectable, moist, and tender pineapple cake that will be a huge hit with your dinner guests.
This pineapple cake is perfect for a summer cookout, a family reunion, or even your Easter gathering. Bring this dessert to a party or potluck, and nobody will ever guess it is a low sodium cake. Putting this cake together couldn't be more simple: it only has five ingredients and you don't have to get out a mixer!
The recommended topping for this cake is a dusting of powdered sugar. I think not only gives your cake a finished look but it provides a topping that doesn't compete with the pineapple flavor of the cake. If simple powdered sugar isn't your thing, serve this low sodium treat with some homemade (or store-bought) whipped cream. You could use a cream cheese frosting, but to me, it makes the dessert overly reach. Go simple and make the pineapple the star.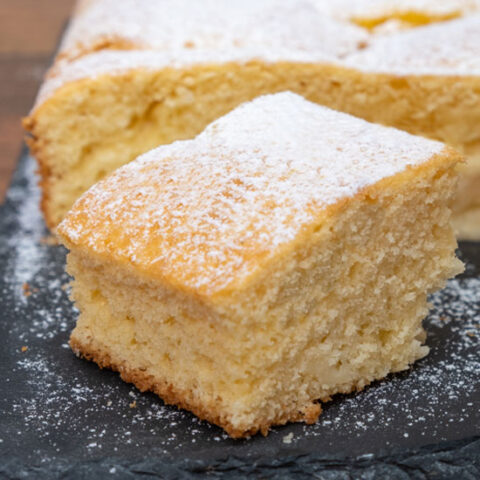 Super Easy Low Sodium Pineapple Cake
Looking for a super easy recipe for a low sodium dessert? This low salt pineapple cake comes together in one bowl, without using a mixer!
Ingredients
2 cups of all-purpose flour
2 cups of white granulated sugar
4 teaspoons of sodium-free baking soda
2 eggs at room temperature, beaten
1 can (20 oz.) of crushed pineapple, including juice
Powdered sugar for dusting
Instructions
Preheat your oven to 350 degrees.
In a large bowl, mix flour, granulated sugar, sodium-free baking soda, eggs, and pineapple. Stir until just combined.
Pour ingredients into a 9x13 pan sprayed with a baking spray that includes flour.
Bake at 350 degrees for about 35 minutes, or until a toothpick inserted into the cake comes out clean.
Let the cake cool completely, then lightly dust with powdered sugar before serving.
Notes
Shockingly there is no oil or butter in this recipe. That is not a typo! The pineapple, with its natural juices, will moisten the cake. However, if you are someone that genuinely believes a cake needs oil then add 1/4 cup of canola or vegetable oil to the cake mixture.
I tend to cut back on the granulated sugar in this recipe. I reduce it by a 1/2 cup and find the sweetness level is still satisfying.
This is a phenomenal recipe for kids to help make. The straightforward and simple recipe is a great place to start getting a child interested in cooking!
Depending on your oven, you may wish to cover the cake during the last 10-15 minutes of baking. This will prevent the top from getting too dark while the middle finishes cooking.
Prefer a glaze for your cake? Whisk together 3/4 cup of powdered sugar, 1 teaspoon of vanilla, and 1 tablespoon of milk. Spread glaze on the still-warm cake.
Recommended Products
As an Amazon Associate, I earn from qualifying purchases. For complete information please read the disclosures page (link at the bottom of this page).
Nutrition Information
Yield

12
Serving Size

1
Amount Per Serving
Calories

279
Total Fat

1g
Saturated Fat

0g
Trans Fat

0g
Unsaturated Fat

1g
Cholesterol

31mg
Sodium

24mg
Carbohydrates

65g
Fiber

1g
Sugar

49g
Protein

3g
Nutritional information is provided as an estimate. Nutritional content may vary due to several factors such as how much of an ingredient is used vs. how much will actually be eaten, brand differences, and more. To ensure the most accurate nutritional information, the reader should make calculations based on the ingredients actually used, using their own preferred method, or consulting with a licensed nutritional expert. This Website is not intended as a source of nutritional or food safety advice, and its readers assume full responsibility for any decisions made regarding their own health and safety. Nutritional information calculated by Nutritionix