Here is how to make the easiest pie crust ever! This recipe will provide you with a flaky low sodium pie crust in almost no time. I promise you this recipe will become the basis of many low sodium deserts in your kitchen. Use this pie crust for apple pies, pumpkin pies, heck you can even make up a chicken pot pie using this recipe as a starting point.
Nobody at your dinner table will be wise to the fact that this is a low sodium recipe. If you get 8 slices out of your pie, each piece of the crust has only 2 milligrams of sodium. Compare that to 85 mg of salt found in 1/8th of a Pillsbury Frozen Pie Crust! That's a huge salt savings.
I will be upfront that this recipe does not contain butter. You can add some unsalted butter if you prefer (tips on that in the notes section below). But honestly, it is unnecessary. This recipe uses simple ingredients that always come together to make a flaky low salt pie crust.
I don't miss the butter at all. And by eliminating the butter in the crust you can splurge on the ingredients inside the pie! After all, it is what you find inside the pie shell that is the best part of the pie.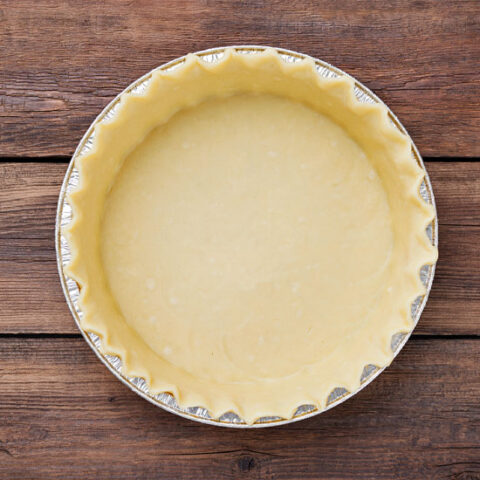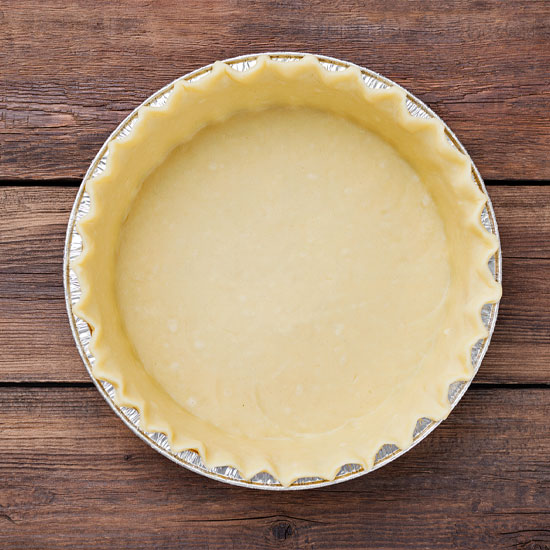 Low Sodium Pie Crust
Yield:
One 9-inch pie crust
Ingredients
1 1/2 cups of all-purpose flour
2 tablespoons of milk
1/2 cup of vegetable oil
Instructions
Pour oil and milk into a large mixing bowl and stir together.
Slowly add flour, stirring lightly with a fork.
Work mixture with your hands to form a large dough ball.
Continue to work the dough until it is no longer tacky to the touch.
Place dough ball between two pieces of wax paper and roll into a 12-inch circle.
Remove the top piece of wax paper. Pick up the dough using the bottom piece of wax paper. Place the dough, paper side up into a tin pie plate or glass dish that has been sprayed with non-stick. (Essentially you flip the dough so the dough side is in the dish and the remaining piece of wax paper is on the top)
Trim the excess pie dough from around the edges. If you prefer, pinch along the edge for a crimped look.
To pre-bake your pie shell, prick the bottom with a fork and bake at 450 for 12 minutes or until golden brown.
FOr an unbaked shell, fill the pie filling and bake as directed in the pie recipe.
Notes
This recipe makes enough pie dough for the bottom of one pie pan. If you need more crust for the top, you'll need to make up a second batch. I do not double the recipe because I find a large amount of dough to be difficult to work with. This recipe is so simple that you won't have any trouble going through the steps twice.
If you are making a pie as a gift, why not use an aluminum pie pan? That way you don't have to worry about getting a dish back. Aluminum pie plates are also great to have on hand during the holidays when you are cooking up multiple pies for family gatherings.
Recommended Products
As an Amazon Associate, I earn from qualifying purchases. For complete information please read the disclosures page (link at the bottom of this page).
Nutrition Information
Yield

8 slices
Serving Size

1 slice of pie
Amount Per Serving
Calories

208
Total Fat

14g
Saturated Fat

1g
Trans Fat

0g
Unsaturated Fat

12g
Cholesterol

0mg
Sodium

2mg
Carbohydrates

18g
Fiber

1g
Sugar

0g
Protein

3g
Nutritional information is provided as an estimate. Nutritional content may vary due to several factors such as how much of an ingredient is used vs. how much will actually be eaten, brand differences, and more. To ensure the most accurate nutritional information, the reader should make calculations based on the ingredients actually used, using their own preferred method, or consulting with a licensed nutritional expert. This Website is not intended as a source of nutritional or food safety advice, and its readers assume full responsibility for any decisions made regarding their own health and safety. Nutritional information calculated by Nutritionix