You'll find this recipe for low sodium Irish Soda Bread to be amazingly easy and quick. This low salt bread does not require any yeast as the leavening comes from salt-free baking soda and sodium-free baking powder combined with super simple homemade buttermilk. (Don't let that last part scare you!) Simply put, it is the best low sodium Irish Soda Bread around.
CHOICE OF MIX-INS FOR IRISH SODA BREAD
Many Irish Soda Bread recipes call for the use of raisins or currants. I don't particularly care for raisins and I'm fresh out of currants. But if I was to choose, I would definitely opt to fold in 1 cup of currants to the dough before baking.
What is a currant? If you haven't had them, check them out. (I will put a link to them in the products section below.) These small dried grapes are sweet and sour. They have a bit of acid that balances their sweetness. Unlike rains, which to me are just super sweet. Currants do contain trace amounts of sodium: 12 mg for 1 cup.
WHY THE CROSS?
It is typical to see a cross cut into a loaf of Irish Soda Bread. There are two reasons: one a legend and one a more practical baking technique. I'll let you make the call on which you believe…maybe a bit of both!
Let me start with the legend. In the 19th century, it was said that cutting a cross into your bread helped to "let the devil out" while it was baking.
There's also a practical reason for this practice. The cuts help the center bake through. It also allows the dough to rise without splitting. Although one could say that riding your bread of the devil is also practical.
I recommend baking your bread in a cast-iron skillet because it helps guarantee a crispy crust. But if you don't have a cast-iron skillet or you don't like a crispy crust, you can use a regular baking sheet. Line the sheet with parchment paper or foil and then spray with a cooking spray that includes flour.
You can also use a baking dish like an 8 or 9-inch pie plate. A shallow dish is best to allow air to circulate. And don't forget to spray the dish with your non-stick spray!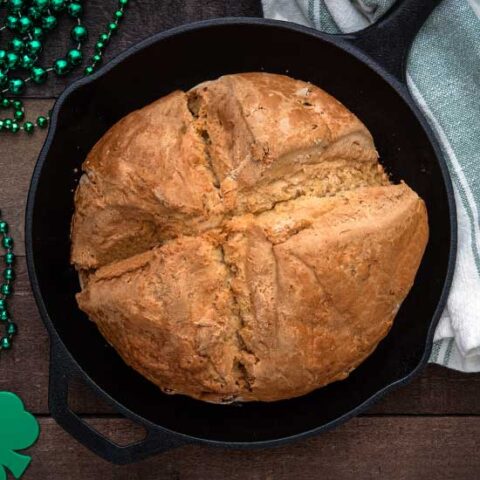 Low Sodium Irish Soda Bread
Ingredients
2 tablespoons of white distilled vinegar
1 and 3/4 cups of low-fat milk (less 1 and 1/2 tablespoons)
1 large egg
4 and 1/4 cups of all-purpose flour
3 tablespoons of white granulated sugar
1 tablespoon of salt-free baking powder
1 tablespoon of salt-free baking soda
5 tablespoons of unsalted butter
Instructions
Pour the vinegar into a measuring cup that can hold at least two cups. Now fill with your low-fat milk until you reach the 1 and 3/4 cup mark.
Gently stir and let the mixture sit for about 5 minutes.
Preheat oven to 375 degrees.
In a large mixing bowl, add flour, sugar, unsalted baking powder, unsalted baking soda, and granulated sugar. Using a dry whisk, gently whisk the ingredients to sift them together. (This removes any potential clumps without having to use a sifter)
In a medium bowl, combine the buttermilk (that's what you milk and vinegar just made!) with the egg. Whisk together.
Add your wet ingredients to your dry ingredients. Stir and/or knead until the flour has fully absorbed the liquid.
Using a pastry cutter, cut the unsalted butter into the dough. (If you don't have a pastry cutter, you can use two knives.)
Remove dough from the bowl and place onto a flat surface covered with flour.
Gently knead your dough until the flour coats the dough and the dough is no longer sticky.
Grease or spray an 8 or 9 inch round cake pan and place dough into this prepared pan. Flour hands and gently push the dough into a round shape with a bit of rounded top.
Gently cut a cross into the top of the dough, diving the dough into 4 parts. Don't cut all the way through! You don't want four separate loaves.
Bake in a preheated 375-degree oven until the bread is brown and sounds hollow. About 35-45 minutes. Check the bread at the halfway mark and if it is browning too quickly, put some foil on top of the bread to slow the browning.
Cool on a rack, slice it up, and serve slightly warm or cool. DO NOT serve the bread hot because it will fall apart.
Notes
Since this bread does not have any preservatives (aka salt), it has a shorter shelflife. This bread will stay fresh in your refrigerator, wrapped tightly in plastic wrap, for two days. After that, it begins to get hard.
Recommended Products
As an Amazon Associate, I earn from qualifying purchases. For complete information please read the disclosures page (link at the bottom of this page).
Nutrition Information
Yield

12
Serving Size

1
Amount Per Serving
Calories

105
Total Fat

5g
Saturated Fat

3g
Trans Fat

0g
Unsaturated Fat

2g
Cholesterol

29mg
Sodium

21mg
Carbohydrates

12g
Fiber

0g
Sugar

4g
Protein

2g
Nutritional information is provided as an estimate. Nutritional content may vary due to several factors such as how much of an ingredient is used vs. how much will actually be eaten, brand differences, and more. To ensure the most accurate nutritional information, the reader should make calculations based on the ingredients actually used, using their own preferred method, or consulting with a licensed nutritional expert. This Website is not intended as a source of nutritional or food safety advice, and its readers assume full responsibility for any decisions made regarding their own health and safety. Nutritional information calculated by Nutritionix