Bake up the ultimate cookie for the holiday season! Enjoy festive melt in your mouth low sodium Christmas cookies featuring red and green M&M's. These festive low salt cookies bake up nice and chewy and feature a soft center surrounded by crispy edges.
These cookies not only taste delicious but look like Christmas without having to do any additional decorating. They say "Merry Christmas" right out of the oven. Make these part of your low sodium holiday cookie platter. Even Santa might want some on his plate this Christmas Eve!
I have made this recipe chilling the dough in the refrigerator and it really doesn't make much difference. Therefore, this recipe does not include a step calling for you to chill the dough. I suggest you save time and skip the fridge but if you really prefer to chill your dough, go for it!
Make this recipe your own by changing up the mix-ins. I personally like to use the red and green Peanut M&M's. The recipe calls for semi-sweet chocolate chips but you could use milk chocolate if you prefer. It is also great if you add some white chocolate chips into the mix. There are no rules when it comes to Christmas cookies so use whatever you like.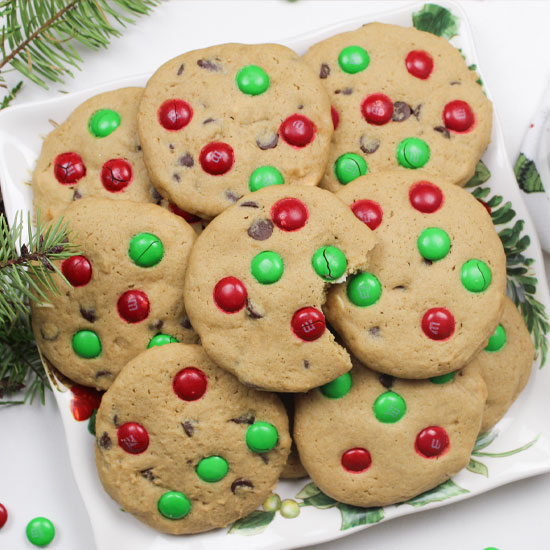 Low Sodium Christmas M&M Cookies
Follow this low sodium recipe to savor the joy of a Christmas Classic: a holiday M&M cookie.
Ingredients
1 cup of unsalted butter, softened to room temperature
3/4 cup of white granulated sugar
3/4 cup of brown sugar
1 cup of vegetable oil
1 egg, room temperature
1 tablespoon of vanilla
3 1/2 cups of flour
2 teaspoons of sodium-free baking soda
1 cup of old-fashioned oats
1 cup of cornflakes
1 cup of semi-sweet chocolate chips (more if desired)
Instructions
Preheat oven to 350 degrees.
Cream butter and sugars together for 3 minutes using either a stand mixer or hand mixer inside a large-sized bowl. Much of the lift in these cookies is going to come from the air whipped into the mixture so be sure to mix for the full three minutes.
Once butter and sugar are light and creamy, add the oil, egg, and vanilla and beat until combined. Don't forget to stop halfway and scrape down the sides of the bowl.
In a separate bowl, combine flour and sodium-free baking soda. Whisk together to combine and remove any lumps.
Add dry ingredients into the butter mixture and beat until just combined.
Using a rubber spatula, fold in oatmeal, cornflakes, and holiday M&M's.
Scoop dough onto a cookie sheet lined with either parchment paper or a silicone baking mat. Leave 2 inches of space around each scoop of dough.
Bake for 15 minutes or until the cookies are light brown. Allow cookies to cool on the baking sheet for 3-5 minutes before transferring to a wire cooling rack.
Store in an air-tight container for up to 5 days.
Notes
You can definitely add both white chocolate AND milk chocolate chips to these cookies if you prefer. And I often prefer to do so!
These cookies freeze well and taste delicious right out of the freezer!
Recommended Products
As an Amazon Associate, I earn from qualifying purchases. For complete information please read the disclosures page (link at the bottom of this page).
Nutrition Information
Yield

48 cookies
Serving Size

1 cookie
Amount Per Serving
Calories

205
Total Fat

11g
Saturated Fat

4g
Trans Fat

0g
Unsaturated Fat

6g
Cholesterol

16mg
Sodium

9mg
Carbohydrates

24g
Fiber

1g
Sugar

14g
Protein

2g
Nutritional information is provided as an estimate. Nutritional content may vary due to several factors such as how much of an ingredient is used vs. how much will actually be eaten, brand differences, and more. To ensure the most accurate nutritional information, the reader should make calculations based on the ingredients actually used, using their own preferred method, or consulting with a licensed nutritional expert. This Website is not intended as a source of nutritional or food safety advice, and its readers assume full responsibility for any decisions made regarding their own health and safety. Nutritional information calculated by Nutritionix