This is a New Orleans-inspired recipe for low sodium beignets. Not only are these tasty treats low in salt, but they are easy to make because they use an air fryer. So while I don't pretend that these low sodium air fryer beignets are a copy of what you would find at Cafe Du Monde, they are a tasty low salt alternative.
A NEW ORLEANS CLASSIC
A classic beignet is a square piece of fried dough generously coated in powdered sugar. This French-style doughnut is quintessential New Orleans. If you are looking for a recipe that will replicate that treat step by step, let me stop you here. This recipe is not a Cafe Du Monde copycat recipe.
This recipe is, however, a great solution for someone who is looking to make a beignet that is low in salt and doesn't require deep frying. The result will be a bit more cakey than pillowy. But it will still be a scrumptious dessert inspired by New Orleans food culture.
SQUARE VS ROUND
If you are looking for a more authentic look, you could certainly make these in a square shape. However, if you are looking for a quick and easy solution, I recommend using a silicone egg-bite tray. Yes, your beignets will be round but this tray is ideal for the air fryer.
Speaking of the air fryer, this will be a time saver. If you were to deep fry your beignets you would encounter some tedious steps because it will be essential for you to keep your oil at a consistent 360 degrees. That's easy with a commercial fryer but I find it to be a pain on a home stovetop. This is where your air fryer saves the day. Plus you save some calories and fat over oil frying.
Beignets are best served warm. So enjoy your low sodium air fryer beignets as soon as you can. I don't recommend storing them for later. Besides, there's nothing better than a freshly made beignet with a cup of coffee or hot tea.
This recipe will make seven low sodium beignets. Need more? The recipe can easily be doubled. But here's a little trick for pumping up the beignet output. Don't actually double the recipe. Make one batch and put the first seven in the air fryer. While those are cooking, whip up a second batch of dough. Why should you do it this way? Because I find it easier than trying to figure out how much batter to use per batch. This way, I'm using the correct amount for each batch I make.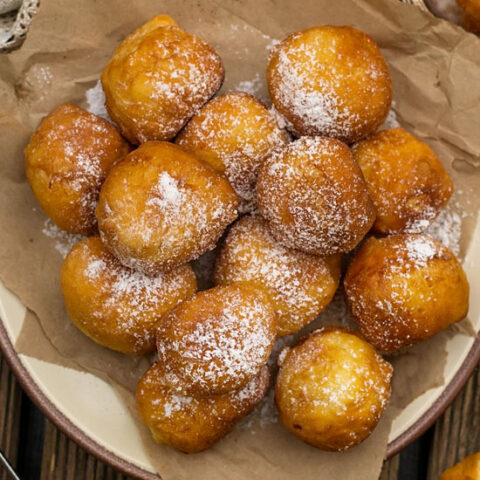 Low Sodium Air Fryer Beignets
Ingredients
1/2 cup of all-purpose flour
1/4 cup of granulated sugar
1/8 cup of water
1 large egg, separated
1 1/2 teaspoons of unsalted butter, melted
1 teaspoon of vanilla extract
Cooking Spray
Powdered Sugar for topping
Instructions
Cut a circle out of parchment paper; the shape should be big enough to fit the bottom of your air fryer basket.
Preheat the air fryer to 370 degrees.
Spray a silicone egg-bite pan with cooking spray, set aside.
Whisk flour, sugar, water, egg yolk, butter, salt-free baking powder, and vanilla extract in a large bowl until batter is combined.
Beat egg white in a small bowl using an electric hand mixer on medium speed until soft peaks form. Gently fold into batter.
Add beignet batter to the prepared mold using a small hinged ice cream scoop.
Place filled silicone mold into the basket of the air fryer. Cook for 10 minutes.
After 10 minutes, carefully remove the mold from the air fryer. Pop beignets out onto a piece of round parchment paper.
Place parchment round with beignets back into the air fryer basket. Cook for an additional 4 minutes. Remove beignets from the air fryer basket and dust with confectioners' sugar.
Notes
Try drizzling some thin lines of chocolate sauce on the beignets before adding the powdered sugar or roll in cinnamon sugar for an additional flavor blast. Get creative!
Recommended Products
As an Amazon Associate, I earn from qualifying purchases. For complete information please read the disclosures page (link at the bottom of this page).
Nutrition Information
Yield

7
Serving Size

1 beignet
Amount Per Serving
Calories

146
Total Fat

2g
Saturated Fat

1g
Trans Fat

0g
Unsaturated Fat

1g
Cholesterol

29mg
Sodium

9mg
Carbohydrates

31g
Fiber

0g
Sugar

24g
Protein

2g
Nutritional information is provided as an estimate. Nutritional content may vary due to several factors such as how much of an ingredient is used vs. how much will actually be eaten, brand differences, and more. To ensure the most accurate nutritional information, the reader should make calculations based on the ingredients actually used, using their own preferred method, or consulting with a licensed nutritional expert. This Website is not intended as a source of nutritional or food safety advice, and its readers assume full responsibility for any decisions made regarding their own health and safety. Nutritional information calculated by Nutritionix