Whether you call it stuffing or dressing, here's a low salt twist on a classic holiday side dish. This low sodium cornbread stuffing will make an excellent addition to your holiday table. And I bet most of your guests will be surprised to learn it is low in salt.
If you look at this recipe and are intimidated by all the steps, you can calm down. I know it looks like a lot but all those steps include making low sodium cornbread from scratch. So it really isn't bad at all.
Why make cornbread stuffing (or dressing) from scratch when you can easily get it out of a box. Stove Top (my pre-stroke personal favorite) makes a Cornbread Stuffing Mix. 1/2 a cup of that stuffing, or 1/6th of the box, has 400 mg of sodium! That's more than TWICE THE ENTIRE PAN of this low sodium recipe. In other words, you could eat two pans of this low sodium cornbread stuffing and consume less sodium than a half a cup of Stove Top Cornbread Dressing. (Note: I'm not encouraging anyone to eat two pans! Merely an illustration.)
MAKING YOUR OWN CORNBREAD IS KEY TO MAKING LOW SODIUM STUFFING
A big part of keeping this dressing low in sodium is making cornbread from scratch. Store-bought cornbread is packed with sodium. The same goes for those bake-at-home boxed mixes. But the good news is making cornbread from scratch is super simple and will make a huge impact on the salt content of your dish.
POTENTIAL ADD-INS
You can make this dish your own by adding a few additional ingredients…
Spice it up! Feel free to amp up the spices or introduce new spices. While I'm normally a huge spice head, I prefer cornbread to be the star of this dish. But that's my personal taste. You might want to add some additional spices, just make sure you check the bottle to make sure you aren't using a spice mix with sodium. Herbes De Provence might be a good starting point if you are seeking to add some additional spice.
Add some ground pork. Use a skillet to cook up a pound of ground pork, not ground sausage, with some fennel and Italian seasoning. It will give you a bit of a sausage flavor without excess salt.
Put a little sugar in your cornbread. If you are a person who favors a sweeter cornbread, add a teaspoon or two of sugar to the dry ingredients of your cornbread. If you are watching your sugar intake, monk fruit sweetener is a good sugar substitute.
WHAT IS THE DIFFERENCE BETWEEN STUFFING AND DRESSING?
It basically comes down to where the dish is cooked. Stuffing gets its name because it is traditionally "stuffed" into the turkey. Dressing on the other hand is usually cooked in a pan or casserole dish outside of the turkey.
However, the location where you live can be more influential than the location of your cooking. Southerners call it dressing while the rest of the country typically calls it stuffing. Their naming of this side dish is more habit and has nothing to do with whether the food is cooked inside or outside of a turkey.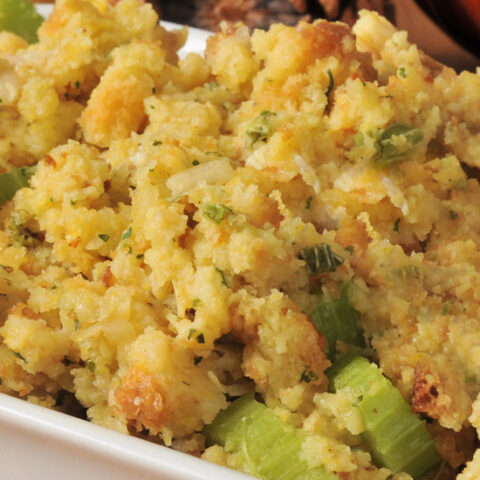 Low Sodium Cornbread Dressing Stuffing
Cook Time:
1 hour
25 minutes
Total Time:
1 hour
25 minutes
Low salt recipe for classic cornbread dressing or stuffing. A perfect low sodium holiday side dish.
Ingredients
Cornbread
3/4 cup of yellow corn meal
1 1/4 cup of all-purpose flour
1/8 cup of sugar
2 teaspoons of sodium-free baking powder
1 cup of milk
1 egg, beaten
1/4 cup of vegetable oil
For Dressing/Stuffing
1 medium onion, chopped
2 celery stalks, diced
2 tablespoons of unsalted butter
3 cups of unsalted chicken stock
1/4 cup of parsley
1 tablespoon of poultry seasoning
2 tablespoons of sage
Instructions
Heat oven to 400 degrees F. Grease an 8 or 9-inch baking pan and set aside.
In a medium bowl combine corn meal, flour, sugar, and sodium-free baking powder. Gently whisk ingredients to remove any lumps and to combine dry ingredients.
Stir in milk, egg, and vegetable oil. Mix just until the dry ingredients are moistened.
Pour batter into the prepared pan and bake for 20 to 25 minutes or until a toothpick inserted in the center comes out clean.
Once cornbread is cooked, set aside to cool.
After the cornbread is no longer piping hot to the touch, place a large baking sheet on the counter. Tear up your cornbread into small pieces on the baking sheet. Try to make your cornbread pieces about the same size. Do not tear up your bread too fine because you will have cornbread mush instead of dressing.
After cornbread is completely torn up, even it out into a single layer on the baking sheet.
Put the baking sheet into a 250-degree oven for approximately 20 minutes to dry out the cornbread.
While cornbread is in the oven, place your butter in a skillet over medium-high heat. Once butter is melted, add chopped onion and diced celery. Cook until vegetables become tender, about 10-12 minutes. Do not brown the vegetables.
Place parsley, sage, and poultry season into a small bowl and whisk to combine.
Once the bread is out of the oven, evenly sprinkle the spice mixture over the entire pan of cornbread.
Slowly pour unsalted chicken stock overtop the cornbread until cubes are moist but not soggy. You may not need all of the broth.
Add cooked vegetables to the baking sheet and then gently mix together all items to evenly distribute vegetables, broth, and spices.
Spray a casserole dish with non-stick spray. Empty baking sheet ingredients into the prepared dish. Cover with foil.
Bake in a 350-degree oven for 30 minutes. Uncover the dish and bake for an additional 10 minutes until the top of the dressing gets a light brown color.
Notes
If you are adding additional spices be sure to read the label. Spice blends are notorious for having hidden salt. So just double-check to make sure you aren't inadvertently adding salt to your dish.
Don't let your low sodium cornbread stuffing get gummy. When you are adding your chicken broth, do it slowly. Monitor the bread as you go. You want your cornbread to absorb the liquid; you shouldn't have a pool in the bottom of your mixing bowl. If you add too much liquid to the pan, you'll have a wet gummy cornbread dressing.
Recommended Products
As an Amazon Associate, I earn from qualifying purchases. For complete information please read the disclosures page (link at the bottom of this page).
Nutrition Information
Yield

8
Serving Size

1
Amount Per Serving
Calories

257
Total Fat

12g
Saturated Fat

3g
Trans Fat

0g
Unsaturated Fat

8g
Cholesterol

38mg
Sodium

24mg
Carbohydrates

31g
Fiber

2g
Sugar

6g
Protein

7g
Nutritional information is provided as an estimate. Nutritional content may vary due to several factors such as how much of an ingredient is used vs. how much will actually be eaten, brand differences, and more. To ensure the most accurate nutritional information, the reader should make calculations based on the ingredients actually used, using their own preferred method, or consulting with a licensed nutritional expert. This Website is not intended as a source of nutritional or food safety advice, and its readers assume full responsibility for any decisions made regarding their own health and safety. Nutritional information calculated by Nutritionix