Craving a delicious and healthy meal from the grill? Look no further than these tantalizing low sodium lemon pepper chicken skewers! Bursting with flavor and packed with wholesome ingredients, this recipe is a perfect choice for those who want to enjoy a savory dish without the excess sodium.
These lemon pepper chicken skewers strike the perfect balance, combining zesty citrus notes with aromatic pepper, all while keeping the sodium content in check. To complement the succulent lemon pepper chicken, we incorporate colorful peppers. Red and orange peppers add not only a beautiful pop of color but also a crisp and slightly sweet flavor profile.
And let's not forget the charred sweetness of grilled corn! The smoky flavors imparted by the grill elevate the natural sweetness of the corn kernels, adding another layer of deliciousness to the dish.
SALT-FREE LEMON PEPPER IS KEY
Lemon Pepper has a lot of salt in it. I'm not kidding. I was truly surprised to learn this fact because the name "lemon pepper" doesn't seem like it would be salty. To me, I thought it was just some lemon and pepper. Boy, was I wrong.
So, in order to make these low sodium lemon pepper chicken skewers, it is essential to have lemon pepper without salt. In terms of salt free seasonings, this is one of the easier ones to find.
My personal favorite is Victoria Taylor's No Salt Lemon Pepper. But there are others from brands such as Lawry's, Mrs. Dash, even Target's "Good & Gather" generic label sells salt free lemon pepper.
SKIP THE SKEWERS
Don't have skewers? Or just looking to change things up? This meal would be great cooked in a foil pouch placed on the grill.
Instead of threading your ingredients onto six skewers, just divide the ingredients into six tin foil pouches that have been sprayed with non-stick. Put the dull side of the foil towards the food. Fold the sides of the foil over the chicken, as if you're wrapping a present, and crimp them to seal. Make sure the packets are well sealed.
Place packets on grill, then close lid. After about 8 eight minutes, flip the lemon pepper chicken packets and cook another 8 minutes. Remember, your chicken needs to reach an internal temperature of 165 degrees Fahrenheit.
For an added kick, squeeze some extra lemon juice into the pouches before you seal them up!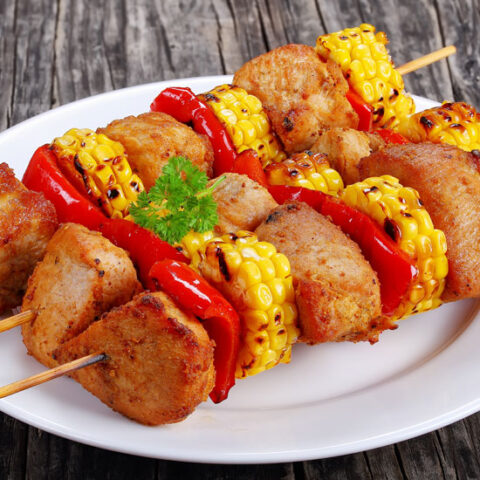 Low Sodium Lemon Pepper Chicken Skewers
These low sodium chicken-corn-and-pepper kabobs are ideal for a backyard cookout.
Ingredients
2 tablespoons of no salt added Lemon Pepper Seasoning
1 pound of boneless skinless chicken breasts, cut into 1-inch cubes and placed in a medium sized bowl
3 ears of corn, cut into 2 inch rounds
1 red bell pepper, deseeded and cut into 1-inch pieces
1 orange bell pepper, deseeded and cut into 1-inch pieces
Instructions
Place chicken in medium-sized bowl and squeeze some fresh lemon juice onto the chicken, about half a lemon but use more or less to taste. Using tongs, toss the chicken to ensure all pieces have lemon juice.
Sprinkle sat-free lemon pepper seasoning over the chicken. Use your hands to mix around the seasoning and to press it into the chicken. Set chicken mixture aside.
If you haven't done so already, prepare veggies. Preheat your grill to medium-high heat.
Thread the skewers with chicken, corn and peppers, alternating ingredients evenly.
Once the grill is up to temperature, place skewers on grill and cook until the chicken has reached an internal temperature of 165°F, about 5 minutes per side.
Notes
READ THIS BEFORE YOU BEGIN! If you are using wooden skewers, you will want to soak them before threading. This will work to prevent burning once they hit the grill. Soak the wooden skewers in warm water for about 30 minutes before you place your food onto the stick. Or use metal skewers!
You could add some onion to these skewers. Of course, you could also change up the peppers. Instead of orange and red, use green or yellow. Make it your own!
Recommended Products
As an Amazon Associate, I earn from qualifying purchases. For complete information please read the disclosures page (link at the bottom of this page).
Nutrition Information
Yield

6
Serving Size

1 skewer
Amount Per Serving
Calories

177
Total Fat

3g
Saturated Fat

1g
Trans Fat

0g
Unsaturated Fat

2g
Cholesterol

64mg
Sodium

59mg
Carbohydrates

12g
Fiber

1g
Sugar

3g
Protein

25g
Nutritional information is provided as an estimate. Nutritional content may vary due to several factors such as how much of an ingredient is used vs. how much will actually be eaten, brand differences, and more. To ensure the most accurate nutritional information, the reader should make calculations based on the ingredients actually used, using their own preferred method, or consulting with a licensed nutritional expert. This Website is not intended as a source of nutritional or food safety advice, and its readers assume full responsibility for any decisions made regarding their own health and safety. Nutritional information calculated by Nutritionix