This low sodium dinner uses a no-salt lemon-pepper as the primary seasoning of choice. Pork chops are like chicken breast – it's a lean, tender cut of meat and when it is cooked just right, it is a juicy and succulent piece of meat. Add to it a homemade orange honey mustard sauce and you've got a low salt meal that will please everyone!
When pork is overcooked, it becomes dry and bland. Remember when you were a kid and had to drown your pork chop in applesauce? Well, you won't have to do this with this recipe. Although, you might be asking for additional sauce just because of its amazing flavor!
This recipe is perfect for a low sodium summer cookout or a holiday meal.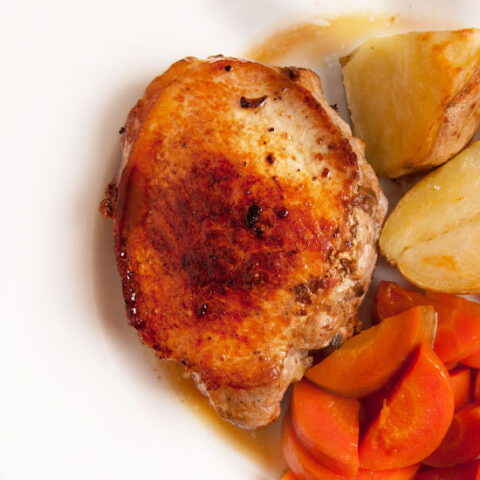 Low Sodium Honey Mustard Pork Chops
Combine a boneless pork chop with a homemade orange honey mustard sauce and you've got a low salt meal that will please everyone!
Ingredients
4 boneless pork chops
2 teaspoons of oil (canola or olive)
1/2 cup of freshly squeezed orange juice
1 tablespoon of honey
Instructions
Sprinkle both sides of your pork chops with lemon pepper.
In a large nonstick skillet, heat oil over medium heat. Brown chops on both sides.
In a small bowl, whisk orange juice, mustard, and honey until blended.
Pour mixture over pork chops and bring to a boil. Reduce heat; simmer, covered, 5-8 minutes or until a thermometer inserted in pork reads 145°.
Remove chops from pan; keep warm. Bring the sauce remaining in the skillet to a boil; cook until mixture is reduced to 1/4 cup, stirring occasionally. Serve with chops.
Notes
The amount of sodium in this recipe will depend on the sodium in your pork chop. Be sure to read the nutrition label on your package to ensure there isn't any added salt. A boneless pork chop should be around 62-68 mg of sodium. Depending on the cut, that number could be in the low to mid-70s. But never higher.
You could change up this recipe by swapping out the orange juice with some apple cider.
Depending on the size of your pork chops, you may wish to double the sauce ingredients.
Looking to take this recipe outside for a summer cookout? You can cook these pork chops on the grill instead of the stovetop. Just put your chops in a freezer bag with the orange honey mustard sauce and let it marinate for a few hours in the refrigerator. When you are ready to cook, place the boneless pork chops on the grill to cook. Bring a small saucepan with your orange honey mustard sauce and put it on the grill as well. Let it simmer and reduce.
Recommended Products
As an Amazon Associate, I earn from qualifying purchases. For complete information please read the disclosures page (link at the bottom of this page).
Nutrition Information
Yield

4
Serving Size

1
Amount Per Serving
Calories

379
Total Fat

21g
Saturated Fat

7g
Trans Fat

0g
Unsaturated Fat

13g
Cholesterol

103mg
Sodium

68mg
Carbohydrates

11g
Fiber

0g
Sugar

10g
Protein

37g
Nutritional information is provided as an estimate. Nutritional content may vary due to several factors such as how much of an ingredient is used vs. how much will actually be eaten, brand differences, and more. To ensure the most accurate nutritional information, the reader should make calculations based on the ingredients actually used, using their own preferred method, or consulting with a licensed nutritional expert. This Website is not intended as a source of nutritional or food safety advice, and its readers assume full responsibility for any decisions made regarding their own health and safety. Nutritional information calculated by Nutritionix