Here's a recipe that takes one of the most classic American casserole dishes, and reworks the ingredients to make it approachable for those living a low sodium lifestyle. Low Sodium Chicken Divan is super simple to make and clocks in at just over 200 mg per serving. Not bad for a hearty dinner of creamy chicken and broccoli!
This quick family dinner could be served with brown rice or mashed potatoes with little to no increase in sodium levels.
LET'S START AT THE END OF THIS LOW SODIUM CHICKEN DIVAN: THE TOPPING
This low sodium recipe offers a golden crunchy topping of Ritz Crackers and melted butter. The trick is to use Ritz Hint of Salt Crackers. These low salt crackers still pack a great flavor. And with some melted unsalted butter, you have a tasty crunch to go with your low sodium casserole.
NOT POSSIBLE WITHOUT UNSALTED SOUPS
This low sodium Chicken Divan would be much more complicated to make without a pair of unsalted soups. Campbell's Unsalted Cream of Chicken and Unsalted Cream of Mushroom soups are key ingredients and are what makes this dish so easy to make.
These soups are a gift to anyone living a low sodium lifestyle. Without those soups, a casserole like Chicken Divan would require extended prep time as you would have to make an unsalted soup from scratch. (Or avoid making it at all, which would be my choice!)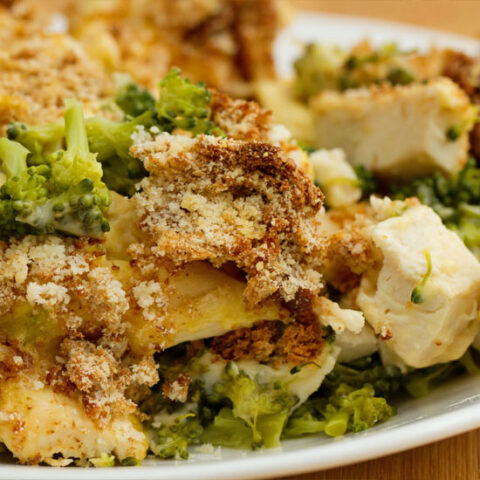 Low Sodium Chicken Divan
This is a low salt take on a classic casserole dish: Chicken Divan.
Ingredients
1 can (10.5 ounce) of Campbell's Unsalted Cream of Chicken Soup
1 can (10.5 ounce) of Campbell's Unsalted Cream of Mushroom Soup
3/4 cup of sour cream
8 ounces of Swiss cheese, grated
1/4 cup of mayonnaise
1 teaspoon of curry powder
1/2 cup of unsalted chicken broth
Half a lemon, juiced
2 packages (10 ounce) of frozen chopped broccoli, thawed, drained, and patted with paper towels
6 cups of cooked chicken, shredded or cubed
1 cup of Ritz Hint of Salt crackers
2 tablespoons of unsalted butter, melted
Instructions
Preheat the oven to 350 degrees.
Spray a 13x9 casserole dish with non-stick spray.
In a large mixing bowl, add both cans of unsalted soups, sour cream, Swiss cheese, curry powder, and mayonnaise. Gently mix together until well combined.
Add lemon juice and chicken broth. Stir until you have a smooth sauce.
Add broccoli and chicken. Mix well. Add to the prepared casserole dish.
Sprinkle crushed Ritz crackers over the chicken mixture and then drizzle melted butter over the crackers.
Bake in a 350-degree oven for 35 – 45 minutes, until hot and bubbly and the top is golden.
Notes
DRY YOUR BROCCOLI: Frozen broccoli does not have added salt, but it does have added water! The broccoli is flash frozen which means as your broccoli thaws out, you will have a lot of excess water. I put my frozen broccoli in a colander that has been placed in the sink. As the broccoli thaws, the water drains out. Then I place the broccoli on a bed of paper towels and press it to soak up the water.
Personally, I'm not a mushroom fan so I use two cans of unsalted chicken soup.
If your daily sodium limit is extremely low, you could always make your own mayonnaise to chip away at the overall salt content. Here's a recipe for easy no salt added mayo.
I like to add a handful of panko bread crumbs to my Ritz Crackers. The Panko browns up nicely and gives it an added crunch.
Recommended Products
As an Amazon Associate, I earn from qualifying purchases. For complete information please read the disclosures page (link at the bottom of this page).
Nutrition Information
Yield

10
Serving Size

1
Amount Per Serving
Calories

451
Total Fat

32g
Saturated Fat

12g
Trans Fat

0g
Unsaturated Fat

17g
Cholesterol

120mg
Sodium

215mg
Carbohydrates

11g
Fiber

1g
Sugar

3g
Protein

29g
Nutritional information is provided as an estimate. Nutritional content may vary due to several factors such as how much of an ingredient is used vs. how much will actually be eaten, brand differences, and more. To ensure the most accurate nutritional information, the reader should make calculations based on the ingredients actually used, using their own preferred method, or consulting with a licensed nutritional expert. This Website is not intended as a source of nutritional or food safety advice, and its readers assume full responsibility for any decisions made regarding their own health and safety. Nutritional information calculated by Nutritionix