Personally, I am a huge fan of Mexican food. So when I began my low sodium lifestyle I was disappointed to learn just how salty most Mexican dishes can be. But it doesn't have to be that way. With a few modifications, you can enjoy delicious Mexican food that fits a low sodium lifestyle.
This recipe has a lot of steps, and a lot of ingredients, but trust me it is a lot easier than it looks. And the results are phenomenal!
Let's talk about tortillas. This is the source of a lot of sodium in Mexican dishes. Two store-bought flour tortillas can be more salt than I would normally have for an entire meal. And I'm talking about just the tortillas…no meat, cheese, or anything. Just the flour tortilla.
Fortunately, we have some options when it comes to lowering the sodium content in the tortillas.
Make your own no salt added flour tortillas: I've got a great recipe for no salt added flour tortillas. Sure, it takes a few extra minutes but, in my opinion, it is time well spent! Click here for the full recipe.
Purchase low sodium tortillas: La Banderita has low sodium flour tortillas. At 85 mg of sodium per tortilla, these are an amazing low sodium alternative. It appears they are only offering them online at the moment. Click here to view them on Amazon. They used to be sold in grocery stores. Here's hoping they return to store shelves soon!
Use corn tortillas: These yellow shells are surprisingly low in sodium.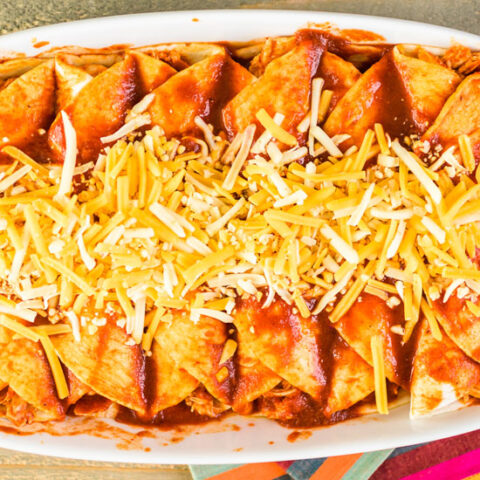 Low Sodium Enchiladas
Ingredients
ENCHILADA SAUCE
3/4 teaspoon of garlic powder
1/2 teaspoon of oregano
1 1/2 teaspoon of cumin
1/2 teaspoon of onion powder
Dash of cinnamon
1/4 teaspoon pepper
1/3 cup of all-purpose flour
1 teaspoon apple cider vinegar
1 can (14.5 oz) of no-salt-added crushed tomatoes
3 tablespoons of no-salt-added tomato paste
ADDITIONAL ITEMS
1/4 cup olive oil
1/2 cup shredded cheddar cheese
1/2 cup shredded swiss cheese
2 pounds of ground meat (beef, bison, pork, or chicken)
8 low sodium or homemade no-salt tortillas
Instructions
In a large measuring cup or bowl, mix chicken stock, apple cider vinegar, no salt added diced tomatoes, cocoa, pepper, and tomato paste. Set aside.
Heat olive oil in a saucepan on medium-low heat and once the oil is warm add salt-free chili powder, garlic powder, oregano, cumin, onion powder, cinnamon, and flour. Wisk ingredients together for about 90 seconds until spices are fragrant and everything is thoroughly mixed. This will create a smoother consistency for your sauce.
Pour tomato liquid mixture into the saucepan with your spices. Bring it to a boil, whisking occasionally. Lower heat and let simmer for about 5 minutes until the sauce thickens.
While sauce is simmering, brown your meat of choice in a pan. I would recommend undercooking it slightly because the meat will soon be put into the oven where it will have additional cooking time. So you don't want to dry out the meat, but it needs a bit of a head start on the stovetop before going into the oven.
Spray 9x13 inch pan with non-stick spray. Spread about 2/3 cup of sauce in the bottom of the pan.
Dip one tortilla in your enchilada sauce and then place it on a plate.
Fill with meat and roll tightly. Place it in the pan with the seam down. Continue until all are filled.
Spoon remaining sauce over the top of the filled tortillas in the 9x13 baking pan.
Mix the swiss and cheddar together and then sprinkle over the top of the dish.
Chop low sodium olives into small chunks and sprinkle across the top of the cheese.
Place in a preheated 350-degree oven for 20 minutes
Notes
Looking for a little kick? Use Rotel Tomatoes with Green Chillies instead of the crushed tomatoes. Rotel offers a "no salt added" version that is delicious. Your sauce might be a little more chunky this way but it offers a bit of heat if that's your thing.
You can cut back on sodium by using all swiss cheese. I personally like a bit of sharp cheddar but you can definitely rack up some salt savings by ditching the cheddar.
Recommended Products
As an Amazon Associate, I earn from qualifying purchases. For complete information please read the disclosures page (link at the bottom of this page).
Nutrition Information
Yield

8
Serving Size

1 enchilada
Amount Per Serving
Calories

481
Total Fat

32g
Saturated Fat

11g
Trans Fat

1g
Unsaturated Fat

17g
Cholesterol

115mg
Sodium

245mg
Carbohydrates

10g
Fiber

2g
Sugar

3g
Protein

36g
Nutritional information is provided as an estimate. Nutritional content may vary due to several factors such as how much of an ingredient is used vs. how much will actually be eaten, brand differences, and more. To ensure the most accurate nutritional information, the reader should make calculations based on the ingredients actually used, using their own preferred method, or consulting with a licensed nutritional expert. This Website is not intended as a source of nutritional or food safety advice, and its readers assume full responsibility for any decisions made regarding their own health and safety. Nutritional information calculated by Nutritionix