If you aren't familiar, butter chicken is a northern Indian dish that is essentially some chopped-up browned chicken in a creamy spiced tomato sauce.
Despite it being super complex in terms of flavor, it is surprisingly easy to make at home. And with a few swaps on the old ingredient list, I've developed a luxurious low sodium butter chicken so full of flavor, nobody will miss the salt.
The main trick here is to use "no salt added" ingredients. For example, reach for the can of crushed tomatoes that has no salt added. Yes, there's still sodium in the tomatoes but the salt content is significantly reduced. The great part of this recipe is that the flavor comes from some amazing spices like curry powder and garam masala – which are sodium-free!
I prefer to serve my butter chicken on a bed of jasmine white rice. To me, the aromatic flavor of the rice pairs well with the spices in the butter chicken. I know not everyone is a fan, so choose the rice you like best.
Just stay away from the rice you microwave in a cup or bag. These might save you time but they will cost you salt. Yep, these ultra-fast cooking rice cups often have added sodium that doesn't naturally exist in rice. So save the sodium and cook your rice on the stove.
I also like to serve up some garlic Lavash wedges on the side. Cut a sheet of Lavash Bread into triangles. Brush them with some olive oil (or unsalted butter) and then dust with a 50/50 mix of onion and garlic powder. Toast them in the oven until golden brown. You'll have a delicious side of low salt bread!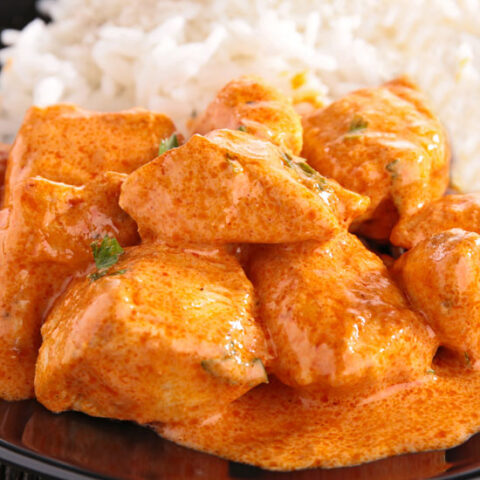 Low Sodium Butter Chicken
Butter chicken can easily be made lower sodium without sacrificing that rich, creamy flavor.
Ingredients
3/4 cup of unsalted butter
1 tablespoon of curry powder
2 tablespoons of garam masala
2 pounds of boneless skinless chicken breast
1 cup of diced onion
3 tablespoons of minced garlic
3 tablespoons of minced ginger
1/4 cup of no-salt-added tomato paste
1 can (28 oz.) of no-salt-added crushed tomatoes
1 1/2 cup of coconut milk
2 tablespoons of lime juice
Instructions
Melt butter in a Dutch oven over medium heat
Stir in curry and garam masala; cook until fragrant
Add chicken to Dutch oven and stir until chicken is coated
Add onion, garlic, and ginger
Cook until chicken is slightly browned - about 5 minutes, stirring occasionally
Stir in unsalted tomato paste until fully combined
Add tomatoes and milk and continuously stir until combined and the milk has fully warmed
Reduce heat to medium-low and simmer for about 10 minutes, stirring occasionally
Remove from heat and stir in lime juice
Notes
One of the signature ingredients in butter chicken is coconut milk. I know not everyone is crazy about coconut milk so here are a couple of alternative options:
Mix 1.5 cups of cold milk with 3 tablespoons of cornstarch and stir, allowing the mixture to thicken.
Recommended Products
As an Amazon Associate, I earn from qualifying purchases. For complete information please read the disclosures page (link at the bottom of this page).
Nutrition Information
Yield

6
Serving Size

1
Amount Per Serving
Calories

627
Total Fat

41g
Saturated Fat

27g
Trans Fat

0g
Unsaturated Fat

12g
Cholesterol

190mg
Sodium

104mg
Carbohydrates

15g
Fiber

3g
Sugar

6g
Protein

51g
Nutritional information is provided as an estimate. Nutritional content may vary due to several factors such as how much of an ingredient is used vs. how much will actually be eaten, brand differences, and more. To ensure the most accurate nutritional information, the reader should make calculations based on the ingredients actually used, using their own preferred method, or consulting with a licensed nutritional expert. This Website is not intended as a source of nutritional or food safety advice, and its readers assume full responsibility for any decisions made regarding their own health and safety. Nutritional information calculated by Nutritionix