Here's a recipe for a delicious low salt meal of chicken cooked in an ooey-gooey bourbon sauce. But to be honest, this low sodium bourbon chicken doesn't taste anything like your local Chinese take-out. It tastes better!
You might be thinking, this doesn't look like the bourbon chicken you are familiar with and you would be right. This low sodium bourbon chicken is lighter in color than typical Chinese takeout because it lacks the salty soy sauce that creates the traditional darker hue of bourbon chicken. In this low sodium recipe, we omit the soy sauce (and make a few other adjustments) to reduce sodium while still delivering that flavorful sweet, and sticky sauce.
The most important thing to remember: USE A GOOD BOURBON. Don't go cheap and buy some poor-tasting bourbon just because you are cooking with it. Yes, the alcohol will burn off but the flavor of the bourbon remains. Use top-shelf bourbon and you'll have top-shelf chicken. Use bourbon that tastes like rubbing alcohol and your chicken will taste exactly like that.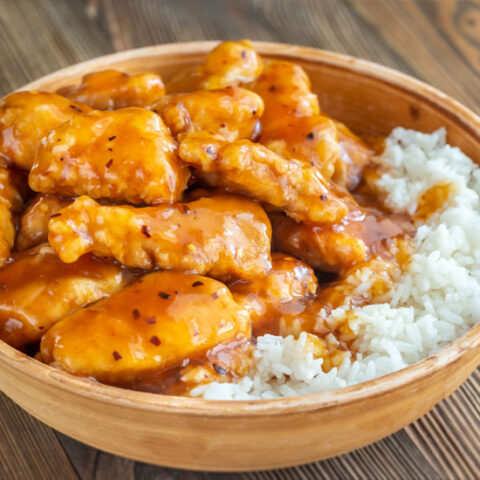 Low Sodium Bourbon Chicken
A delicious low sodium meal of chicken cooked in an ooey-gooey bourbon sauce. This low salt bourbon chicken is delicious and will be a staple in your dinner rotation.
Ingredients
1 pound of chicken breast or thighs
2 tablespoons of olive oil
1/3 cup of bourbon
1 cup of no-salt-added chicken broth
1/3 cup of brown sugar
1/2 teaspoon of ground ginger
1 teaspoon of onion powder
1/4 teaspoon of red pepper flakes
4 cloves of minced garlic
2 tablespoons of cornstarch
Instructions
Mix the chicken stock, bourbon, sugar, and spices in a bowl and set aside.
Cut the chicken into pieces and then toss in cornstarch so that the pieces are coated. (You'll want your chicken pieces to be pretty uniform in size so that cooking time is the same. If you have huge chunks with little pieces, the little ones will dry out while they wait for the larger ones to cook)
Add oil to a large skillet over medium-high heat. When hot, add chicken in batches until crispy then set aside on a plate. This should take about 3 minutes per side. Do not move the chicken around, let it get nice and crispy.
Add garlic and some additional olive oil to the same pan you used to cook the chicken and fry for a about minute until fragrant. Remember to constantly move your garlic! Nobody likes burnt garlic.
Add the sauce to the pan and bring to a boil to deglaze the pan.
Add the chicken and simmer until the sauce has thickened and reduced by about half, remember to stir the chicken occasionally to fully coat it with your bourbon sauce.
Notes
Serve over a bed of jasmine rice. Do not use rice that can be cooked in a microwavable bag because it will have sodium. Normally rice contains no sodium, so let's not add any.
Chicken - you can use either chicken breasts or chicken thighs, just make sure they are skinless and boneless. Remember to check the nutrition label because not all chicken is the same. Some companies add saltwater to plump up their chicken. You'll want to avoid that.
If you prefer you can use fresh ginger instead of ground ginger as it will just give a stronger flavor.
This recipe is easily doubled to feed a larger crowd.
Recommended Products
As an Amazon Associate, I earn from qualifying purchases. For complete information please read the disclosures page (link at the bottom of this page).
Nutrition Information
Yield

4
Serving Size

4 ounces of chicken
Amount Per Serving
Calories

436
Total Fat

16g
Saturated Fat

4g
Trans Fat

0g
Unsaturated Fat

11g
Cholesterol

139mg
Sodium

164mg
Carbohydrates

21g
Fiber

1g
Sugar

15g
Protein

44g
Nutritional information is provided as an estimate. Nutritional content may vary due to several factors such as how much of an ingredient is used vs. how much will actually be eaten, brand differences, and more. To ensure the most accurate nutritional information, the reader should make calculations based on the ingredients actually used, using their own preferred method, or consulting with a licensed nutritional expert. This Website is not intended as a source of nutritional or food safety advice, and its readers assume full responsibility for any decisions made regarding their own health and safety. Nutritional information calculated by Nutritionix