Here's a recipe for a delicious middle eastern inspired dinner, consisting of low sodium spicy chicken meatballs and zucchini noodles. It is a meal that is high in flavor and low in salt.
The essence of this dish is based on Harissa which is a North African chili paste. This paste is popular in Tunisian cuisine but is most commonly associated with Moroccan food. The primary ingredient in Harissa is roasted red peppers. (That is one of my favorite ingredients.)
The sodium content in store-bought Harissa can fluctuate. So to ensure we create a low sodium meal we are going to combine a homemade sauce with a tiny bit of store-bought Harissa to add an extra kick of flavor. The final result is still around 250 mg per serving, which is impressive for such a hearty and flavorful dinner.
Now let's talk about buying a jar of Harissa. On this site, I like to stress affordability and accessibility. So if you dislike the idea of buying a jar of chili paste that you might not use very often, then don't! It is ok to leave it out if it makes the dish more affordable for your house. You will still have a great, low-salt meal bursting with fresh flavors.
These low sodium spicy chicken meatballs could easily be served as hors d'oeuvres or as a cold snack at a picnic. In terms of how you serve them as a main entree, you could get creative by using couscous instead. I happen to like the zucchini noodles because I believe they complement the spice well and they are low in sodium.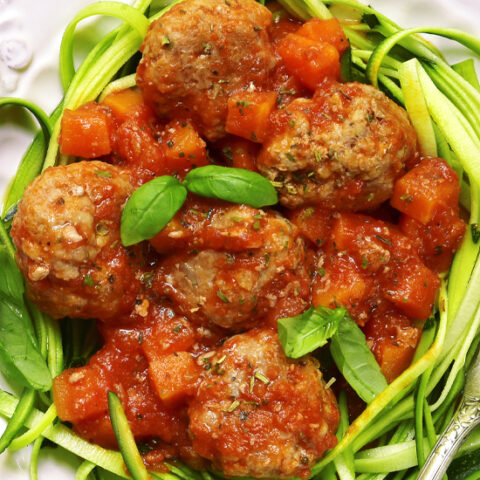 Low Sodium Spicy Chicken Meatballs with Zucchini Noodles
A low sodium recipe for Harissa Chicken Meatballs served on a bed of Zucchini Noodles. These Moroccan meatballs are a fun and spicy twist on traditional meatballs.
Ingredients
3 tablespoons of olive oil
Sauce
4 cloves of garlic, crushed
2 large red bell peppers, chopped 
1 teaspoon of olive oil
1/2 teaspoon of cumin
1/2 teaspoon of coriander
1/2 teaspoon of smoked paprika
1 teaspoon of crushed red pepper flakes
1/8 teaspoon ground black pepper
Juice from 1/2 lemon
Chicken Meatballs
1 pound of ground chicken
1/2 yellow onion, chopped
1/2 cup of Panko breadcrumbs
3 cloves of minced garlic
1 large egg
1/2 teaspoon of smoked paprika
1 teaspoon of dried parsley
Instructions
Preheat oven to 425 degrees.
Spray a half sheet pan with olive oil and place chopped red bell peppers and crushed garlic cloves onto the pan. Bake at 425 for about 10 minutes. If you want a bit of char taste, turn your oven to broil the last few minutes to let your peppers brown. Watch the garlic! Do not let it burn.
Place peppers and garlic into a food processor or blender. Add olive oil, lemon juice, and all spices listed in the "sauce" section of the ingredients list and puree until you have a smooth sauce.
In a large mixing bowl, combine the meatball ingredients. Once thoroughly combined, roll into small to medium-sized meatballs. Whatever size you choose, keep it consistent. This will ensure an even cooking time for all your meatballs.
In a dutch oven, pour about three tablespoons of olive oil (enough to lightly coat the bottom of the pan) and warm over medium-high heat. Once the oil is hot, gently place your meatballs in the pan. Cook your meatballs for about 6 minutes, or until they are cooked to an internal temperature of 165 degrees. Be sure to turn your meatballs frequently to ensure you achieve a golden brown all over.
Once meatballs are cooked add your homemade sauce and the Moroccan red pepper sauce to the dutch oven. Stir until combined. Bring to a gentle boil, then reduce heat and simmer for 10 minutes.
Add your zucchini noodles and simmer for 3-4 minutes until the zucchini reaches a soft noodle-like texture.
Notes
You can make this same recipe with ground pork. (Pork not sausage!) Ground pork is actually slightly lower in sodium than ground chicken.
If you don't want your noodles in with your sauce, simply boil the zucchini noodles in water for a few minutes until they are warmed and softened. You do not need to use an aggressive boil. Just a few minutes in a gentle boil will do.
If I'm making this for someone that isn't a huge fan of spice, I will leave out the red pepper flakes and I'll also chop up a fresh tomato to add to the mix. There's something about a juicy tomato that helps lighten up the dish.
Recommended Products
As an Amazon Associate, I earn from qualifying purchases. For complete information please read the disclosures page (link at the bottom of this page).
Nutrition Information
Yield

4
Serving Size

1
Amount Per Serving
Calories

476
Total Fat

27g
Saturated Fat

6g
Trans Fat

0g
Unsaturated Fat

19g
Cholesterol

168mg
Sodium

255mg
Carbohydrates

31g
Fiber

5g
Sugar

14g
Protein

33g
Nutritional information is provided as an estimate. Nutritional content may vary due to several factors such as how much of an ingredient is used vs. how much will actually be eaten, brand differences, and more. To ensure the most accurate nutritional information, the reader should make calculations based on the ingredients actually used, using their own preferred method, or consulting with a licensed nutritional expert. This Website is not intended as a source of nutritional or food safety advice, and its readers assume full responsibility for any decisions made regarding their own health and safety. Nutritional information calculated by Nutritionix