Apples and pork come together in this amazing low sodium meatloaf. This meatloaf is made with ground pork, which is surprisingly low in sodium. The apple butter and grated apples provide sweetness and tang that compliment the pork.
This dish is tasty autumn-themed comfort food with all the flavors of fall. After all, the fall is apple season and few things pair better with pork than apples. Ground pork is mixed with shredded apples, apple butter, and oatmeal to make this legendary meatloaf recipe extremely moist and flavorful.
Here's a heads up when preparing the glaze. The recipe calls for reduced salt ketchup. Heinz makes a no salt added ketchup, but it contains high amounts of potassium. This might not work for people taking certain types of blood pressure medications, so check with your doctor or pharmacist. If you can't use the no-salt ketchup…or are unsure if you can…you can grab reduced-sodium ketchup. Both Walmart and Sprouts make ketchup with 50% less salt than regular ketchup. That's a significant saving!
This pork and apple meatloaf is a great twist on the classic meatloaf. It comes together in a matter of minutes and is great for a busy weeknight meal.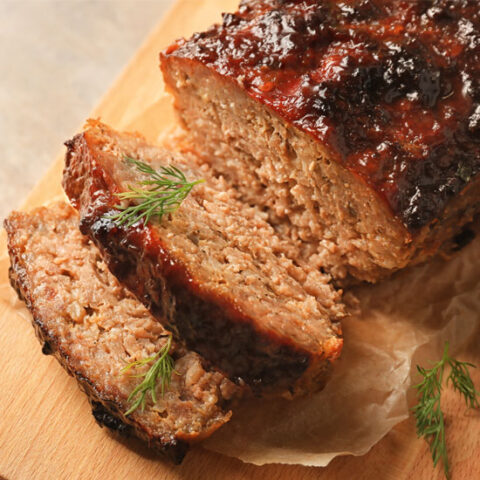 Low Sodium Pork Apple Meatloaf
Total Time:
1 hour
10 minutes
Apples and pork come together in this amazing low sodium meatloaf.
Ingredients
FOR MEATLOAF
1 pound of ground pork
1 egg
1/4 cup of apple butter
1 medium apple, shredded
1 teaspoon of minced garlic
2 teaspoons of onion powder
1/2 cup of quick cook oats
1/4 teaspoon of ground black pepper
FOR THE GLAZE
1/3 cup of reduced salt or no salt ketchup
2 tablespoons of brown sugar
2 tablespoons of no salt added mustard
1 tablespoon of apple cider vinegar
Instructions
Preheat your oven to 375 degrees. Line pan with parchment paper or aluminum foil sprayed with cooking spray. (If you don't have that, be sure to spray your pan with nonstick)
Stir glaze ingredients together in a small bowl until completely combined. Set aside.
In a large bowl, whisk the egg. Then add apple butter, shredded apple, garlic, pepper, onion powder, oats, and combine.
Mix in ground pork and use your hands to fully incorporate the meat with the ingredients.
Shape into a loaf and add to your prepared pan.
Brush glaze on the top of the loaf.
Cook for about an hour, until it reaches an internal temperature of 165 degrees.
Notes
I like to use quick cook oats in my meatloaf. I like the texture better than breadcrumbs and best of all oats contain no sodium!
I like to cover my meatloaf with a piece of aluminum foil during cooking to keep it moist. I remove the tin foil for the last 15 minutes.
Looking to get the glaze nice and caramelized? For the last few minutes, turn your oven on broil and let the loaf top sizzle. Just remember to crack open the oven door! And don't leave it on broil too long because your meatloaf will quickly turn into a burnt loaf.
Recommended Products
As an Amazon Associate, I earn from qualifying purchases. For complete information please read the disclosures page (link at the bottom of this page).
Nutrition Information
Yield

8 slices
Serving Size

1 slice
Amount Per Serving
Calories

259
Total Fat

13g
Saturated Fat

5g
Trans Fat

0g
Unsaturated Fat

7g
Cholesterol

77mg
Sodium

65mg
Carbohydrates

18g
Fiber

2g
Sugar

9g
Protein

17g
Nutritional information is provided as an estimate. Nutritional content may vary due to several factors such as how much of an ingredient is used vs. how much will actually be eaten, brand differences, and more. To ensure the most accurate nutritional information, the reader should make calculations based on the ingredients actually used, using their own preferred method, or consulting with a licensed nutritional expert. This Website is not intended as a source of nutritional or food safety advice, and its readers assume full responsibility for any decisions made regarding their own health and safety. Nutritional information calculated by Nutritionix