Cook up a delicious low salt Italian dinner with this low sodium penne alla vodka. A homemade creamy and luscious tomato vodka sauce and some al dente penne pasta come together to create a meal that is low in salt but high in flavor.
So what flavor does vodka add to the vodka sauce? Well, since most of the alcohol is cooked off you don't have an intense alcohol flavor. The vodka in this penne alla vodka recipe adds a sharp acidity that accentuates the tart tomatoes and adds an interesting layer of flavor to the sauce.
Low sodium penne alla vodka is a classic Italian-American recipe that you can prepare with just a few easy steps.
GO AHEAD, ADD SOME CHICKEN
Chicken would be a delicious addition to this low sodium pasta dish and it's a great way to add in extra protein. If you want to add chicken, use either chopped chicken breast or shredded chicken . Simply cook your chicken separately and add it in at the end.
Shrimp would also be an excellent addition to this low-salt meal. Broccoli, mushrooms, and zucchini are all great options for adding an extra serving of veggies to this dish.
CAN YOU SKIP THE VODKA?
The short answer is yes. But you can't just omit the vodka, you have to replace it with additional liquid. Check the notes section in the recipe for exact details on how to make this completely alcohol-free.
DO YOU HAVE TO USE PENNE?
Absolutely not! This recipe works with basically any pasta. Try it with the fatter rigatoni tubes because the middles catch more sauce. Basically, if it's in your pantry and labeled "pasta," it's perfect for this recipe.
WHAT ABOUT CHEESE? WHERE'S THE CHEESE IN THIS LOW SODIUM PENNE ALLA VODKA?
I don't list any cheese in this recipe because I'm going to leave that up to you and your individual sodium limits. Since this dish is made with a creamy sauce, you might not find the need for cheese. But if you are a fan of cheese…and let's face it, most people are. There are a few options.
Freshly grated parmesan is excellent because it adds some bite but also adds quite a bit of salt. If you have that in your daily sodium allotment, go for it!
I prefer to use fresh mozzarella cheese. Fresh mozzarella is among the lowest sodium cheeses. Put a couple of thin slices on top or shred some up and sprinkle it over the dish.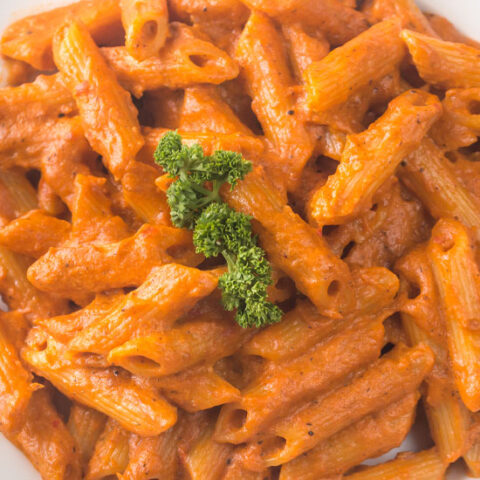 Low Sodium Penne alla Vodka
A low sodium pasta dinner consisting of a creamy and luscious tomato vodka sauce tossed with al dente penne pasta.
Ingredients
¼ cup of olive oil
1½ cups of diced yellow onion
½ teaspoon of ground black pepper
1/8 teaspoon of crushed red pepper flakes
4 garlic cloves minced
1 cup of vodka
1 28 oz. can of no salt added crushed tomatoes
2 tablespoons of no salt added tomato paste
16 oz. box of penne pasta
½ cup of heavy whipping cream
Chopped fresh parsley or basil for garnish
Instructions
Heat olive oil in a Dutch oven over medium heat; add onion, pepper, and red pepper flakes. Cook, stirring occasionally until softened, about 5 minutes.
Add garlic; cook, stirring occasionally, for about 2 minutes.
Add vodka; cook, stirring to release browned bits from the bottom of the pan.
Add tomatoes and tomato paste to the pan. Bring to a simmer; reduce heat to medium-low.
In a separate pot, cook pasta in unslated water per package directions for al dente.
Reserve 1 cup of pasta water; set aside. Drain pasta in a colander.
Remove tomato sauce from heat. Stir in cream until combined.
Add reserved pasta water, ¼ cup at a time, to emulsify the sauce if it's too thick. This is all about your personal preference, so you may not need all of the water.
Mix sauce and pasta in a large bowl. Garnish with parsley or basil if desired.
Notes
Don't buy cheap vodka! I know it might be tempting to cut a corner at the liquor store, especially if you aren't a vodka drinker. But the flavor of the vodka will remain so if you use a poor quality vodka, your dish might suffer. Personally, I recommend Tito's Handmade Vodka. If you are unfamiliar, ask the liquor store for help. And remember you only need a cup so you can save money by purchasing a small bottle.
Looking for a totally alcohol-free version? Simply replace the vodka with 1 cup of water and 1 tbsp of white wine vinegar and you'll have alcohol-free penne alla vodka.
Nutrition Information
Yield

6
Serving Size

1
Amount Per Serving
Calories

436
Total Fat

17g
Saturated Fat

6g
Trans Fat

0g
Unsaturated Fat

10g
Cholesterol

22mg
Sodium

47mg
Carbohydrates

43g
Fiber

6g
Sugar

12g
Protein

9g
Nutritional information is provided as an estimate. Nutritional content may vary due to several factors such as how much of an ingredient is used vs. how much will actually be eaten, brand differences, and more. To ensure the most accurate nutritional information, the reader should make calculations based on the ingredients actually used, using their own preferred method, or consulting with a licensed nutritional expert. This Website is not intended as a source of nutritional or food safety advice, and its readers assume full responsibility for any decisions made regarding their own health and safety. Nutritional information calculated by Nutritionix