This low sodium chicken provencal is super easy because all you do is dump everything into a slow cooker. This is a low salt take on a classic French meal but is not an exact replica.
The first major omission from the recipe is olives. Due to the salty nature of olives, it is hard to keep a dish low in salt and still include olives. The next thing left out is the wine. Many traditional chicken provencal recipes call for dry white wine. I've never had good luck with white wine in a slow cooker. I always find there is an overpowering wine flavor. So that is off the list of ingredients.
The best part of this low sodium chicken provencal recipe is truly the "set it and forget it" cooking method. Low sodium slow cooker recipes are my absolute favorite. Dump everything in and a few hours later you have a delicious low sodium dinner…with leftovers for the next day!
LET'S TALK ABOUT HERBS
The recipe calls for thyme. This recipe has some big flavors so thyme will play nicely with others. However, if you want to change things up, I have a suggestion. You may have heard of the classic, lavender-flecked herb blend, Herbes de Provence. If you have some of that in your pantry, use it! I did not include it in the recipe because thyme is more approachable and likely something you already have on hand.
GARLIC. LOTS OF GARLIC.
I recommend adding garlic to suit your taste. If you love garlic, load it up. If you prefer more subtle garlic, reduce what the recipe says.
Many people will tell you that fresh garlic is the only way to go. Nonsense. If you have a jar of minced garlic in your refrigerator, use it! It is easier and more economical. The only thing I would mention is that I find jarred garlic to be a little lighter in flavor, so I tend to add more than the recipe calls for.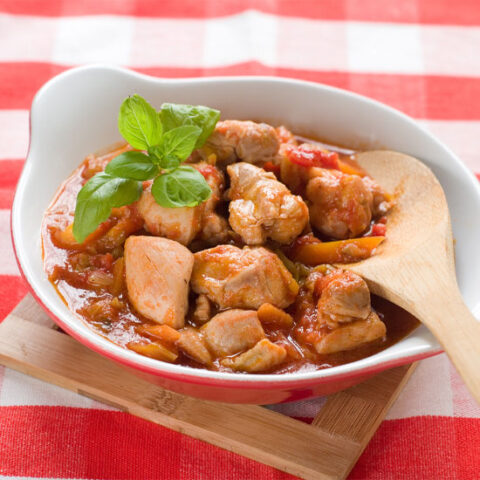 Low Sodium Slow Cooker Chicken Provencal
Total Time:
4 hours
5 minutes
This Chicken Provencal recipe is an easy and low sodium take on the French classic.
Ingredients
2 pounds of boneless, skinless chicken thighs, cut into quarters
2 medium red bell peppers, cut into 1/4-inch thick slices
1 medium yellow bell pepper, cut into 1/4-inch thick slices
1 onion, thinly sliced
1 can of no salt added diced tomatoes, drained
3 cloves of garlic, minced
1/4 teaspoon of dried thyme
1/4 teaspoon of ground fennel seed
Zest of one large orange
Instructions
Combine all ingredients in your slow cooker
Stir to blend
Cover and cook on low for 7 to 9 hours; or cook on high for 4 to 6 hours
Notes
Capers are a common ingredient in Chicken Provencal but due to their saltiness, I have omitted them from the recipe. Should you have a little extra sodium in your daily allotment, go ahead and add in a small amount.
Remember the chicken must reach an internal temperature of 165 ºF before it is considered safe to eat
Recommended Products
As an Amazon Associate, I earn from qualifying purchases. For complete information please read the disclosures page (link at the bottom of this page).
Nutrition Information
Yield

8
Serving Size

1
Amount Per Serving
Calories

229
Total Fat

9g
Saturated Fat

3g
Trans Fat

0g
Unsaturated Fat

6g
Cholesterol

138mg
Sodium

212mg
Carbohydrates

10g
Fiber

3g
Sugar

6g
Protein

29g
Nutritional information is provided as an estimate. Nutritional content may vary due to several factors such as how much of an ingredient is used vs. how much will actually be eaten, brand differences, and more. To ensure the most accurate nutritional information, the reader should make calculations based on the ingredients actually used, using their own preferred method, or consulting with a licensed nutritional expert. This Website is not intended as a source of nutritional or food safety advice, and its readers assume full responsibility for any decisions made regarding their own health and safety. Nutritional information calculated by Nutritionix