Nothing says "weekend" like homemade blueberry pancakes. This recipe for low sodium pancakes is easy and requires only a few pantry ingredients. Making pancakes from scratch is so simple, you'll wonder why you haven't done it sooner!
The only ingredients that contain any sodium are eggs and milk. Everything else is sodium-free! This recipe should yield approximately 8-10 pancakes, which means each pancake will be less than 30 mg of sodium per cake. If you opt for some bigger pancakes, the individual sodium content will obviously increase but will still be minuscule compared to a boxed pancake mix.
Don't want blueberries in your pancakes? Leave them out! This batter is excellent plain. But you could also add a different fruit like apples. Make this recipe your own.
You can use fresh blueberries or frozen blueberries, it doesn't matter. If you opt for frozen, I would recommend letting them thaw a bit first. Then gently blot them with paper towels to absorb some of the extra water.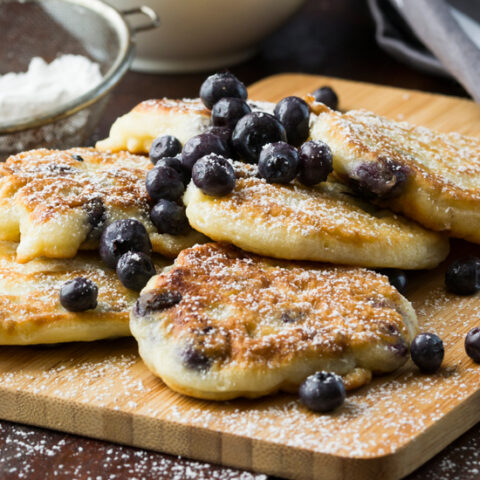 Easy Low Sodium Pancakes
Making low sodium pancakes from scratch is so simple, you'll wonder why you haven't done it sooner!
Ingredients
1 1/2 cup of all-purpose flour
1 tablespoon of granulated sugar
1 tablespoon of Hain Pure Foods Sodium Free Baking Powder
1 3/4 cup of milk
1 large egg
1 teaspoon of vanilla extract
3 tablespoons of unsalted butter, melted
1 cup of blueberries
Instructions
In a large mixing bowl, place your dry ingredients and whisk them together.
Add your wet ingredients to a small bowl and stir until combined.
Make a well in your dry ingredients and add your wet ingredients. Stir until everything is completely combined.
Gently fold blueberries into batter.
Heat a lightly oiled griddle or frying pan to medium heat and cook your pancakes until they are golden brown.
Notes
Enjoy with pure maple syrup. If it doesn't say "pure" on the bottle then it probably has ingredients you don't want. All you need is the sweet stuff directly from the tree!
If you are making breakfast for 1-3 people, you can use a regular griddle pan. But if you are cooking for a crowd, consider upgrading to a big electric griddle. It will help you crank out more pancakes in less time. This will help you prevent the first few pancakes from becoming cold pucks by the time you finish the last batch. I've provided links below to help you out.
Recommended Products
As an Amazon Associate, I earn from qualifying purchases. For complete information please read the disclosures page (link at the bottom of this page).
Nutrition Information
Yield

8
Serving Size

1 pancake
Amount Per Serving
Calories

178
Total Fat

6g
Saturated Fat

4g
Trans Fat

0g
Unsaturated Fat

2g
Cholesterol

39mg
Sodium

28mg
Carbohydrates

25g
Fiber

1g
Sugar

6g
Protein

5g
Nutritional information is provided as an estimate. Nutritional content may vary due to several factors such as how much of an ingredient is used vs. how much will actually be eaten, brand differences, and more. To ensure the most accurate nutritional information, the reader should make calculations based on the ingredients actually used, using their own preferred method, or consulting with a licensed nutritional expert. This Website is not intended as a source of nutritional or food safety advice, and its readers assume full responsibility for any decisions made regarding their own health and safety. Nutritional information calculated by Nutritionix