Nothing beats the tangy vinegary taste of Carolina Barbecue. This slow cooker recipe for low sodium pulled chicken is so easy to prepare, you will want to make it again and again. A few hours in the crockpot and you'll have tender, flavorful pulled chicken ideal for sandwiches or nachos.
There are actually three different types of Carolina BBQ: two with origins in North Carolina and one from South Carolina. The South Carolina version is a mustard-based sauce thinned with vinegar.
The north state is split in half with Western North Carolinians cooking up a tomato-based sauce that combines vinegar and ketchup. The recipe below is my favorite and is an Eastern North Carolina Vinegar Sauce. This spicy and acidic low sodium sauce is a tart combination of cider vinegar and spices.
A pulled chicken BBQ sandwich requires bread of some variety. My go-to for bread is typically Lavash flatbread from Atoria's Family Bakery…it makes a great wrap!
But for a hearty sandwich like a Sloppy Joe or BBQ Chicken, I will opt for King's Hawaiian rolls. They are famously sweet and will be a perfect complement to the vinegary chicken. A regular King's Hawaiian hamburger bun has 135 mg of sodium per bun. That's not too bad when you consider most other hamburger buns are typically 230 mg and above.
This pulled chicken also goes great over nachos. Pile the chicken high over some No Salt Added Blue Corn Chips. Add some low sodium toppings and you've got a fun nacho plate!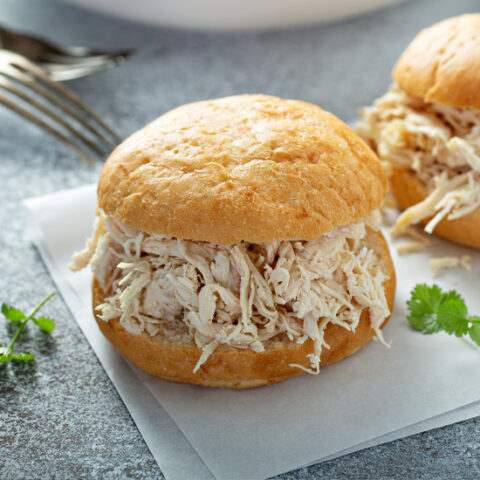 Low Sodium Carolina-Style BBQ Chicken
This slow cooker recipe for low sodium barbecue chicken is so easy to prepare, you will want to make it again and again.
Ingredients
1.5 to 2 pounds of boneless skinless chicken breasts
2 cups of unsalted chicken stock
1 cup of cider vinegar
1/4 cup of brown sugar
1 teaspoon of crushed red pepper flakes
Pinch of cayenne pepper (optional)
Instructions
Pour the chicken stock, white vinegar, granulated sugar, and red pepper flakes into a medium-sized bowl and whisk together until the sugar is completely dissolved.
Place chicken in a slow cooker; add liquid mixture. Cook, covered, on low for 6-8 hours or high for 3-4 hours or until chicken is tender.
Remove chicken; let it cool slightly. Reserve 1 cup cooking juices; discard remaining juices. Shred chicken with 2 forks. Return meat and reserved cooking juices to slow cooker; heat through.
Notes
You can easily make this with pork as opposed to chicken if you prefer.
To crank up that vinegar taste, using a 1:1 ratio, reduce the chicken stock and increase the vinegar.
WARNING! Read the nutrition label on your chicken. When it comes to sodium, not all chickens are created equal. Some chicken distributors plump their chicken with saltwater. This obviously increases the sodium content. So be sure you are getting just chicken and nothing else. Yes, chicken has sodium but it should be around 50 to 75 milligrams of sodium per 4-ounce serving.
Recommended Products
As an Amazon Associate, I earn from qualifying purchases. For complete information please read the disclosures page (link at the bottom of this page).
Nutrition Information
Yield

6
Serving Size

1
Amount Per Serving
Calories

298
Total Fat

6g
Saturated Fat

2g
Trans Fat

0g
Unsaturated Fat

3g
Cholesterol

133mg
Sodium

38mg
Carbohydrates

8g
Fiber

0g
Sugar

8g
Protein

49g
Nutritional information is provided as an estimate. Nutritional content may vary due to several factors such as how much of an ingredient is used vs. how much will actually be eaten, brand differences, and more. To ensure the most accurate nutritional information, the reader should make calculations based on the ingredients actually used, using their own preferred method, or consulting with a licensed nutritional expert. This Website is not intended as a source of nutritional or food safety advice, and its readers assume full responsibility for any decisions made regarding their own health and safety. Nutritional information calculated by Nutritionix